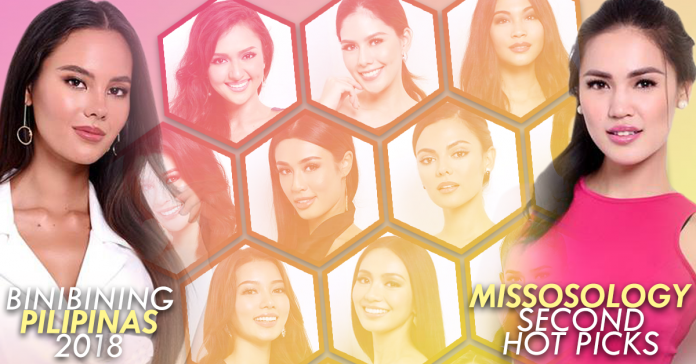 WE'VE SEEN the Bb Pilipinas 208 candidates pose in fancy photo shoots. We've heard them talk spontaneosly in interviews. We've seen them side by side each other during sponsor visit. By now, we already have a good grasp of who among the ladies are in the game to win the game.
Still leading our Bb Pilipinas hot picks is Binibini 20 Catriona Gray. The 24-year-old former Miss World Philippines is starting to veer away from her "Miss World" image. She has been experimenting with her looks and so far, so good! As one Missosology forum member noted, Catriona is now showing her true self and not someone patterned after another beauty queen. She remains to be the most popular candidate and no amount of bashing can put her down!
In not so distant second is Binibini 19 Michele Gumabao. The 25-year-old professional volleyball player is new to the pageant world, but inch by inch is imbibing the beauty queen vibe. She's a good speaker as well and with the height advantage, she will surely become one of the coronation night's biggest threats. Add to that, she's a social media influencer as well!
A new entry in our list is Binibini 17 Ma Ahtisa Manalo. This 20-year-old beauty from Candelaria, Quezon is fast becoming one of the front-runners in the competition. It is no surprise given her naturally beautiful and fresh face. We see a lot of potential in her. Our future Miss International, perhaps?
Binibini 1 Vickie Marie Rushton climbs to fourth place in our list. This 25-year-old model and actress may not be the most favorite among pageant fans. But with her pageant experience and showbiz background, she could be one of Philippines' strongest bets to any international pageant.
Rounding up our Top 5 for now is Binibini 11 Aya Abesamis. The daughter of former Miss Universe Philippines Desiree Verdadero is turning into a gem each day. We've seen the raw potential during screening, but with the right training and proper styling, Aya is now becoming a diamond! Watch out as she could surpise us all come finale.
Check out the full list below:

1 #Binibini20 Catriona Gray
2 #Binibini19 Michele Gumabao
3 #Binibini17 Ma Ahtisa Manalo
4 #Binibini1 Vickie Marie Milagrosa Rushton
5 #Binibini11 Aya Abesamis
6 #Binibini32 Eva Patalinjug
7 #Binibini35 Sandra Lemonon
8 #Binibini38 Karen Gallman
9 #Binibini23 Ena Velasco
10 #Binibini31 Jehza Huelar
11 #Binibini10 Kayesha Chua
12 #Binibini14 Samantha Bernardo
13 #Binibini3 Muriel Orais
14 #Binibini26 Wynonah Buot
15 #Binibini4 Ana Patricia Asturias
16 #Binibini7 Sigrid Grace Flores