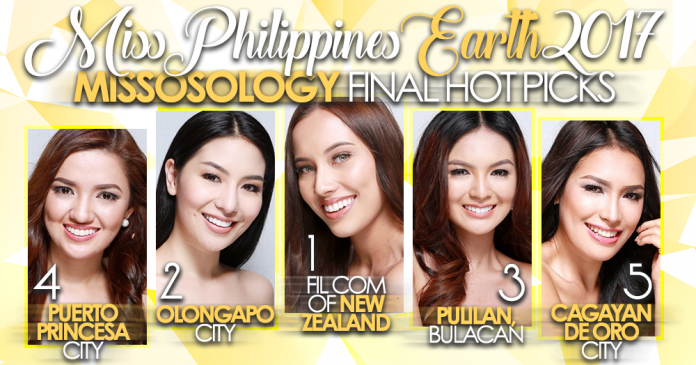 After a controversial 2016 which saw Imelda Schweighart

relinquishing her title

and Loren Mar Artajos taking over, the Miss Philippines Earth pageant is back to crown another "Earth Warrior" who will best exemplify a true Filipina beauty for a cause.
This edition proved to be a competitive one. With a lot of stunners battling it out to become the next Miss Philippines Earth, choosing only 10 from the 40 delegates proved to be a tedious task. However, the girls' performances during the pre-judging competitions (beauty of figure, beauty of face and poise, and intelligence), which were made public for the first time, made the task quite easy for Missosology's core group.
So before the ladies compete tomorrow, let us present our FINAL HOT PICKS.
Top contenders
We see a four-way battle for the top prize between the delegates of Olongapo, Pulilan, Puerto Princesa City and the Filipino Community of New Zealand.
Samantha Viktoria Acosta of Pulilan, Bulacan is the press favorite. She cemented her spot as one of the front-runners after winning the Darling of the Press award, resort wear (silver) and talent (dance, bronze) competitions. She has a beauty that is similar to Miss Supranational 2013 Mutya Datul so it won't be a surprise if she wins it all.
However, Miss Olongapo City Kim de Guzman proving to be another hot candidate. This former reality show contestant won two bronzes in talent (singing) and swimsuit competitions. Naysayers thought she would falter in the interview round, but Kim did her homework well and nailed it.
Puerto Princesa City is looking to redeem its name with Sadrine Stoelzaed. This lady has been on a roll, winning medals in evening gown and swimwuit rounds. Her pretty face and winsome smile are just too hard to ignore.
Another major force to reckon with in the competition is Jessica Rose McEwen from the Filipino Community of New Zealand. Jessica drew first blood in the talent (dance) competition after winning a gold medal. She then placed in the top 3 of the evening gown competition. She is no stranger to national pageants and this gives her an advantage, but her best asset is her gift of gab. A Miss Philippines Earth is a spokesperson and she fits that mold.
Potential spoilers
The next four ladies who could pull of surprises come finals night are the representatives of Cagayan de Oro, Panglao, Caloocan and Mandaluyong.
Cagayan de Oro City's Sherlyn Doloriel found herself in the spotlight after bagging the gold medal in the swimsuit competition. She has been a hit-and-miss, but with the proper styling, she could win Mindanao another MPE title.
We also have Catherine Tabaniag of Panglao, Bohol and Mandalyong's Marie Sherry Ann Tormes who have been consistently placed in most of the pre-pageant activities. Meanwhile, Jessica Marasigan of Caloocan City has been off the radar in the early rounds but winning the gold medal win in the resort wear competition gave her a much-deserved attention.
Check out the complete list below:

1 New Zealand | Jessica Rose McEwen
2 Olongapo City | Kim De Guzman
3 Pulilan, Bulacan | Samantha Viktoria Acosta
4 Puerto Princesa City | Sadrine Stoelzaed
5 Cagayan de Oro City | Sherlyn Doloriel
6 Panglao, Bohol | Catherine Tabaniag
7 Caloocan City | Jessica Marasigan
8 Mandaluyong City | Marie Sherry Ann Tormes
9 Porac, Pampanga | Anne Krishia Antonio
10 Dauin, Negros Oriental | Cheysen Capuno
11 Ozamiz City | Celine Mae Pangan
12 City of Manila | Karen Ibasco
13 Lobo, Batangas | Vanessa Mae Castillo
14 Makati City | Rheena Rae Ferrer
15 Camiling, Tarlac | Princess Nicolas
The Miss Philippines Earth 2017 finals will be held on July 15, 7pm at the Mall of Asia Arena in Pasay City, and will be aired in ABS-CBN the next day at 10am. Follow live updates in Missosology's social media accounts! Missosology.Org