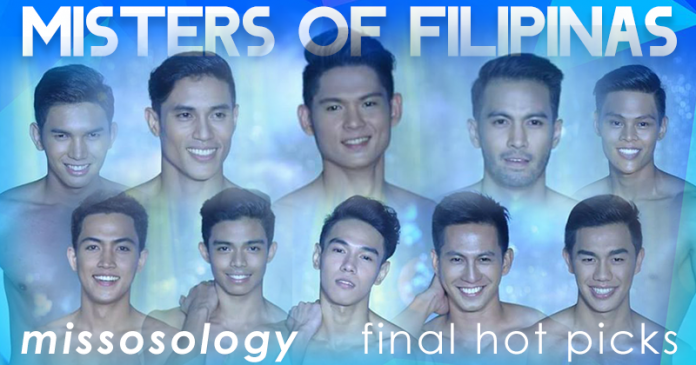 The finals night of the most prestigious male pageant in the Philippines will take place Sunday night. A total of 27 of the most eligible men from around the country and Filipino communities abroad will battle it out for the chance to represent the country in various international male pageants, including Mister International (won by Neil Perez in 2014), Manhunt International (won by June Macasaet in 2012) and Man of the Year (won by Karan Singhdole last August 2016).
But before the new set of Misters of Filipinas kings take the helm, here's our final choices for the titles at stake.
Our top choice for Mister International is the Comeback King of Bohol, AR Dela Serna. He was last year's runner-up and had the whole year to prepare himself for this competition (which is very visible in his noticeably improved physique). The pressure is definitely high, but experience and popularity will play to his advantage. Add to that his boy-next-door looks that will surely be a big hit in Thailand, this year's Mister International host, AR has what it takes to keep the streak going for the Philippines.
Miguel Mari Guia of San Pablo, Laguna is our choice for Man of the World. This pageant will have its first edition next year so Miguel has a lot of time to improve his physique. Nonetheless, he has the height and the beautiful face that could represent the country very well in international pageants.
For Manhunt International, we are betting on another pageant veteran General Santos City's Ichin Daclan. Physically (meaning his physique), he is already ready to go into any pageants. He just needs better styling and improve his communication skills (his waterloo when he joined in 2014.
One of the most prepared candidates, Issa Janda of Albay is a shoo in for Mister Supranational. Aside from the looks and the lean physique, Issa's advantage his is catwalk skills. That could work well when he competes in the upcoming new pageant, pegged to be the male version of Miss Supranational.
Biliran's Roshon Barman and Camarines Sur's Gerald John Fullante are our picks for Man of the Year and Mister Asian, respectively. These two men have the good combination of beautiful faces, youthful vibes, and good physique that would work well in these two Southeast Asia-based competitions.
Darkhorses in the competition are Mark Vincent Villaflores (Dumaguete City) and Jerald Mendoza (Laguna), while police officer Christopher Dulagan (Cordillera) is a good alternate to any of the top bets.
Check out the complete list here:
Mister International: BOHOL AR Dela Serna
Man of the World: SAN PABLO, LAGUNA Miguel Mari Guia
Manhunt International: GENERAL SANTOS CITY Ichin Daclan
Mister Supranational: ALBAY Issa Janda
Man of the Year: BILIRAN ISLAND Roshon Barman
Mister Asian: CAMARINES SUR Gerald John Fullante
7 DUMAGUETE CITY Mark Vincent Villaflores
8 CORDILLERA Christopher Comicho Dulagan
9 LAGUNA Jerald Mendoza
10 BALAGTAS, BULACAN Charles Joseph Querol
11 NEGROS OCCIDENTAL Vincent Issen Christopher Jarina
12 CAGAYAN VALLEY John Glenn Seridon
13 DAVAO DEL NORTE Randy Angelo Ramos
14 FILIPINO COMMUNITY OR MELBOURNE Jeremiah Nicolas
15 ROMBLON Roberto Lim Jr