Missosology's Binibining Pilipinas 2015 Third Hot Picks
Leading out third hot picks is the tall and beautiful Binibini 19 Christi Lynn McGarry. She was third in our list of the top girls during the press presentation, thanks to her polished walk and striking look that made her a standout. She joined Mutya ng Pilipinas in 2010 and was sent to the Miss Intercontinental where she placed in the Top 15.
Still on the second spot is Binibini 11 Janicel Lubina. While she is the youngest in the batch, this girl definitely delivers on stage. Her well-proportioned body was a sight to behold. You have to see the recent video of her giving a sample of her pasarela. She definitely got the moves fit for a queen.
Back in the top 5 is Binibini 34 Teresita Ssen Marquez. Wynwyn proved she is more than just a celebrity daughter. Her performance was one of the most memorable, despite the fact that she is among the shortest in the group (she's 5'5″). Those snappy turns and the way she threw that sarong made a strong impact.
Dropping a notch is Binibini 29 Nancy Lee Leonard. Her stage presence is commendable and she definitely commands attention. However, there are times that she tends to overdo her turns and poses. Despite that, we just have to reiterate that Nancy easily stands out when beside her fellow candidates thanks to her winsome smile
Down to the fifth spot is the erstwhile leader Binibini 10 Pia Alonzo Wurtzbach. This doesn't mean Pia is trailing behind. In fact, Pia's soft but elegant performance during the press presentation worked to her advantage. While she needs to shed a few more pounds to bring back her 2013 figure, you just couldn't ignore that strong, beautiful face.
Check out the rest of the list here: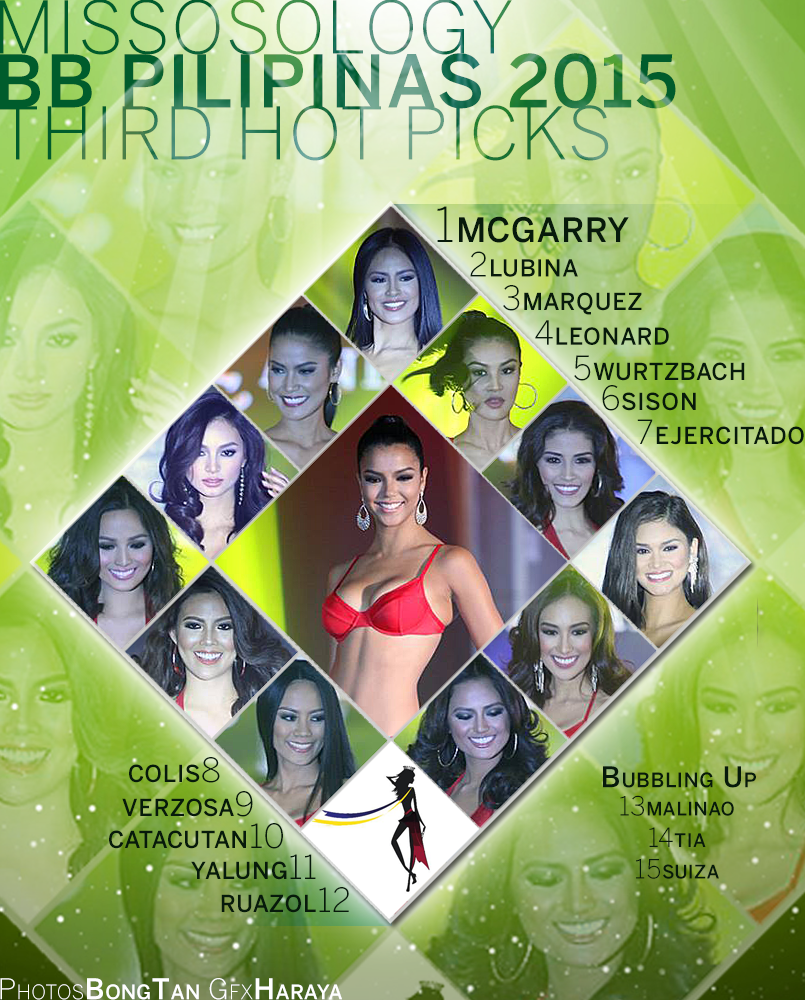 1 Christi Lynn McGarry
2 Janicel Lubina
3 Teresita Ssen Marquez
4 Nancy Lee Leonard
5 Pia Alonzo Wurtzbach
6 Hannah Ruth Sison
7 Patricia Lae Ejercitado
8 Ann Lorraine Colis
9 Kylie Verzosa
10 Rogelie Catacutan
11 Maolin Yalung
12 Danita Joan Ruazol
13 Alaiza Flor Malinao
14 Anabel Christine Tia
15 Kimverlyn Suiza
READ MORE
Second Hot Picks: http://missosology.org/regional/philippines/18394-bb-pilipinas-2015-second-hot-picks/
First Hot Picks: http://missosology.org/regional/philippines/18219-bb-pilipinas-2015-first-hot-picks/