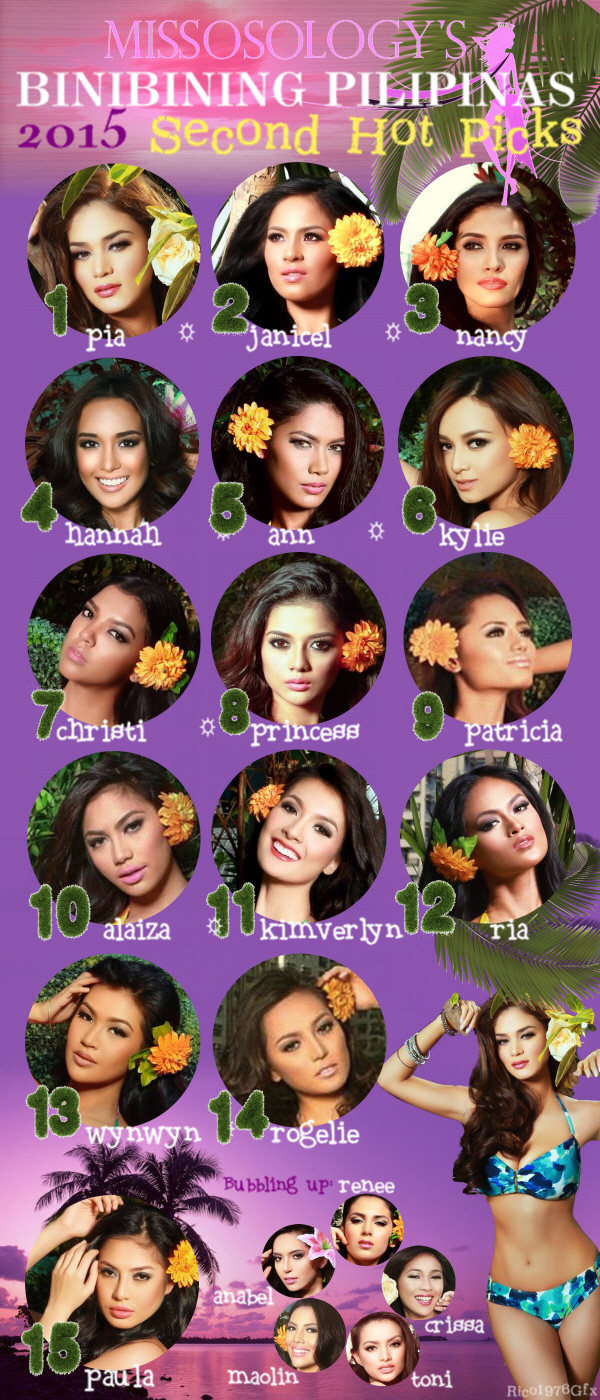 Missosology's Binibining Pilipinas 2015 Second Hot Picks
Select members in the Missosology Forum were asked who their favorites are. This along with the votes of Missosology's core members of admins and correspondents determined our Second Hot Picks for Binibining Pilipinas 2015.
Remaining in the number one spot is Binibini 10 Pia Alonzo Wurtzbach. This professional model, make-up artist and culinary arts graduate remains as one of the top choices for the crown. This is no surprise since this is already her third try in the pageant. With her experience, fresher aura and renewed determination, Pia will definitely stay atop the ladder.
Climbing up three notches is Binibini 11 Janicel Lubina. The runner-up to Megan Young in Miss World Philippines 2013 seems determined to make her dreams of becoming a beauty queen come true. Her humble background makes her relatable, add to that her distinct Pinay look and sexy figure. The press also loves this girl, too!
Still on third place is Binibini 29 Nancy Lee Leonard. Many have compared her beauty to the reigning Miss Universe Paulina Vega. Nancy easily stands out when beside her fellow candidates becaus eof her winsome smile.
In fourth place is Binibini 28 Hannah Ruth Lulu Sison. As last year's second runner-up, all eyes are on her if she will do an MJ Lastimosa this year. She might be a repeater, but that doesn't mean she lacked the freshness that the newcomers have. In fact, Hannah's confidence is beaming and she is always well-styled now.
Climbing to the fifth spot is the fast rising favorite Binibini 24 Ann Lorraine Colis. Her regal stance, good physique and strong facial features make her a potential spoiler come finals.
Check out the rest of the list here: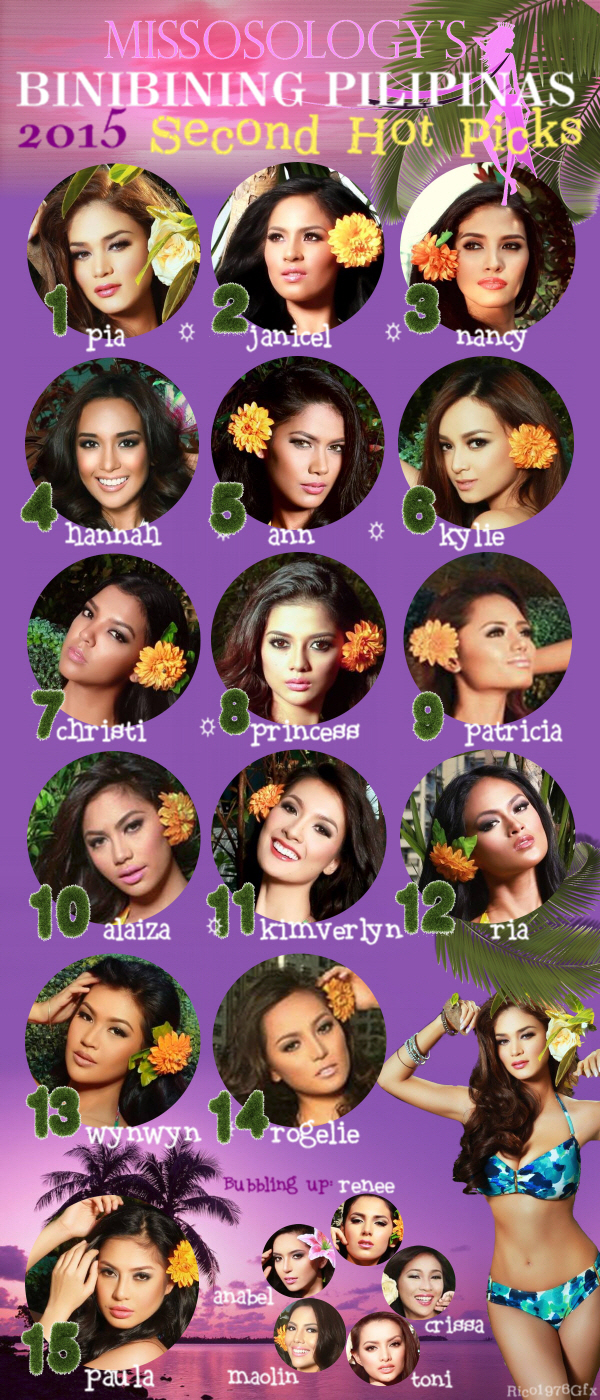 1 Pia Wurtzbach
2 Janicel Lubina
3 Nancy Lee Leonard
4 Hannah Ruth Sison
5 Ann Lorraine Colis
6 Kylie Verzosa
7 Christi Lynn McGarry
8 Princess Joy Camu
9 Patricia Lae Ejercitado
10 Alaiza Flor Malinao
11 Kimverlyn Suiza
12 Ria Rabajante
13 Teresita Sen Marquez
14 Rogelie Catacutan
15 Paula Rich Bartolome
Bubbling up
Renee Soraya Hassani
Anabel Christine Tia
Crissa Marie Mendiola
Maolin Yalung
Toni Alyessa Hipolito
First Hot Picks: http://missosology.org/regional/philippines/18219-bb-pilipinas-2015-first-hot-picks/