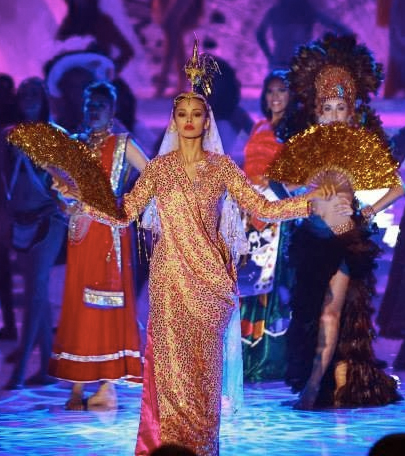 There is no doubt that the Dances of the World happens to be the most popular segment at the Miss World pageant. The plethora of colors and a few seconds of cultural snapshots give that inevitable feeling that indeed, Miss World is a competition of nations. Ever since its conception, the Philippines had trouble finding the right dance for the segment. Several countries like Mexico and Latvia were regulars largely because their national organizations took a lot of effort to come up with an interesting cultural presentation. They even solicited the services of the national dance troupes.
When the franchise of Miss World was moved from Bb. Pilipinas to Miss World Philippines, the latter tried to find ways to showcase the Philippine culture to the world. Bb. Pilipinas has actually "neglected" to dress the country's Miss World delegates for the segment and it is very evident that so little effort was made for the costume Czarina Gatbonton in 2010.
In 2011, Gwendoline Ruais was dressed by Oliver Tolentino's modified Filipiniana dress. The photo above shows Gwendoline wearing the costume with the sleeves missing. It looks like that the costume comes with a long-sleeved blazers with similar ruffles. But what kind of dance she should have showcased remains a mystery to the public.
In 2012, Queenierich Rehman, at the extreme left of the photo highlighted by a red box, tried to showcase the cultural heritage of the Cordillera Region. Unfortunately, like Gwendoline, she was not among the chosen ones who will dance in the finals. From that time, there is a constant conversation among the fans on what would it take to have a Philippine dance featured at Miss World.
And the answer came in 2013. Dancing the Maranao dance of Singkil, Megan Young took the center stage, poised and confident as she swings her graceful arms to the tune of distant gongs. The dance normally involves a lot of people as it involves story telling of a Maranao myth complete with bamboo sticks. Megan danced solo so it was basically a modified version of Singkil although the essence of the dance remains intact.
The question now is how to follow-up the spectacular performance of Megan. What dance and/or costume should be utilized by Miss World Philippines 2014? And above all, will she be chosen as one of the dancers during the final show?