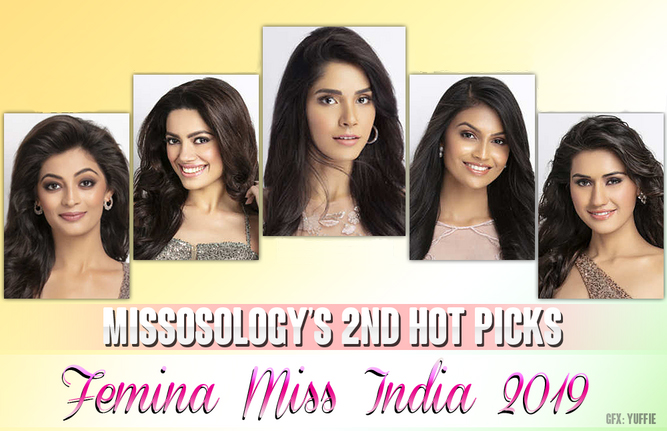 Written by Rajat Dutta Graphics by Yuffie
Welcome to the second Hot Picks for Femina Miss India 2019. This time we have two pageant experts who are following the pageant very closely and watching every move of the girls. Ritika and Rajat has merged their comments and scores to come up with this list.
So, let's start the countdown
# 15 : Tamil Nadu Rubeiya SK Score: 8.00. Rubeiya SK, unfortunately, is not a standout like her state pageant and she barely made it to the list.
# 14 : Jammu and Kashmir Megha Kaul : Score: 8.05 She is the biggest jumper and she is doing everything right at the moment
#13 : Punjab Harnaaz Kaur Score: 8.1 One of the prettiest faces, yet, in the crowd of beauties, Harnaaz doesn't stand out as a Miss India winner
#12 : Jharkhand Chitrapriya Singh Score: 8.2 The girl is very raw and unpolished but great potential
#11 Maharashtra Vaishnavi Andhale Score: 8.5 You can never ignore the Maharashtra sash , expect her to bring her A Game soon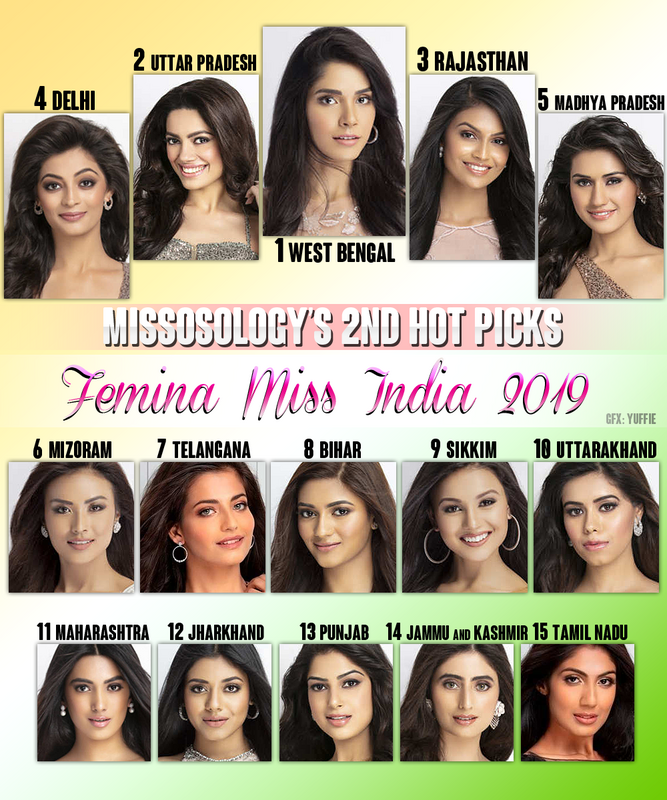 #10 Uttarakhand Siddhi Gupta Score: 8.75 Siddhi have come a long way from their state pageant days
#9 Sikkim Sang Doma Tamang Score: 8.75 She is on the right path but she has to prove that she is more than a very cute face
#8 Bihar Shreya Shanker Score: 8.8 She represents India golden years more like the Miss India of 90's were and consistency will take her far
# 7 Telangana Sanjana Vij Score: 8.85 She is pretty consistent. One is yet to come across a bad pic of hers
#6 Mizoram Lalnunthari Rualhleng Score: 9.00 It's time for a Northeastern state to have a podium finish and Mizoram is just the right girl for it
#5 : Madhya Pradesh Garima Yadav Score: 9.05 Garima is proving to be a strong competition and one of the best transformation from her state pageant
#4 Delhi Mansi Sehgal Score: 9.1 Mansi is oozing with X factor and combined that with her sash weight and she is on the road for a major title
#3 : Rajasthan Suman Rao Score: 9.15 Always reminds us of Diana Hayden and she is truly winning hearts
#2 Uttar Pradesh Shinata Chauhan Score: 9.15 She has been in the radar of most pageant experts and is consistently ranked high. She is in it to win it
#1 West Bengal Sushmita Roy Score: 9.25 Sushmita is the hardest worker you will see, with so much passion for pageants, she won't be satisfied without a crown