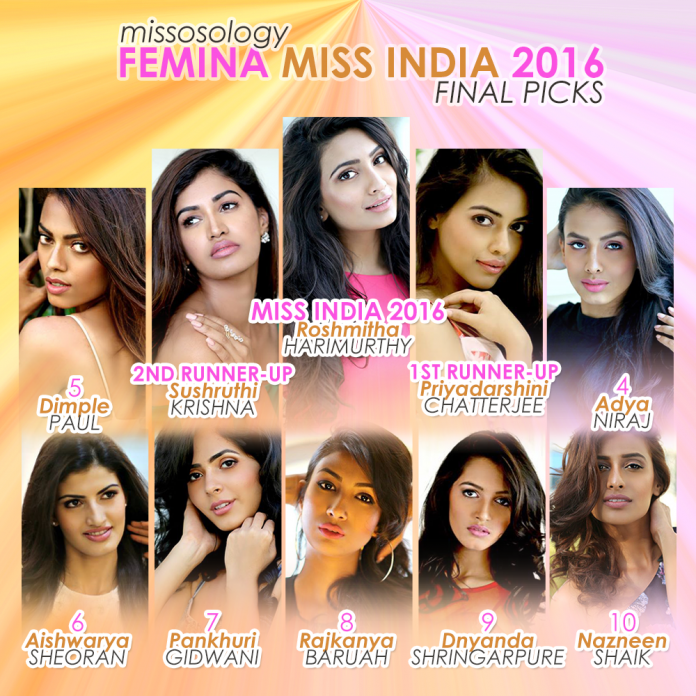 Roshmitha Harimurthy, the 21-year-old Femina Miss India Bangalore winner is the overwhelming choice of Missosology to win the coveted title of Femina Miss India 2016. With last year's disappointing non-placement of powerhouse India at Miss World 2015, we are confident that Roshmitha will be able to bring the multicultural nation back into the semifinals, or probably even win the blue crown.
Priyadarshini Chatterjee is in the second spot, although many are already making an advanced assumption that she might be sidelined at Femina, in order to give her a good shot at Miss Diva Universe, the competition to select India's delegate at the Miss Universe pageant.  But if beauty and performance will be the basis at tomorrow's competition, we can rely on Priyadarshini to deliver the goods when they matter the most.
In third place is Sushruthi Krishna, who is another popular girl at Missosology, although a few have doubts that she will go far into the competition due to her short height.  Beauty-wise, she has one of the most memorable and prettiest profile at this year's FMI competition.  However, the overall level of contestants this year is quite high, and we feel that height may matter a lot.  But if not, it won't surprise us if she will take it all!
Adya Niraj has a very memorable name.  And it has an impact.  Is she Miss World material or not?  Well, it really depends on ones point of view.  Just like Priya, many think that she is best suited for Miss Universe.  In the meantime, we can put her in 4th place, and we will welcome a much higher placement for her, just in case.
Dimple Paul is in 5th place, and we consider her as the contestant with the most seductive eyes at this year's contest.  If only Dimple is two or three years younger, she might be a strong contender for the top crown.  But, with younger and fresher looking girls competing beside her, it might hurt her chances.
In 6th place is the statuesque Aishwarya Sheoran.  If she plays her cards well, we might see her place even higher.  We think that she can be a great representative for Miss Supranational!
Pankhuri Gidwani is in 7th spot.  She is very photogenic, and we regret that FMI does not send a delegate to Miss International anymore as we believe that her beauty could best represent India in the Japan-based competition.
Rajkanya Baruah, Dhyanda Shingarpure and Nazneen Shaik complete our Top 10.