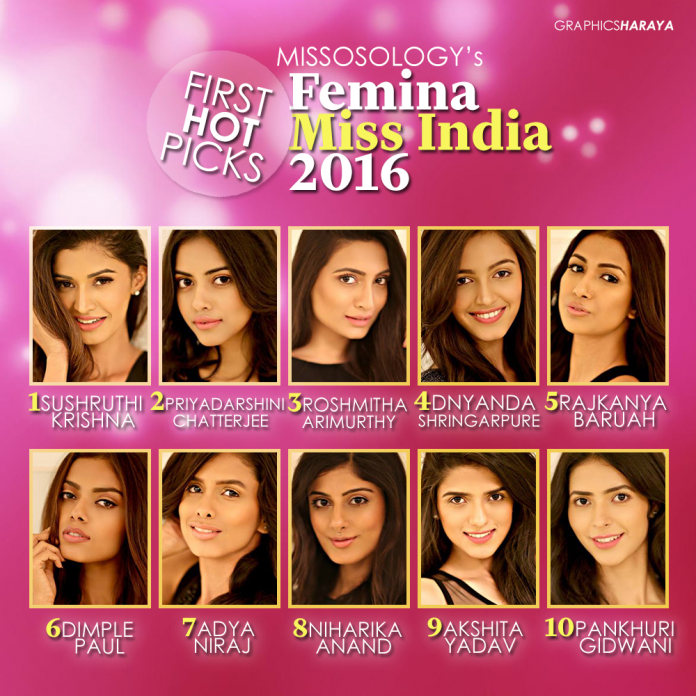 Sushruthi Krishna from Bangalore tops in Missosology's first ever Femina Miss India 2016 Hot Picks. One can see that this lady has a sophisticated beauty. A dancer and a sports enthusiast, it is of little wonder why this beauty is very curvaceous. Above all though, she has a charitable heart with a genuine concern to those in need. If anyone can bring back India to its glory days, that would be Sushruthi.
Priyadarshini Chatterjee comes in second in this list. She is a stunning beauty whose attractive asset must be her eyes. And oh, the lips! The Guwahati native loves to travel and she will be an instant hit in the international pageantry scene because this lady just loves to ask questions about other country's cultures!
Another beauty to watch out for is Roshmitha Harimurthy. She has this level of maturity akin to the past Miss World winners from India. Her focus is to help out the youth and she spelled out her advocacy pretty well. Confident, engaging and above all alluring, Rosmitha is one of the best beauties that came from Bangalore in recent years.
Dnyanda Shringarpure from Pune is currently on the 4th position and thanks largely to her bubbly personality and a pair of beautiful eyes that seems to smile all the time. She is an energetic lady who can lend a much needed jolt to any monotonous settings. She has the pizazz and sophistication to reign supreme in this year's Femina Miss India.
Rajkanya Baruah is a beauty queen who is not afraid to show off her natural beauty. She has this spunk and radiance that resonates well with many pageant analysts. Her main challenge though is how to channel that advantage should she opt for the Miss World India title. She probably needs to tone down her vivaciousness but clearly this woman has a beauty to reckon with.
Top 6-10
6. Dimple Paul – She reminds us of Ariadna Gutierrez. Truly a fusion of Bollywood and Latin America.
7. Adya Niraj – Classy beauty with a hint of Megan Young.
8. Niharka Anand – a subtle hint of Sushmita Sen can help her.
9. Akshita Yadav – reminds some people of Koya Rana. She is definitely a shoo-in for a title.
10. Pankhuri Gidwani – immaculate beauty that can surprise the front-runners