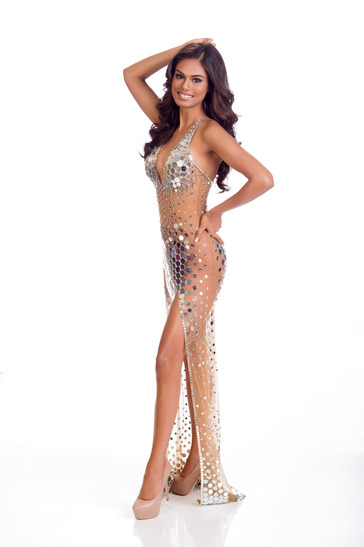 by Adjit
Whatever is it that Noyonita Lodh has been doing at Miss Universe for the first week has been great so far. She was labelled as the Indian version of Ximena Navarette while the Indian community in the US were so happy to see that finally, a mocha-skinned contestant is representing their country of origin.
Noyonita's beauty is exotic, her body is shapely, she is intelligent and above all, she catches a lot of attention. But the good run of Noyonita came to an abrupt end at the middle of this week. We'll stop short of labels but the wardrobe she used at the gown portrait was rather inappropriate.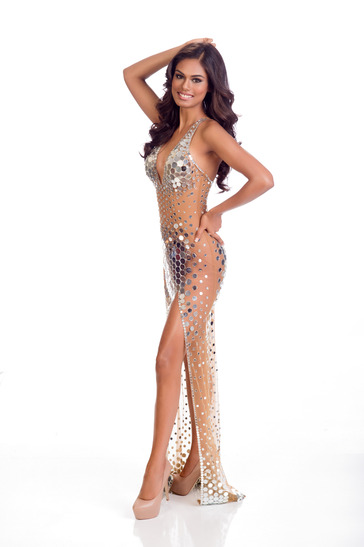 Now, let's assume for a moment that maybe it will not be her gown at the finals and that she is saving something better for the prelims. But during the Yamamay swimsuit presentation, it was evidently clear what strategy was being fed to the poor Noyonita. Watch the video below and try to connect the dots with the gown pictured above.
Can you see what strategy is being deployed here? This is akin to Catalina Robayo's "I'm going commando" strategy back in 2011. The danger here is that, sure, you can catch some attention (Catalina was one of the semifinalists) but how far can you go with that? Catalina failed to be in the Top 10.
I'm afraid that the blame should go the coaches and trainers of Noyonita. The strategy, as shameful as it is, is an affront to the image that Sushmita Sen, Lara Dutta, et.al. has built when they competed at the Miss Universe pageant. The candidates of India are gorgeous yet classy, sexy yet intelligent. This is what Indian beauties are known for. Whatever you may call the strategy of Noyonita at Miss Universe, I am imploring her. Please stop that.