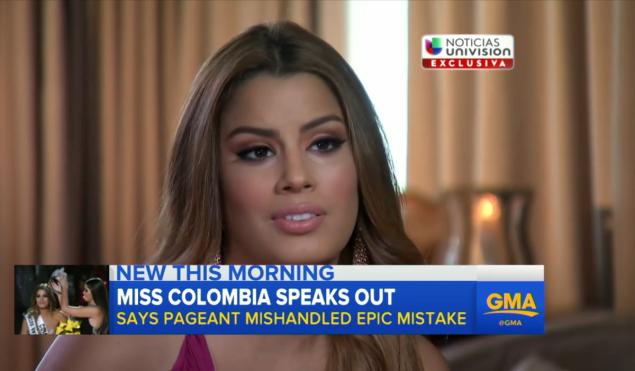 "In four minutes they destroy your dreams, they throw it in a bag, and they throw it in the trash. They could have done it another way. … I feel like it doesn't matter to them the feelings of a girl who has worked her whole life for a dream." These are the words of Ariadna Gutierrez in her recent televised interview with Univision. It has been weeks since the blunder of Steve Harvey that led to the crowning of the wrong winner. But it seems the Miss Universe 2015 first runner-up is yet to move on. Her words are becoming more like from a sore loser.
Missosology has officially symphatized with the feelings of Ariadna, even urging its readers to put themselves in her shoes. But knowing what really happened and now listening to what the Colombian beauty queen has said, it is increasingly difficult to relate with her predicament. For example, how can she say that her dreams were destroyed when in fact, every relevant people – from the judges, to fellow contestants, to Steve Harvey – confessed that it was Miss Philippines Pia Alonzo Wurtzbach who truly won? How could she demand Miss Universe to handle the situation in a different way? Is she insinuating that Pia should be robbed of her victory and just go on with the crowning of a wrong winner?
While we need to be sensitive on her hurt feelings, it is important for Ariadna to swallow the truth and reality no matter how hard and bitter it is. She should move on and should understand that she is the first runner-up and NOT the winner. The more she espouses herself as a victim, the more we believe that she truly does not deserve the Miss Universe crown.