…And now, a word from some of the most powerful voices in the Australian pageant industry!!!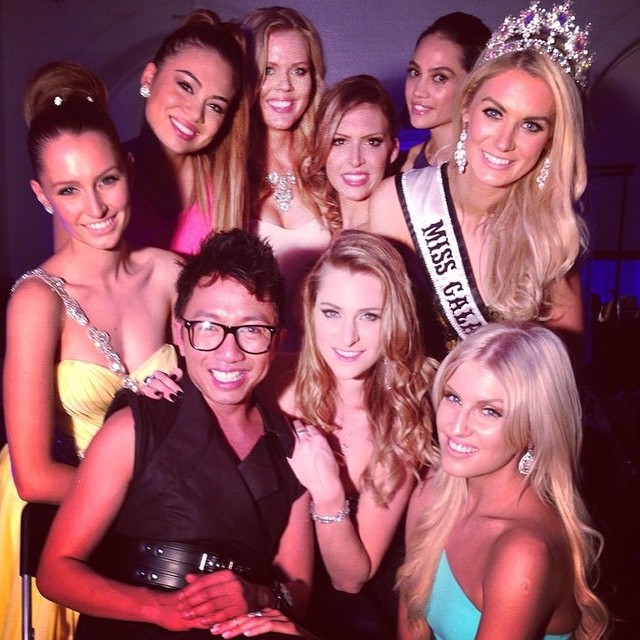 "Hello to my fellow Missosologists! While I personally have not extensively covered the Miss Universe Australia journey for a while now, I do keep a close eye on it with close friends trying their luck at the crown year after year. I would like to wish one of my dearest friends, Tegan Martin for being a wonderful queen. The perseverance, hard work and makeover worked like a charm and she represented herself and her country with pride, honour and dignity.
But it looks like the blonde bombshell beach babe days for Australia are over. After many many years of ignoring my advice that briefing the judges that "we are looking for the next Jennifer Hawkins" is the completely wrong thing to tell our pageant ignorant judges, the organisation has finally woken up from their beauty coma and seem to be giving our dusky beauties a chance. With the predominant audience being Latino or Asian, we need to be able to be aware of their sensibilities and find a beauty with global appeal. And so with that, and if the organisers are smart, they'll find the quintessential Aussie girl who embodies our free spirit and easy-going attitude but is a mix of the different cultures that really is the modern face of Australia.
So below are my picks for the girls to watch out for:
Alicia Maxwell: this is back with a new hair color and a take no prisoners attitude. She is channeling Olivia Wells and seems to have strengthened her stage presence and styling. Her communication skills and stage confidence are her most powerful weapons and she will be guaranteed a top 10, if not top 5 placement. Personally I think her strengths and looks are more suited to Miss World or Miss Tourism or International. But a girl is entitled to pursue her dreams at all costs and I wish her all the best. And look forward to seeing her compete in a different pageant system where I have no doubt she will go further.
Nonny Mulholland and Mel Barnard: the two standouts from Western Australia and the closest we have come to having a WA delegate with universal appeal other than Caris Tivel and not be accused of being a Sherri Lee Biggs or Renae Ayris clone. WA have had a long tradition of training beautiful women and seem to have nailed the formula that beauty is king for Miss Universe and that really, not much else matters. Let's hope these beauties get the recognition they deserve.
Madi Cowe: back for another attempt at the crown she's back with a new look and I didn't even recognize her. I have high hopes for this Queenslander.
Tasha Ross: An international model, Tasha is a cross between Kate Hudson and Gwyneth Paltrow. Tasha is a fighter and not many people seem to have caught on to her, but no doubt she will make her presence known on finals night.
La'Ace De Vries: give this woman a place on stage just so I can hear the emcee try and say her name. This girl is an unknown in pageant circles but what a discovery! A strong new face from Queensland
Chanel Stewart: you can't argue with her pics. In person she is equally stunning. But I do believe that she needs further training as there seems to be some glaring issues with stage etiquette, her walk, some posing and height. While we know that height isn't an issue, the shorter girls need to be perfect and work harder to stand out against the tall girls. Facially, Chanel is breath taking.
Dani Johnson: a former Miss Galaxy Australia, pageant circuit girl and glamour model, Dani has not given up her fight for the Miss Universe Australia crown. Having been best friends with Courtney Thorpe Miss World Australia for many years, she is also an avid follower of Dear Pageant Girl for a long time and while short, she's one of the shorties who have figured it all out. Other than her flawless face, you just can't take your eyes off her while she is on stage. Not only will she command your attention, she demands it. At best first or second runner up she would be suited to compete in Supranational or Grand. Put her in one of those and she will win Australia its next international crown.
Monika Radulovic and Claire Parker: this is probably the hardest two to separate with one being a clear public favorite and Claire being an insider favourite. Allow me to break it down without boring you.
Monika was the Dear Pageant Girl entry to Miss Tourism Australia pageant in 2012 where I had two days to get her prepared (https://dearpageantgirl.wordpress.com/2012/12/07/another-dpg-victory-miss-tourism-australia-2012-crowned/). While Monika competed and ended in the top 5 in 2014 but it was Tegan's year and there was nothing getting in the way of that. This year Monika is back and has traded in her sweet innocent looks and returned a sex kitten with some added extras that every successful pageant girl cannot do without. Her look is international and if she wins will no doubt guarantee Australia another finalist finish. Her entry this year and a change in disposition tells me that signs are pointing towards a strategic win, but hey, I'm just a pageant commentator, what would I know? Industry experts and observers seem to agree that Monika will win for reasons I will not share as all are hearsay, but I do wish this former Dear Pageant Girl discovery all the best.
Claire Parker is also a Dear Pageant Girl alumni, a former Miss Teen Australia who started with Tegan Martin in Miss Universe Australia in 2010. Both Tegan AND Claire won the Cosmo Model Search run by the same director. Claire has spunk and if the judges listened to the director's briefing that they are looking for another Jennifer Hawkins, Claire will be guaranteed the crown. Considered a dark horse by the public, she is the industry experts' sentimental pick and personal choice for the crown. Based on merit, looks and heart, Claire is the predicted winner by the insiders (this includes beauty queens, sponsors, judges) and is one of the favourites of the organisation, but if the conspiracy theory holds up, Monika will get Universe and Claire, Tourism. The biggest danger for Claire is the possibility that she is shut out of the top 5 as to not present a clear and present danger to Monika whom she will pulverise during the interview section, especially if the judges are looking for spunk over sweetness.
While personally I won't be attending or covering the event I look forward to the updates on social media feeds that will. No matter the result, I will be happy because I know that the top 3 will most likely have been touched at some point, like every MUA winner, by Dear Pageant Girl.
Below are some of my queens' picks:
From Kelly-Louise Maguire, Miss Earth Australia 2010, Miss Grand Australia 2013 and Production Director of the NEW Miss Earth Australia: "Monika will be stiff competition but my vote goes to Claire".
From Jenna Seymour: Miss Earth Australia 2012: "Top 5 in no particular order are Monika Rad, Tash Ross, Claire Parker, Kayla Paul and Chanel Stewart. I think Danni Johnson and Mel Barnard will also do well"
From Carin Hillman – the first ever Mrs Australia representing Australia in 2009 at Mrs Intl and 2010 at Mrs World: "Top ten In no particular order….. Nonny Mullholland Claire Parker Chanel Stewart Monica Radulovic Madeleine Cowe Radha Ross Melissa Barnard Tarrah Burns Sarah McLeod Stella Badenoch. My pick is Claire because she's a pocket rocket."
Dani Fitch – Miss World Australia QLD 2015 state finalist and Miss Universe Australia cast off: "I have my pick as Claire but Monika has the right profile for the win."
Alex Hecker, Miss World Australia 2014 finalist and repeat competitor in 2015 for the Miss World Australia. "Brunettes have got all of that covered."
Laura-Jane Corker, Miss World Australia 2014 finalist and repeat competitor in 2015: "Yeah girl! I just watched the MUA vids….Claire can talk! I really liked her but Monika is clearly the one by the looks."