With a low average of new Covid-19 cases, Thailand is finally showing signs of pre-pandemic life in the "new normal" with the staging of the 2020 Miss Universe Thailand contest.
After five consecutive placements including a Top 5 finish last year, the country is leaving no stones unturned in its search for its third Miss Universe crown. Despite the challenges brought about by the pandemic, MUT has so far staged impressive screening and pre-pageant activities. Add to that the high quality of this year's candidates making the task narrowing down the field from 100 to 30 and finally choosing the winner no easy.
Leading our ranking is the beautiful Thai-Canadian model Amanda Obdam. This lady has definitely improved a lot since her Miss Thailand World 2015 stint where she failed to capture the crown. Her academic background and good communication skills are definitely a plus specially now that Miss Universe is focusing more on the candidates speaking skills, which pageant observers noted as the waterloo of Thai beauty queens.
Not far behind is pageant veteran Punika Kulsoontornrut. She is now on her finaly attempt at winning an international crown. Punika was Miss Earth-Water in 2013 and a year later finished second runner-up in Miss International. Her international pageant experience will surely work to her advantage.
In third place is the striking beauty of Praewwanich Ruangthong. This freelance model and host was first runner-up in Miss Thailand World 2018. Now back for another shot at a national title, Praew surely improved on her styling. Her charm and elegance reminds us of Chalita Suansane.
Other ladies to watch out for are returning candidates Paveenar Singh (who was a runner-up in Miss Universe Thailand 2018) and Jareerat Petsom (Miss Universe Thailand 2017 Top 10), and hot favorite Emmy Kym Sawyer (Miss Teen Thailand 2016 runner-up).
Check out the full list below:
1 Amanda Obdam
2 Punika Kulsoontornrut
3 Praewwanich Ruangthong
4 Paveenar Singh
5 Jareerat Petsom
6 Emmy Kym Sawyer
7 Sirilux Songsri
8 Wanvisa Goldman
9 Benjarat Akkarawanichsil Aebi
10 Chayathanus Saradatta
11 Natthapat Pongprapan
12 Kanyanut Numnaree
13 Patitta Suntivij
14 Thaweeporn Phingchamrat
15 Pornpreeya Jumnongbut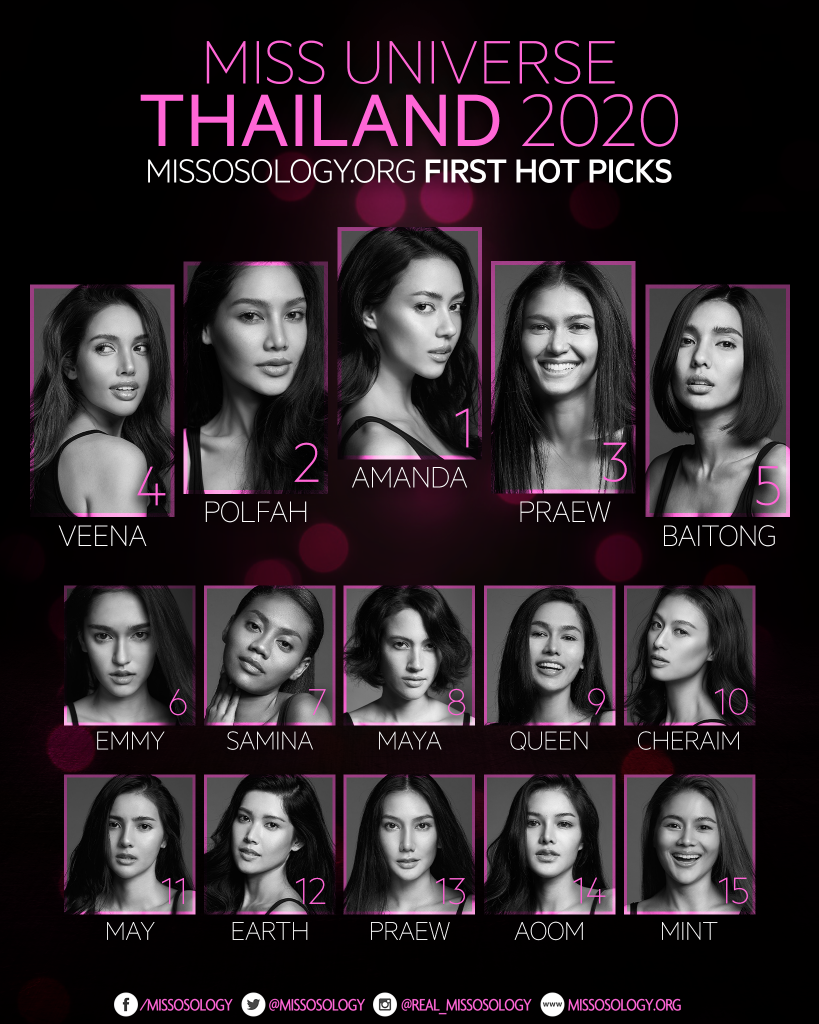 Follow Missosology's social media pages for more updates. Missosology.Org