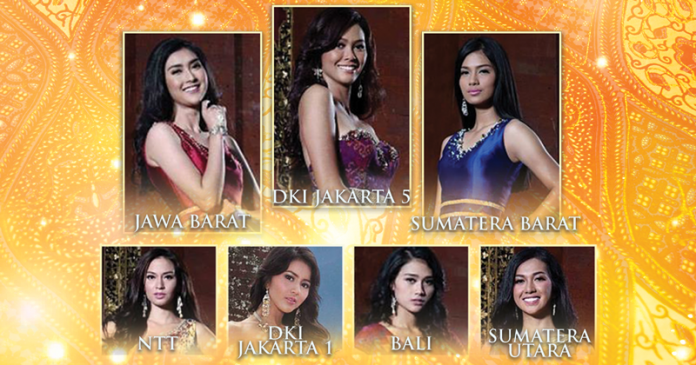 Whoever wins the Puteri Indonesia 2017 crown tonight have big shoes to fill following Indonesia's four consecutive placements in Miss Universe and last year's good showing in the Big5 pageants.
It could still be anybody's ball game, but we are looking at the possibility of Miss DKI Jakarta 5 Bunga Jelitha Ibrani winning it all. A professional model and actress, Bunga was crowned Supermodel of Asia Pacific (now Supermodel International) in 2011.
Kevin Lilliana of Jawa Barat could be a good follow-up to Felicia Hwang for Miss International. This interior design student's doll-like features will be a hit in Japan.
For Miss Supranational, Sumatera Barat's Puji Chegana is the best choice. Her modeling experience will definitely work to her advantage in that pageant.
Worty of mention is NTT's Karina Nadila Niab. This fan favorite could pull of a huge surprise, but will highly likely be sent to another pageant won by Indonesia last year.
Check out the complete list:
1. DKI JAKARTA 5, Bunga Jelitha Ibrani
2. JAWA BARAT, Kevin Lilliana
3. SUMATERA BARAT, Puji Chegana
4. NTT, Karina Nadila Niab
5. DKI JAKARTA 1, Karina Nandia Saputri
6. BALI, Devina Bertha
7. SUMATERA UTARA, Putri Mentari Sitanggang
8. DKI JAKARTA 3, Nadya Maudy Juliana
9. RIAU, Astari Aslam
10. KALIMANTAN TIMUR, Gituen Miracline Samantha
11. JAWA TENGAH, Dea Goesti Rizkita Koswara