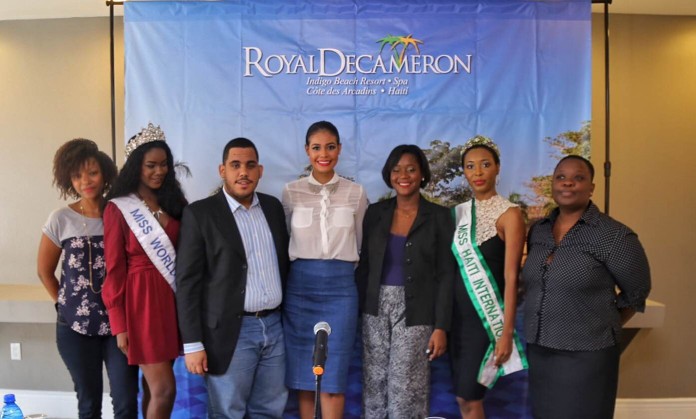 4th edition of Miss Haiti officially begins!
Port-au-Prince. The Organization of Miss Haiti announces on May 13th that the 4th edition of Miss Haiti has begun. This year three accomplished young Haitian women will have the chance to win one of the most coveted Miss Haiti crowns: Miss World Haiti 2016, Miss Universe Haiti 2016 and Miss International Haiti2016.
Registration has already started on May 11th, and will run up to July 2nd through the competition website: www.misshaitiorg.com or during one of the scheduled castings:
1. Jacmel, June 11 2016 at the Touristic Port – 3h PM
2. Cap-Haïtien, June 18 2016 at Lakay Restaurant- 3h PM
3. Cayes, June 25 2016 at Le Recul Hôtel- 3h PM
4. Port-au-Prince, July 2nd 2016 at Le Villate (Pétion-Ville)- 3h PM
5. For the diaspora on Skype : @misshaiti.org
Ladies of Haitian nationality residing in Haiti or abroad aged 18 to 26 years old, unmarried and without children, with a valid passport, able to speak inCreole or French who have completed their Bac2 are eligible to participateMiss Haiti 2016.
Two ceremonies will be held to crown the winners: August 13th, The Miss World Haiti at Royal Decameron Resort & Spa; and August 27th for Miss Universe Haiti and Miss International Haiti.
For more information, visit the website of the Miss Haiti Organisation and other social networks: Facebook, Instagram and twitter @MissHaitiOrg and watch the contest updates and activities on their YouTube Channel: Miss Haiti Org.
The competition is supported by Radio Tele Métropole, Haïti Biz, HaïtiCourrier, Artka Decor, ONA, Royal Decameron, Oasis Hotel, Kingdom Hôteland; provincial partners Lydie Krauchi (Jacmel) Chantal Laroche (LeNord), Valery Numa (Cayes) and Eddy Renaud (Port-au-Prince). The committee is consist of: Anédie Azael Doura (co-national director), Christian Puesan (co-director national), Sabine Désir (national coordinator), Thierry Prinston (graphic director) Laurence Girault (Public Relations), Wisline Louissaint (Public Relations/ Social Media).