выбрала лучшие национальные костюмы!
Since the break-up of the Soviet Union, Russia has been competing at the Miss Universe pageant as a distinct and separate political entity since 1994. The national costumes used by Russian candidates at Miss Universe consists mainly of the traditional headgear called kokoshnik and boyarynya.
Russia won the Best in National Costume award once – in 1996 – with Ilmira Shamsutdinova's Cossack hussar inspired costume drawn from the culture of the Astrakhan region. In general, the Russian costumes are colorful and extravagant. In 2006 for example, Anna Litnova wore a national costume with laden with gold threads and it is reportedly to weigh around 6 lbs! Irina Antonenko in 2010 also wore $ 60, 000 worth of furry costume with real silver and gold threads. Not to be outdone, Elmira Abdrazakova used an elaborate Byzantine inspired costume with real precious stones.
Here, Missosology compiles the National Costumes from the beautiful nation of Russia. Which costume do you like best?
Инна Зобова на Мисс Вселенная 1994
Inna Zobova (Miss Universe 1994)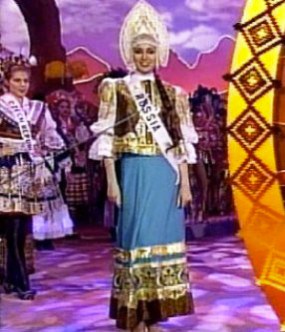 Юлия Алексеева на Мисс Вселенная 1995
Yulia Alekseeva (Miss Universe 1995)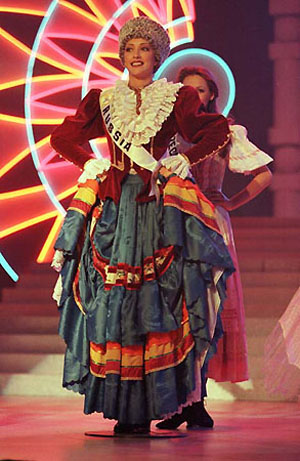 Ильмира Шамсутдинова на Мисс Вселенная 1996
Ilmira Shamsutdinova (Miss Universe 1996 Best in National Costume)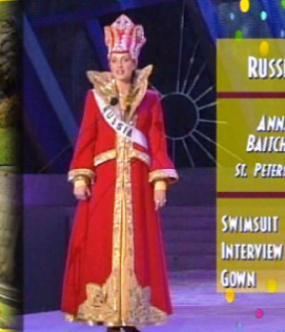 Анна Витальевна Байчик  на Мисс Вселенная 1997
Anna Baitchik (Miss Universe 1997)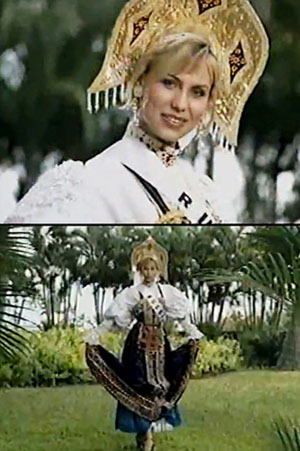 Анна Малова на Мисс Вселенная 1998
Anna Malova (Miss Universe 1998)
Александра Петрова  на Мисс Вселенная 1999
Alexandra Petrova (Miss Universe 1999)
Светлана Горева на Мисс Вселенная 2000
Svetlana Goreva (Miss Universe 2000)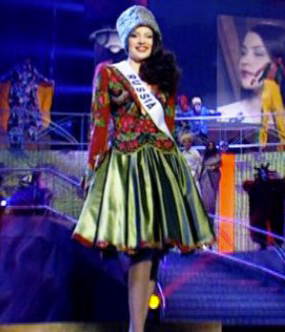 Оксана Каландырец на Мисс Вселенная 2001
Oksana Kalandyrets (Miss Universe 2001)
Оксана Геннадьевна Фёдорова на Мисс Вселенная 2002
Oksana Fedorova (Miss Universe 2002 – Costume designed by Galina Eberling)
Олеся Бондаренко на Мисс Вселенная 2003
Olesya Bondarenko (Miss Universe 2003 – Costume designed by Valentin Yudashkin)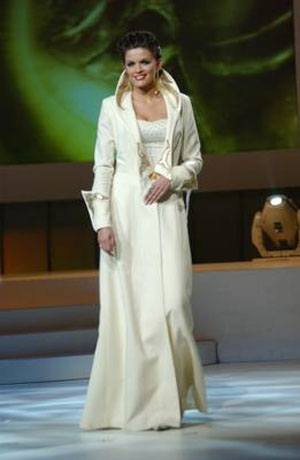 Ксения Кустова на Мисс Вселенная 2004
Ksenia Kustova (Miss Universe 2004)
Наталья Николаева  на Мисс Вселенная 2005
Natalia Nikolaeva (Miss Universe 2005)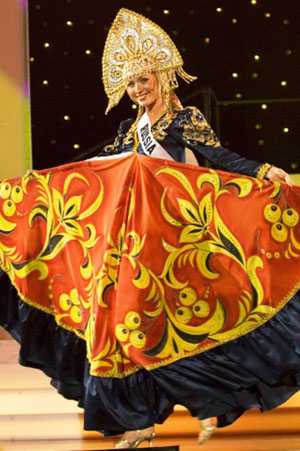 Анна Литвинова на Мисс Вселенная 2006
Anna Litvinova (Miss Universe 2006)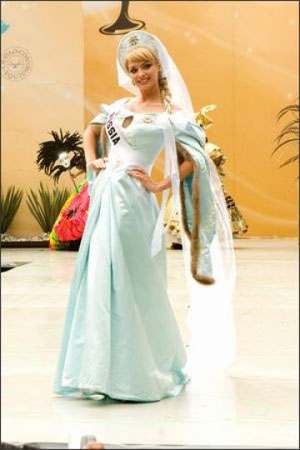 Татьяна Котова на Мисс Вселенная 2007
Tatiana Kotova (Miss Universe 2007 – Designer of the costume is Natalia Walewska)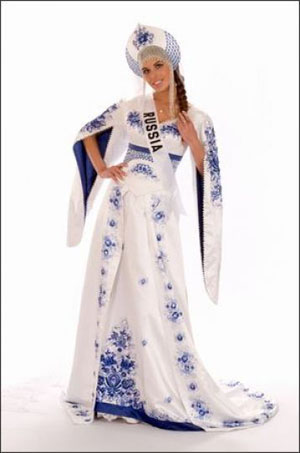 Вера Красова на Мисс Вселенная 2008
Vera Krasova (Miss Universe 2008)
София Рудьева на Мисс Вселенная 2009
Sofia Rudieva (Miss Universe 2009 – Designed by Alexander Sergienko and Alexander Arutyunov)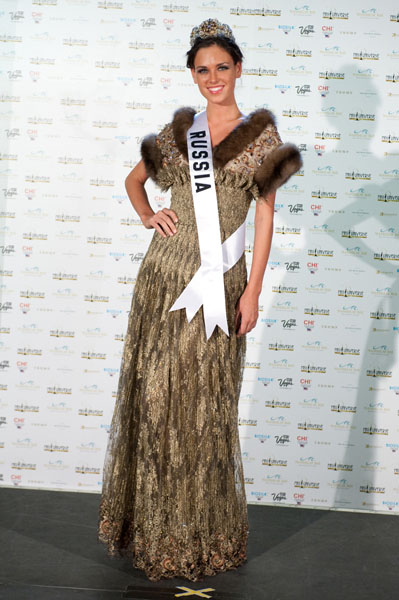 Ирина Антоненко на Мисс Вселенная 2010
Irina Antonenko (Miss Universe 2010 – Designed by Nata Rikami)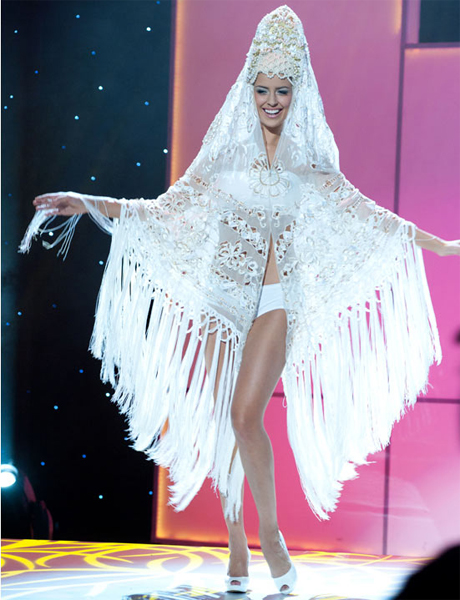 Наталья Гантимурова на Мисс Вселенная 2011
Natalia Gantimurova (Miss Universe 2011)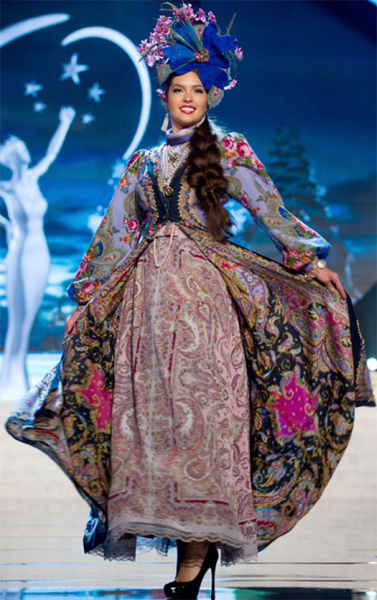 Елизаве́та И́горевна Голова́нова на Мисс Вселенная 2012
Elizabeta Golovanova (Miss Universe 2012 – Costume designed by Slava Zaitsev)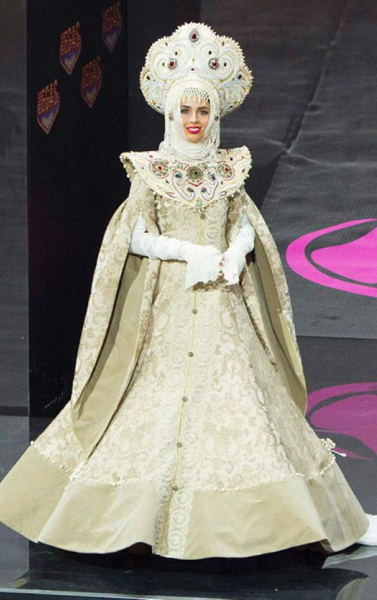 Эльмира Рафаи́ловна Абдразакова на Мисс Вселенная 2013
Elmira Abdrazakova (Miss Universe 2013)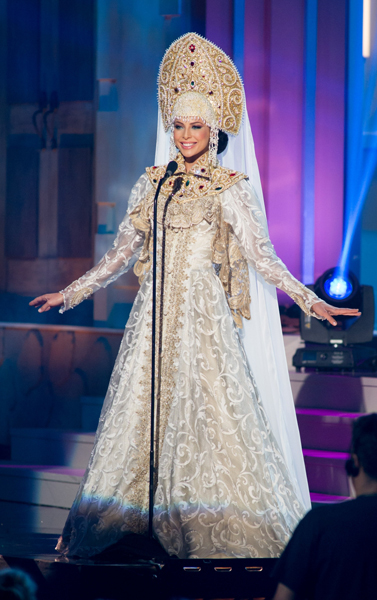 Юлия Сергеевна Алипова  на Мисс Вселенная 2014
Yulia Alipova (Miss Universe 2014)