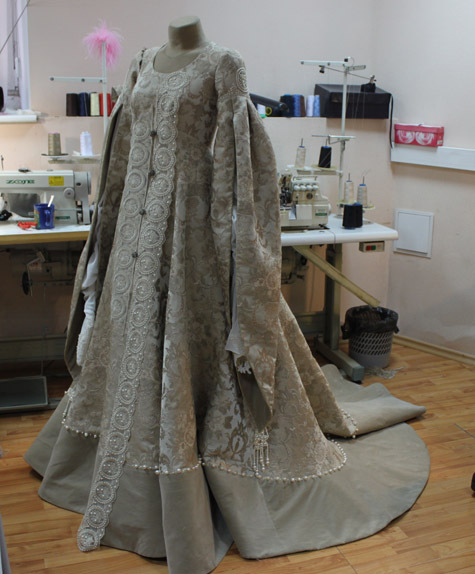 Каким национальным костюмом «мисс Россия-2013» Эльмира Абдразакова очарует жюри международного конкурса, гадали последнее время все светские хроникеры. Поговаривали, что наша конкурсантка то ли предстанет в образе белого лебедя, то ли выйдет на сцену, нарядившись боярыней, в бархате и соболях.
Не волнуйся. Это уже было выявлено.
В костюме предусмотрен самоцветные камни в серебре, натуральный жемчуг и эксклюзивные серебряные пуговицы, которые изготавливались на заказ.Ткань была из Стамбула, поскольку он не может быть найдено в России.
Many pageant analysts are wondering what will Miss Russia wear for the National Costume contest. Some has rumored that she will wear a costume like a white swan or perhaps the traditional boyarynya (an oversized velvet Russian hat) perhaps made of sable skin. 
But not to worry as it has already been revealed.
The costume has semi-precious stones in silver, natural pearls and exclusive silver buttons, which were made to order. The fabric was from Istanbul because it cannot be found in Russia.