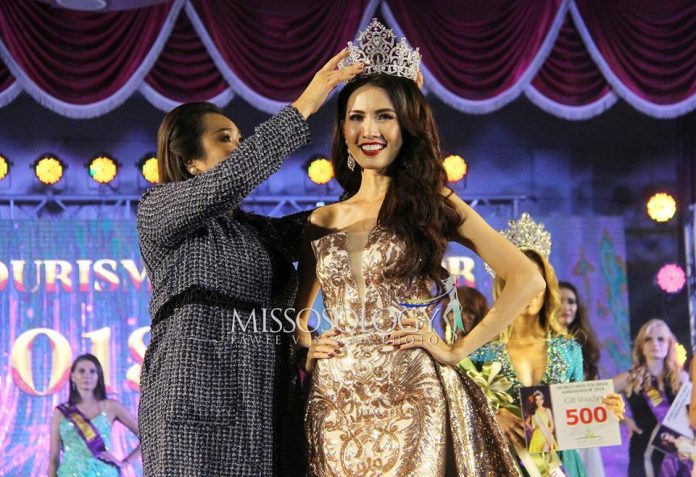 Miss Vietnam, Phan Thi Mo won World Miss Tourism Ambassador 2018 at the grand final held in Phatthalung, Thailand on Wednesday night, August 8.
28 year-old "Mo Phan" who hails from Ho Chi Minh City defeated 49 other contestants to win the 2nd edition of the pageant. Her royal court includes Miss Chile Fernanda Andrea Caro Zarate who won the World Miss Culture Ambassador 2018 title and Miss Hong Kong Lin Taiyang who was named World Tourism Queen Ambassador 2018. The runners-up were Miss Thailand, Sudaporm Wongsasiripat (1st runner-up), Miss Bolivia, Maria Elena Antelo Molina (2nd runner-up) & Miss Mongolia, Aterdene Gunzaya (3rd runner-up).
The new Vietnamese queen Mo Phan is a model and actress in her native country and has joined several pageants in the past which includes Miss Vietnam World 2010, Miss Asia USA, Miss Vietnam and Miss Earth prior to finally winning the title last night. Before taking part, she said the competition was the final global beauty pageant she would contend and would try her utmost to win.
During the question and answer session, when asked what was her biggest fear in her life, she said that health is the most important thing and her biggest fear is illnesses.
World Miss Tourism Ambassador took place in two host countries for 2 weeks this year – Thailand & Vietnam. The pageant is not only a beauty arena, but also a channel for promoting tourism, culture and tourism services of any country that sends a delegate to the contest. Text and photos by Pawee Ventura; Missosology.Org