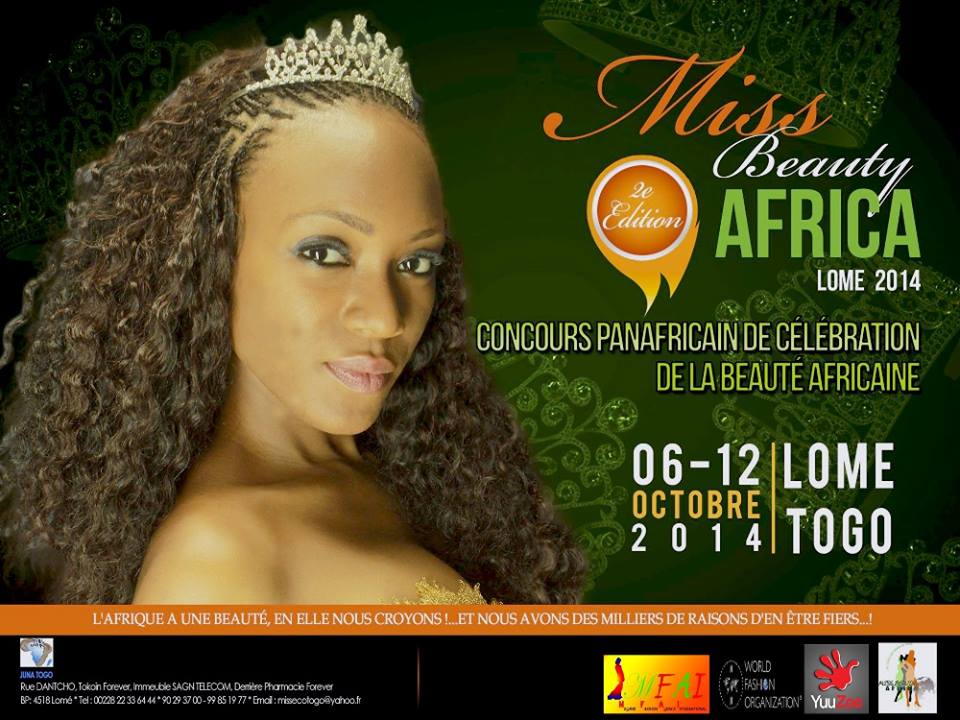 MISS BEAUTY AFRICA – LOME 2014
Lomé (Togo), du 06 au 12 octobre 2014
The 2nd edition of the Pan BEAUTY MISS AFRICA will be held Saturday, October 11, 2014 in Lomé. The selection of 20 candidates, talented beauty queens and high-level holders of securities of national beauty with an international standard, is underway in various African countries.
Pan prestigious competition for promotion of African beauty, fashion and cultural heritage of Africa, Miss Africa Beauty spent annually crowns a Queen Ambassador African Beauty, Arts and African Fashion.
This is an annual event in which a beauty queen and African culture, representing an African crowned Active Messenger of Peace and Development in Africa and the world for a period of one year.
Beauty pageant meets once a year in an African city, twenty girls aged from 18 to 28 years, from African states to seek the coveted title of Miss Africa Beauty.
'The MISS AFRICA BEAUTY contest is the culmination of a night of African Beauty Ambassador who works for a year for the triumph of Peace and Development in Africa. It is also and above all a framework for exposing the various African cultures and demonstrate that Africa is an oasis of peace, tourism and investment 'said Armstrong LOGA, the African Coordinator Miss Africa Beauty.
This event is preceded in each African country, a national selection of a candidate representing his country.
In Togo, it is the United Youth Association for a New Africa (JUNA TOGO), representative of the Word Fashion Organization, initiator of the event, organizing the 2014 Edition of the Pan African competition celebration of African beauty, MISS BEAUTY AFRICA Lomé 2014.
Twenty candidates selected at the presets from national and participate in competitions Pan selection, Saturday, October 11, 2014 at the Palais des Congrès de Lomé evening during which the Queen of African Beauty, MISS BEAUTY AFRICA for 2015 will be elected.
The 20 candidates will séjournées of 6 to 12 October 2014, in Lomé, Togo, during which they will be put to a real green. President of the Organizing Committee said he was sanguine about the success of the event in Togo 'because the Organising Committee, he says, is made up of true professionals who s 'invest daily in this mission with great fervor, zeal and self-sacrifice. He sought reassurance about the enthusiasm of the Togolese government and sponsors who it reiterates its call to associate their brands with this event, which since last year, has established itself as the most prestigious event culture in Africa.
Miss Beauty Africa 2014 is sponsored by the Government of Togo. The last edition was held in December 2013 in Yaoundé (Cameroon) where the representative of Togo, Miss Alexandrine Yawa HANTZ was crowned MISS BEAUTY AFRICA for the year 2014.
Infoline: 00237 99157924 , 0023751117624 / missbeauty africa@gmail.com
THE CONTESTANTS (so far…)