Despite the online vitriol and all the name calling, the general relationship of the Filipino and Indonesian beauty pageant fans are generally cordial. Well in fact, several beauty pageant fan sites between the two countries are teaming up. There is also a mutual interest among the numerous national pageants across the Celebes Sea. Indonesian pageant fans are glued on who will win the Bb. Pilipinas as much as Filipino pageant enthusiasts are closely watching Puteri Indonesia.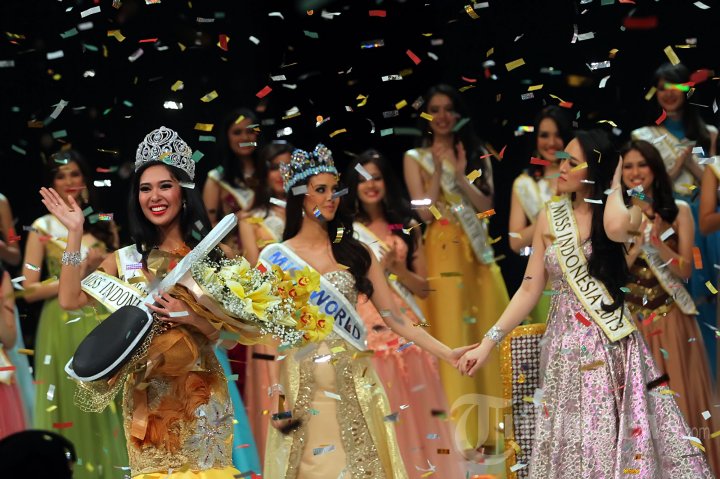 What we are seeing online are the very few uneducated and clearly classless individuals who would like to stir the pot and create some artificial conflict. Call it as internet trolling but the very few who does not share the sentiment of the majority is creating an unnecessary rift between Indonesians and Filipinos. Ethnically and linguistically similar, Indonesians actually look up to the pageantry achievements of the Filipinos. And there is that genuine hope in the Philippines that Indonesia will soon become a beauty superpower as well.
Indonesia and the Philippines are the usual roommates at Miss Universe. Megan Young and Vania Larisa are very close friends despite the "war" created by the trolls. Maria Selena openly wept when Janine Tugonon did not win the Miss Universe crown in 2012. Indonesian delegates at Miss Earth gets real respect in the Philippines and at Miss International, Philippines and Indonesia are quite close in many instances. The reality is that there is no rift between the two countries. The Big4 pageants are actually zeroing in on both as they are part of the TIMP (Turkey, Indonesia, Mexico and the Philippines) – a grouping of countries that are currently the bright spots when it comes to the economy. These two countries also are very populous and with a huge beauty pageant fan base.
So, don't be fooled on what you see on the social media sites. It is also very possible that these trolls are neither Filipinos nor Indonesians and are just there to create trouble. Indonesians and Filipinos are friends and it is in their very interests to remain as such.