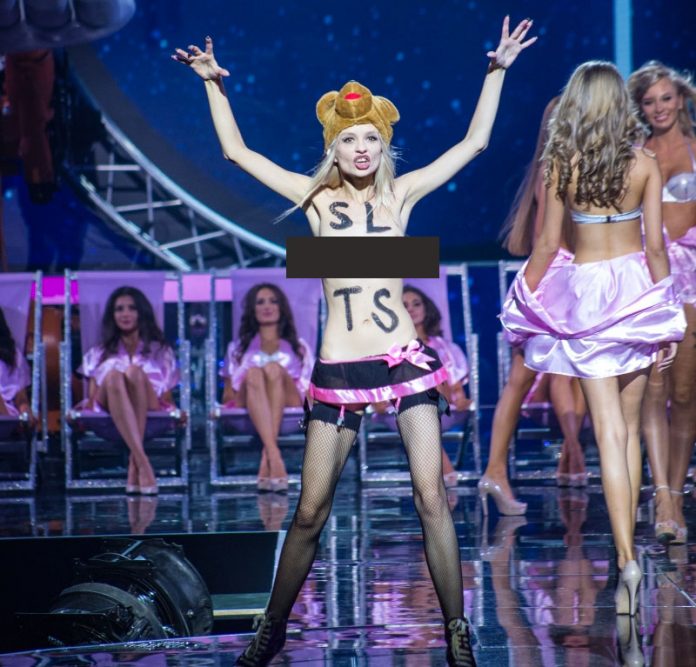 What happened during the Miss Ukraine 2017 pageant is a classic example of how radical feminism has defined all beauty pageants in one broad brush. A member of FEMEM group dashed onstage during the swimsuit competition and made a scene by going topless revealing the emblazoned letters SL*TS. Clearly, the radical group thought that pageants are all about degrading women and that the whole affair of the evening was about flesh trade.
Miss Ukraine 2017 pageant was of course not about dehumanizing women. The winner of the pageant, Polina Tkach, will compete at Miss World which has long ditched the swimsuit competition and has now concentrated on raising charity for various projects. Another winner, Diana Mironenko, will compete at Miss Earth – a pageant which puts great emphasis on environmental causes. Meanwhile, in the very same pageant, Kseniya Chifa was named Miss International Ukraine. She will soon compete in a major international pageant in Japan which is also dedicated in raising funds for UNICEF. If these are the pageants that the winners of Miss Ukraine 2017 will compete on, it is a gross injustice to label them as FEMEN did.
Advocacy is something that sets apart major international beauty pageants from the rest. Miss Universe, Miss World, Miss International, Miss Earth and Miss Supranational are far from being your regular superficial, all skin-deep competition. They go beyond that and that is something that public should realize. In fact, what FEMEN and the rest of radical feminists are doing couldn't have empowered women the way the Big5 pageants did. Many winners and contestants of these major pageants are now successful businesswomen, celebrities, politicians, doctors, models and community leaders. A lot of them have owed it to beauty pageants for providing them a platform.
Indeed, the words of Lara Dutta, Miss Universe 2000, still remain relevant. During the Miss Universe 2000 pageant, a small group of protesters gathered in Cyprus to condemn the pageant. The protests became the topic of the final question in which the ever brilliant Lara Dutta answered, "I think pageants like the Miss Universe pageant gives us young women a platform to foray in the fields that we want to and forge ahead, be it entrepreneurship, be it the armed force, be it politics. It gives us a platform to voice our choices and opinions, and makes us strong, independent that we are today." But for FEMEN members with their usual dramatic antics, these words of wisdom from Lara will probably ring hollow to their rather myopic minds.