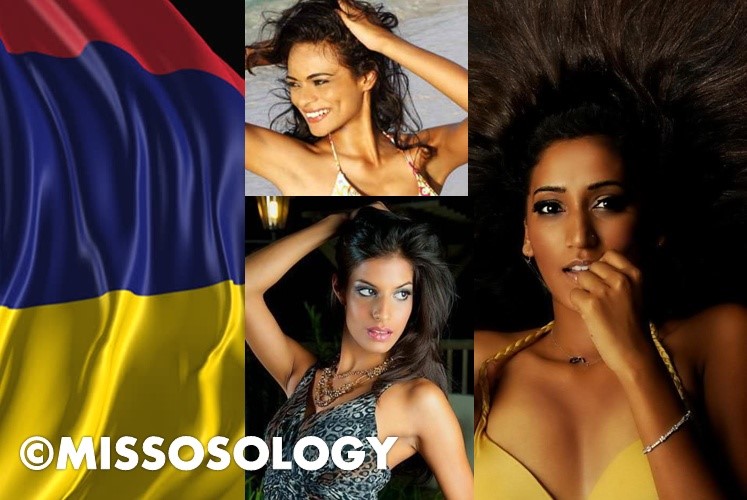 The last time we heard of a certain "Miss Mauritius" to be called as a finalist in an international pageant was in 2014 in Madgeburg, Germany during the Miss Intercontinental pageant. Thanks to Nathalie Lesage who equaled the placement of Laetitia Darche who also made the Top 15 in 2011.
Sadly, despite its numerous supply of beautiful women, Mauritius is unfairly labeled by many pageant enthusiasts as "clappers" in international pageants. Such term is being used to describe girls who are most likely "to clap" in the background after the announcement of finalists and winners. This is primarily due to the fact that most Mauritian beauty queens are excluded in the semi-finals, thus making them ineligible to compete further and win the coveted crowns. No one from this beautiful island-nation in the Indian Ocean managed to bag an international beauty title since they started participating in major international beauty pageants.
No Mauritian candidate, until this day, has ever advanced to the semi-finals of Miss Universe since they started to join in 1975 with Nirmala Sohun as their first representative. Hopes are rather high for the one who is next in line to try out in Miss Universe, and she is none other than Kushboo Ramnawaj. In Miss International history, only two Mauritians have received a special award in the Japan-based pageant, Ameeksha Dilchand, winner of Miss Friendship in Miss International 2012 in Okinawa and Anaïs Veerapatren who was awarded the Goodwill Ambassador in 2010 edition in China.  In Miss World, Mauritius was not totally ignored when a Top 12 spot in 1975 was given to Mariella Tse-Sik-Sun.
The most successful beauty queen in the history of Mauritian pageant was Jeanne Françoise Nathalie Clement  a Top 10 finisher and a Miss World Africa continental winner in 1989.
So, the lingering question now is, what is lacking among their queens? Mauritians are multi-ethnic people, having Indian, African, European and Chinese origin, so the beauty of Mauritian women is a smorgasbord of various exotic ethnicity. If the world saw the beauties of Riyo Mori to Priyanka Chopra to Agbani Darego, there is no reason not to appreciate a true Mauritian beauty. With proper training, packaging and the introduction of right attitude – one that can best showcase their vibrant and colorful culture – it won't be long until we see Mauritius being recognized in the international pageant scene.  Through the help and guidance of Missosology, such success has been proven in non-powerhouse countries such as Myanmar and Hungary.
We hope to see Kushboo Ramnawaj (Universe), Aurellia Bégué (World), Anoushka Ah Keng (International), Katia Moochooram (Earth), Danika Atchia (Intercontinental and will also compete in Miss Universe 2016) and the much awaited crowning of Miss Supranational Mauritius on October 10th finally winning its first major crown for Mauritius.   If others can, why can't Mauritius?