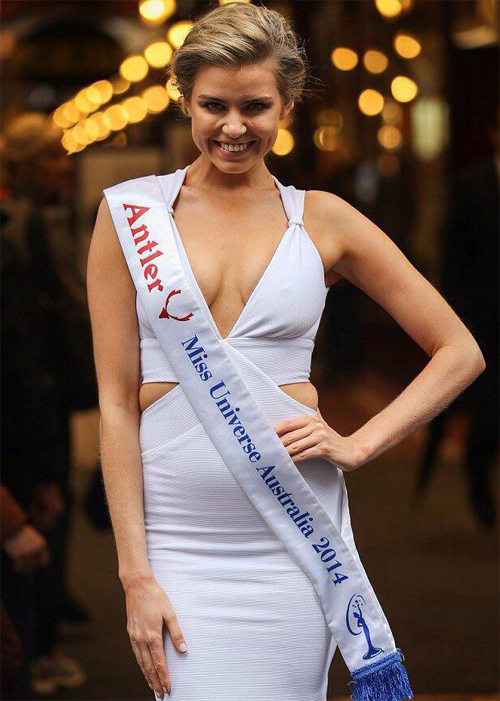 The slow, painful and agonizing death of Australia's momentum at Miss Universe
It was once remarked that with the victory of Jennifer Hawkins in 2004, Miss Universe spectacularly exploded Down Under. We can skip the fact that the country has simply clapped from 2005-2007. Think about this, from 2008-2012, Australia shined like a star at Miss Universe and top-notch women from Perth to Townsville are flocking to the pageant.
Laura Dundovic's bubbly personality made her a hit in Vietnam in 2008 and because of a very stiff competition she still managed to be in the respectable Top 10. Oh, who can forget the class that is in Rachel Finch? Her gown was one of the most unforgettable gowns in the Miss Universe history and for her to finish 3rd runner-up amidst the raging power of the Latinas was simply unbelievable.
Of course, Jesinta Campbell a.k.a. Miss Congeniality still lingers in our mind and not just because she quoted the immortal words of Dar be Dar creator Tala Raassi. Scherri-Lee Biggs in 2011 managed to survive in a highly Latinized competition. Renae Ayris wowed us all with her wittiness and as 3rd runner-up she made Australia proud.
But things are not as rosy as it seems. All that momentum has been wasted and all that hard work of Aussie girls came into naught. The Miss Universe Australia as it seems is rearing its ugly head. Come 2013, there was rampant allegations of favoritism and manipulations. Money, they alleged, comes before quality. And what Australia is sending is no longer in par with the world's best.
Consider this, in 2013, for the first time in five years, Australia was not even in the semifinals. They may have the same fate this year as Missosology-Australia including several pageant observers in the country concurred that Tegan Martin is not the best that Australia can offer. People like Peter Sereno, who helped Jennifer Hawkins achieved victory, are raising their hands in desperation. The formula they helped build over the years to ensure that Australia will always get noticed has been simply ignored.
Thanks to the "sponsors-first" attitude of Miss Universe Australia, pageant observers claimed, the country will be clapping for quite some time. This is a slow yet steady decline of Australia at Miss Universe. Painful and agonizing, the momentum that has been carefully laid out over the years has simply been crashed – with a big bang – in the thick and hard wall of commercialism.
The latest photos of Tegan Martin are not even encouraging. A body without definition matched with a haggard face will ensure that Australia will once again clap. And it's a shame really. So many girls at the nationals could have won the country's third Miss Universe crown. But then again, who needs a crown when your wallet is awash with cash?