The struggle of Puteri Indonesia was no joke. It's time to reap the hard work!
It was like only yesterday that newspapers published the pictures of Alya Rohali in swimsuit together with Miss Philippines Aileen Len Damiles and Miss Thailand Nirachala Kumya during the Miss Universe 1996. This image is actually so powerful that it transformed Indonesia from a nation that banned beauty pageants into a country that is passionate about it.
During the rule of Suharto, Indonesian women were disallowed to participate in international beauty pageants especially the ones with swimsuit competition. In 1991, Lupita Jones visited Indonesia, the first ever reigning Miss Universe to do so. Nobody knows for sure the extent of Lupita's influence but a year later, Puteri Indonesia was re-established by Mooryati Soedibyo owner of cosmetics company Mustika Ratu. Mooryati was a close friend of the then first lady Tien Suharto and was reportedly given the permission to send Puteri Indonesia winners to Miss Universe.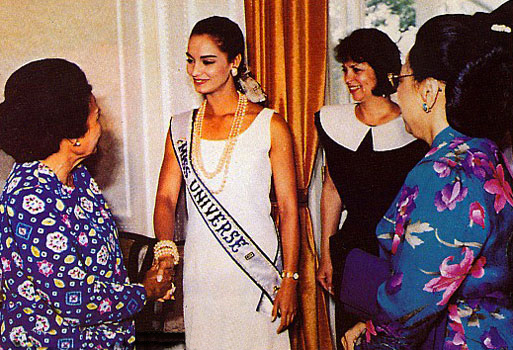 Indonesia officially participated at Miss Universe 1994 and 1995 with an observer status. However, Alya Rohali upped the ante in 1996 when she officially became a participant. This spurred a huge debate in Indonesia with conservatives accusing Alya of tarnishing the budi luhur bangsa (noble values of the country). Unfortunately, on that very year, Tien Suharto passed away and the government re-imposed the restrictions on beauty pageants.
The Puteri Indonesia pageant were not held between 1997 and 1999 thanks to the backlash of Alya's stint in Las Vegas. But Indonesia was in the cusp of dramatic changes both politically and socially. The post-Suharto era in Indonesia ushered a more open and liberal attitude towards beauty pageants. In 2005, despite of huge protests, Artika Sari Devi participated at Miss Universe and became the first Indonesian to land in the semis of the pageant.
The struggle of Puteri Indonesia to gain acceptance in Indonesia was not only a gargantuan task. It was a dangerous struggle as well. Today is a far cry from the 1990s and the organization can already boast one major international titleholder – Kevin Liliana who is Miss International 2017. The relentless effort to improve and to innovate are always in the playbook of Puteri Indonesia. It is indeed just a matter of time before they will win the Miss Universe crown.
Indonesians proved to be passionate beauty pageant fans. This year, the fans have high hopes that the current Puteri Indonesia, Frederika Alexis Cull, will finally bring home the Miss Universe crown. If this will eventually happen, she can always look back to the pioneering women like Alya Rohali and Artika Sari Devi who challenged the status quo and forever changed the beauty pageant scene in Indonesia. It will also vindicate the pageantry world as a whole that pageants are meant to empower women and not to demean them. Above all, it will show that beauty pageants are compatible in any society, even in a country which has the world's largest Muslim population.