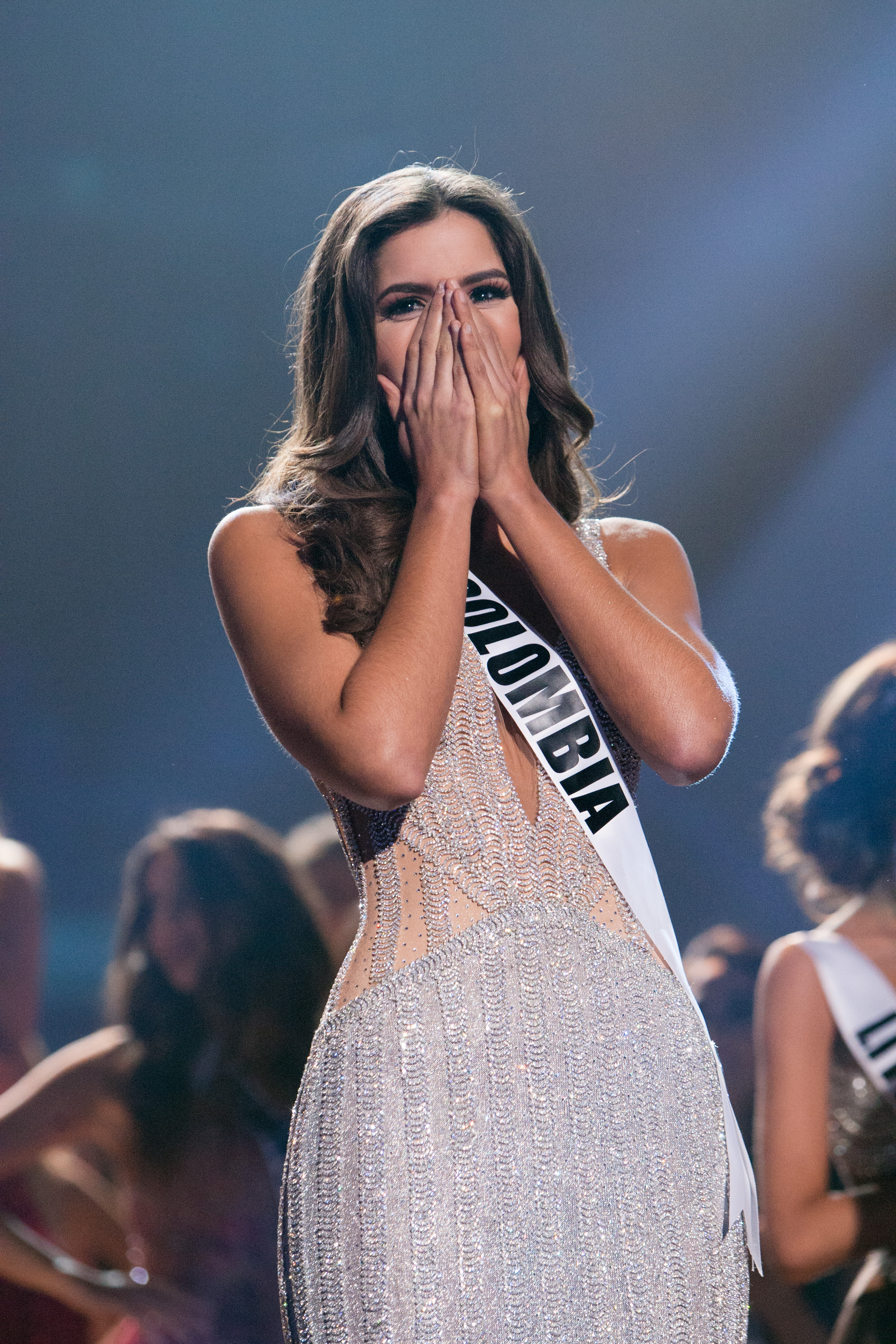 Analyzing Miss Universe 2014


By Ric Galvez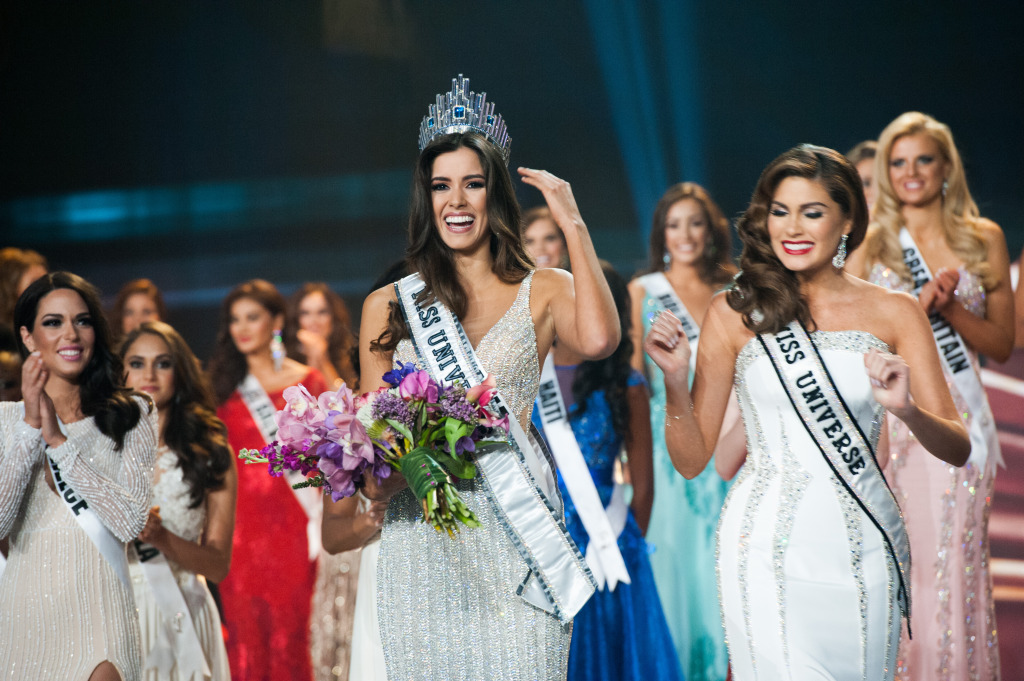 The 63rd Miss Universe beauty pageant ended in a rather sour note, as majority of the fans are not really happy how things turned out. What is funny is that the whole hullabaloo is not really about who won. What people had been griping about are some things that would not even change the most important outcome of all – that Colombia won its second Miss Universe crown and it took a Paulina Vega to win it.
Paulina Vega has been a front-runner ever since the competition started, no question about that. But like in any other competition, the field was wide open as it is not over until it is over. The Top 15 had some surprises in it but in overall, it was what most pageant analysts/missosologists had been expecting. Missosology, like most major beauty pageant websites, had correctly predicted Colombia's victory. In overall, the final predictions of Missosology netted 11 out of 15 semifinalists. Those that were included in the list but failed to make the cut are Dominican Republic, Mexico, Costa Rica and the Czech Republic. They were replaced by Italy, France, the Netherlands and Australia although Australia was ranked 19th in our list.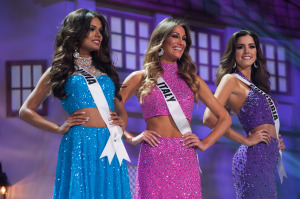 When the Top 15 was announced, Miss Colombia Paulina Vega was the first to be called and she strutted onstage showing genuine surprise. Unfortunately, Miss Universe has changed its format which has been running for more than a decade. New crown, new era, new format…but not for the better. The new 3-hour marathon broadcast is perhaps meant to put brakes on what it seems like gone in a flash competition. I had been watching Miss Universe for years and the previous editions had left me wanting more, asking at the end, "Was that all?" While the new and lengthy format may give me some satisfaction, it however destroyed the excitement that the announcement of semifinalists brings. As each semifinalist was called, a small video clip was shown about her before another semifinalist was announced. This is not the Miss Universe that I have grown accustomed with but we will all probably all get used to it.
In my personal list of Top 10, published in these pages post-prelims, I have put Colombia on the top convinced that Paulina Vega will make history. On that list, six made it the Top 15 and all of them made it to the Top 10. Miss Italy Valentina Bonariva came out from nowhere to defeat top favorites such as Miss Costa Rica Karina Ramos, Miss Serbia Andjelka Tomašević and most especially Miss Mexico Josselyn Garciglia. But here are some interesting facts – when BSC Thailand Swimwear sponsored Miss Universe, it was one of the great years of Thailand in recent memory at the competition and when Kooey Australia also sponsored, Australia had its own fun. I came to think that the non-placement of Miss Australia last year was somehow affected by the withdrawal of sponsorship not only of Kooey but also of Australian Gold – a sunblock lotion company. Yamamay, an Italian brand, is probably flexing its muscles that could explain the inclusion of Miss Italy. Meanwhile, the crown maker DIC from Czech Republic is probably not an influence yet in the same way that Mikimoto had on the Japanese delegates a few years back.
Now, you might ask if I am insinuating that sponsorship has that influence on the outcome of the pageant. Well, if you still don't know on where I am going to after reading this far, then you are enjoying the blissfulness of ignorance. Missosology was founded on the premise that politics has huge influence on all Big4 pageants and that includes on which country a sponsor came from. Any pageant enthusiast should know that by now. So it will not be a surprise for us all when we will soon see a good run for Czech Republic and Italy at the pageant.
The Top 15 semifinalists after the swimsuit competition
The swimsuit competition had a huge Latin flavor in it but that's just apropos since the pageant is being held the Little Venezuela of America. Miss Colombia Paulina Vega came out just divine with the right body proportions that told us all that she should be the new Miss Universe. Then out came Miss Italy Valentina Bonariva with a good body structure but I can list at least 20 women who could match her figure. I also found her walk amateurish but she did pull a decent performance. Miss France Camille Cerf sported a top-notch body figure but she lacked presentation skills. This is where most of the French girls fail. They have great bodies but they are ill-trained for presentation and while their National Director was pretty vocal about her discontentment of the results, she should first run a diagnostic test of her methodology in training her girls. I wonder what is French for pasarella?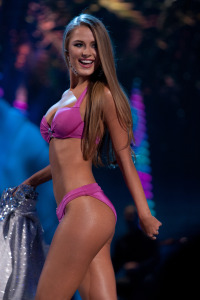 Miss India Noyonita Lodh was small in stature but big at heart. I am thankful that she read the article of a fan published by Missosology spelling out quite clearly – and brutally – the need for her to be classy. So there she was, gliding onstage with confidence and class instead of dancing like what she did at the Yamamay pool event and what Shilpa Singh did in 2012. I am a great fan of her beauty but her body structure was simply drowned by more statuesque and taller beauties.
Miss USA Nia Sanchez did great and so did Miss Indonesia Elvira Devinamira. Elvira was just oozing with elegance and her walk vastly improved. Miss Venezuela Migbelis Castellanos meanwhile sported an unconventional body structure and people really called her fat (she was not fat). But one can see that she struggled with her weight as her abs and arms appeared to be swelling but Migbelis had a great stage presence and catwalk skills which could have been her saving grace. Miss Spain Desirée Cordero was statuesque and clearly a frontrunner but personally I hate her tattoo. I personally think that such tattoo cheapened her image. Miss Philippines Mary Jean Lastimosa also looked perfect with her shapely waist. She also opted for a subtler catwalk instead of what she had shown during the prelims and it worked great for her.
Miss Argentina Valentina Ferrer was all about legs, legs and more legs while Miss Jamaica Kaci Fennel was just elegant, queenly and very sexy. Miss Ukraine Diana Harkusha also made her mark in the swimsuit competition with her leggy body structure. Miss Netherlands Yasmin Verheijen was okay-ish with a well endowed breast which undeniably caught a lot of attention. Miss Brazil Melissa Gurgel had a time of her life and I like her presentation but she fell short in convincing me – and the judges – that she was a top 10 material.
The last to be called in the swimsuit competition was Miss Australia Tegan Martin and she came out gorgeous and very much like a super model. Together with Miss Argentina, Tegan can easily be one of the Victoria's Secret models as their bodies are simply perfect for a lingerie advertisement. Last year, Tegan was castigated by fans for sporting a rather unflattering body as shown in one of her photos that were widely circulated in the social media. But she looked fabulous at the Miss Universe competition and I think she really worked hard to achieve a great body.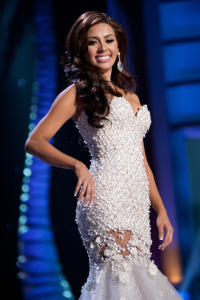 The contest moved on and it was then the time to cut the number of competing beauties. The five delegates that failed to progress further were Brazil, Indonesia, India, France and Italy. I am amused that Venezuela progressed to the next round. I would gladly replace her with France or Indonesia but I guess her sash still carry a lot of weight – pun or no pun intended.
At the Top 10, the gown segment was opened by Miss Jamaica Kaci Fennel. I was awed by her dress. That red figure-hugging gown that completely exposed her back certainly did enhance the beauty of Kaci. Her short hair plus her decision not to smile till the last pose added an enigma to her aura. She came off as full of class and elegance!
Miss Colombia Paulina Vega came out next and she looked just like a royalty. I like that generous neckline as it adds a sexy twist into a rather elegant gown. It also gave her body shape more exposure and Jeannie Mai correctly said that it made Paulina look 8-feet tall.
With a classy turn, Miss Ukraine Diana Harsova looked stunning in her red Zuhair Murad gown. I found the gown rather risky as not so many people would like it but the generous opening at the front plus the great catwalk skills of Valentina became a winning combination.
Miss Argentina Valentina Ferrer was described by Jeannie Mai as "like a glass of champagne" and correct me if I am wrong but that was the first time I heard Jeannie saying that. What prompted Jeannie to say that perhaps was the color of Valentina's gown plus that sexy transparent lower portion of the gown that reveals Valentina's best asset – her legs.
Then came the most horrible gown of them all! Miss Philippines Mary Jean Lastimosa donned in what appears to be the cheapest gown of the night. The white gown looked like a piece of rag or perhaps a kitchen doormat after we've seen a series of classy and expensive-looking dresses in the competition. While Mary Jean walked with that élan and sophistication, not even Manny Pacquiao and last minute tweaks of the gown could save her.
Miss Spain Desirée Cordero looked elegant as if she was the princess of the night. The strapless gown clearly showed off her body figure and she looked statuesque.
Miss Netherlands Yasmin Verheijen was just lovely. Some people were complaining about her walk but I don't see anything wrong with it. The pleated yellow gown was made to highlight her bosom (I guess) and it did not fail. The v-cut neck line and high-positioned waist worked on her like magic.
With a sassy turn, Miss Venezuela Migbelis Castellanos made her presence felt thanks to the overwhelming presence of the Venezuelans in the audience. However her Gionni Straccia gown made her look wider and a little bit plump.
The gown segment was capped by a series of two expensive looking dresses. Both were mermaid cuts, one blue and one red. Miss Australia Tegan Martin looked fabulous in a blue-violet gown with busy skirt. The dress followed the en vogue plunging neckline and it fitted Tegan well. However, I found her presentation lack-luster and she appeared to be in a rush onstage. This was in opposition to what Miss USA Nia Sanchez did. With her shimmering red gown, Nia took her time and came off as classy and fresh.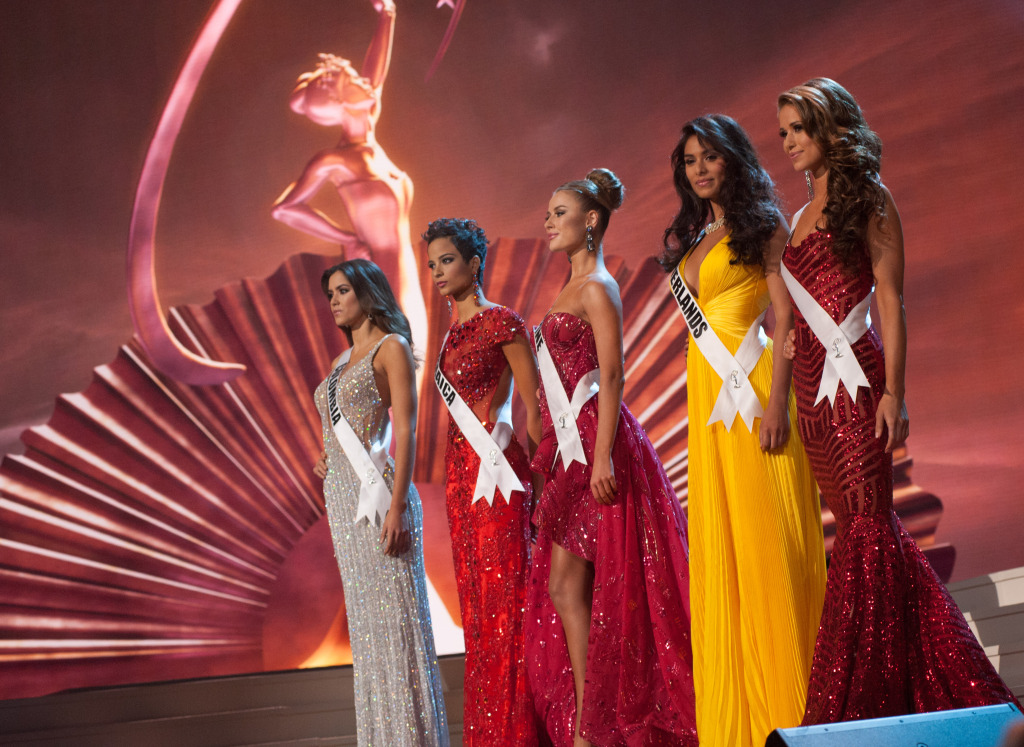 The Top 5 was not something that I expected. I thought Spain would be there. I had some doubts with the Philippines but I saw how its previous candidates clinching the Top 5 for four years in a row. So my Top 5 included Jamaica, Colombia, USA, Spain and the Philippines. The judges however saw it differently. They picked USA, the Netherlands, Ukraine, Jamaica and Colombia.
Like in the Top 15 announcement, each candidate that was called in the Top 5 was featured in a video clip. While it does give the audience a better understanding of the contestants, the format unnecessarily dampens the excitement. The Top 5 was okay but it did shake up the previous trends. Brazil, the Philippines and Venezuela – the only three nations that has won all the Big4 crowns – were left out after two years of being in the Top 5 at Miss Universe.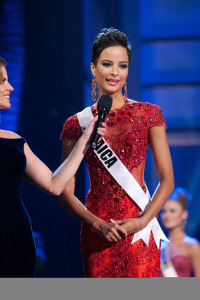 For the first time, the Miss Universe Top 5 interview had two segments. The first round of questions came from the judges and the second was the common question that was picked up from the comments posted on the Miss Universe Facebook page. I am not so sure what really happened but that was the worst Top 5 Q&A I have ever seen at Miss Universe. Most of the candidates had to ask the judges to repeat their questions. Miss USA Nia Sanchez repeated Manny Pacquiao's question not because she did not understand it but it appeared to me that she wanted to buy time. Her answer about what she would tell the terrorists within 30 seconds echoed the very answer that the film Miss Congeniality used to cheapen the image of pageantry – world peace. Not one single answer in the Top 5 reached my quotable quote level.
After the Q&A, I thought Jamaica and Colombia would be the last two standing delegates. Much to the dismay of the audience, Miss Jamaica Kaci Fennel settled for a fourth runner-up finish. I think it was huge injustice and the live audience gave out very loud boos. One rumor has it that Miss Russia Yulia Alipova began shouting onstage. Meanwhile, a confirmed rumor circulated on how some of the delegates began cheering for Kaci instead of Paulina after the coronation. I personally think that Kaci should have been ranked higher but not necessarily the overall winner. After the Q&A, I knew Miss Colombia had sealed the deal. One should remember that the final judging scores of Miss Universe do not only rely on the Q&A but rather on what the judges have seen in the entire night. There was no denying that Miss Colombia Paulina Vega had been leading the pack throughout the evening.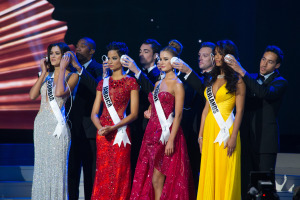 Colombia has finally won its second Miss Universe crown. Pageant analysts thought they would never see another Colombian Miss Universe after the heartbreaks of 1992, 1993, 1994 and 2008 pageants. Those were the years when people thought Colombia would win but the country simply settled for first runner-up positions. Paulina came into the competition with so many rumors and nasty comments. First was that news report that she was emotionally unprepared for the pageant and that she allegedly decided to back-out. Second was the her alleged bad attitude. As it turned out, all of these rumors are false.
With the new DIC crown on her head, Paulina became sensational news in her country. Will a postage stamp be issued in her honor? Will she be declared tax free for life? Most probably she will as well as several other privileges and that superstar stature just like what the first ever Miss Universe from Colombia – Luz Marina Zuluaga – had enjoyed. Indeed, the long wait for Colombia is finally over and this could usher the country into its Miss Universe golden age. It will be once again a threat at the pageant and the rest of the world should better watch out. Colombia is back in the game and it will cement its status as one of the leading countries in the beauty pageant ranking. Viva Colombia!