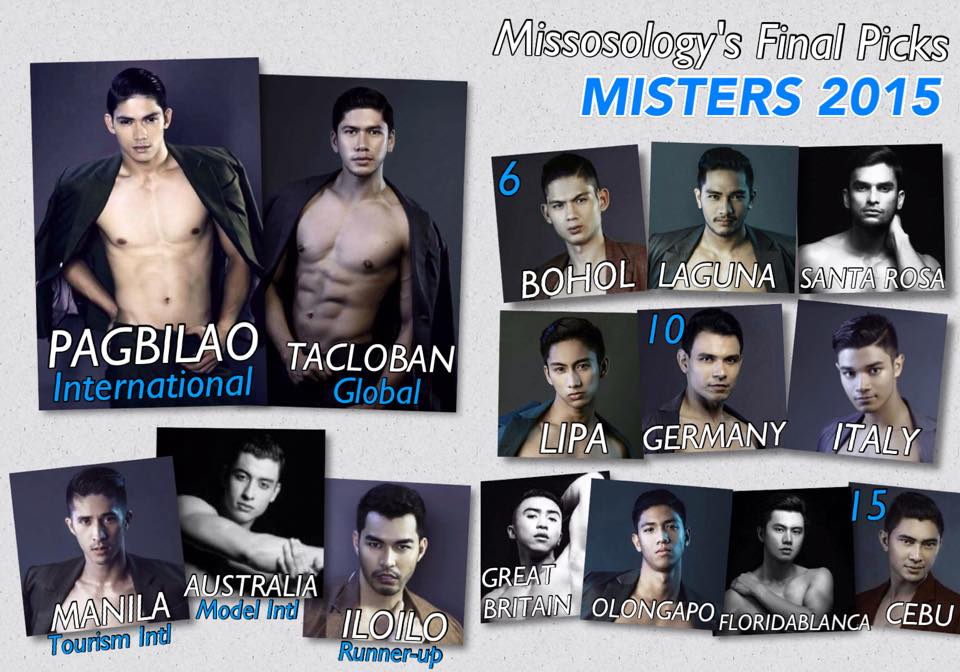 Tonight, a new batch of Philippine pageant kings will be named at the Misters 2015 The Pageant finals night to be held at the Resorts World Manila.
After more than two weeks of activities, we believe that two candidates will be battling it out neck-and-neck for the top plum.
Mr Pagbilao, Quezon Reniel Villareal has already captured attention during the final screening. His very Pinoy looks, well-proportioned body and towering height make all the girls and the girls at heart melt. Reniel didn't disappoint throughout the season. He minted his front-runner status by finishing in the top 5 of the beach wear, ethnic wear and formal wear competitions. All the signs are pointing at a sure title for this guy come finals. However, he need to improve in the Q&A segment in order to cement his victory.
Rick's waterloo is one of Mr Tacloban City Rick Kristoffer Palencia's strengths. he's one of the best speakers inthe batch. He has proven many times throughout the competition that he is the major force to reckon with. Making it to the top 5 of the beach wear, talent and formal wear competitions and winning the Best in Ethnic Wear award are enough to tell that he is slaying the competition. As the first among the 30 candidates to hit the stage, Rick has set the bar really high. Rick's effortless charm and unassuming beauty make him a standout.
MISTERS 2015
Missosology Final Picks
Mr International: Pagbilao, Quezon – Reniel Villareal
Mr Global: Tacloban City – Rick Kristoffer Palencia
Mr Model International: Australia – Robert Mcnamara
Mr Tourism International: City of Manila – Don Mcgyver Cochico
Runner-up: Iloilo City – Willan Pagayon
TOP 10
Bohol Province
Laguna Province
Santa Rosa City
Lipa City
Germany
TOP 15
Great Britain
Italy
Olongapo City
Floridablanca, Pampanga
Cebu City