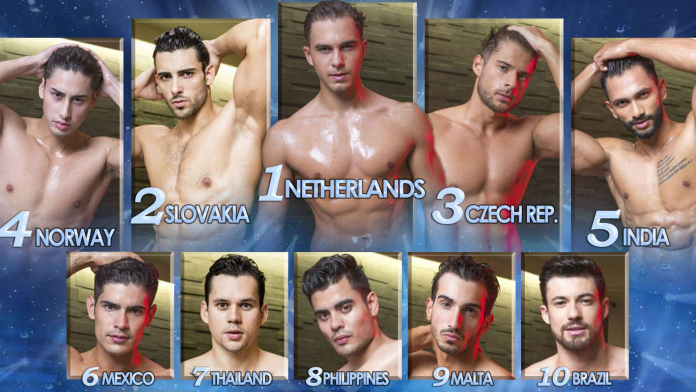 This year's Mister Supranational boasts some amazingly competitive contestants. All throughout their journey in Poland, the boys have never been hotter or more in demand to pageant fans. So many beautiful men, it's hard to know who to predict as the successor of Gabriel Correa, the reigning king from Venezuela. So, in particular order even though Missosology loves them all equally the same, here's our final prediction for Mister Supranational 2018.
1. Netherlands – This guy tops our list with those set of teeth and magnetic eyes. Dreamy isn't quite the word we'd use to describe them. Just give us a minute to swoon. It helps that, on and off stage, he's always personable and insanely charismatic. This Dutch hunk is definitely a hit among missosologists from all over the world.
2. Slovakia – It might be his stature, or the chiselled jaw. He literally is one of the most consistent contestants in this year's edition and he never fails to look polished every single day. Either way he has something great going on and that's exactly why he's made it all the way to the top. If we simply base it on how the Supra organization is choosing the winner in the previous years, then he might be the one.
3. Czech Republic – A true gentleman, what keeps the fans' affections for this Brad Pitt deadringer are his perfect features and immense sex appeal that make him a true sex symbol.
4. Norway – He has made a major splash in the pageant, and his performance during the preliminaries was thoroughly outstanding. It's not all about looks; this guy's soul has to be in check for him to win the title, too.
5. India – Sculpted. Impossibly buff. He is tall, dark & handsome and has to cope with such descriptions on a daily basis, and he does it all without developing a single worry line to mar those perfect features, when we imagine he'd rather be loved for the depths of his mind instead.
In 6th place is Mexico who is known for his irresistable brougue and cheeky grns. Lucky number 7 is Thailand who is best known for his dashing good looks and irresistable personality. The classy gent from the Philippines who also remains a perennial favorite is ranked 8th. At number 9 is the intensely likeable guy from Malta whose looks are well-appreciated in the host country. Rounding up the Top 10 is Brazil who is always well-dressed, suave and socially conscious.
Here are the other front-runners who simply ticks all the boxes all throughout.
11. Sri Lanka
12. Argentina
13. Spain
14. Curacao
15. Dominican Republic
16. Panama
17. USA
18. Puerto Rico
19. Poland
20. Myanmar