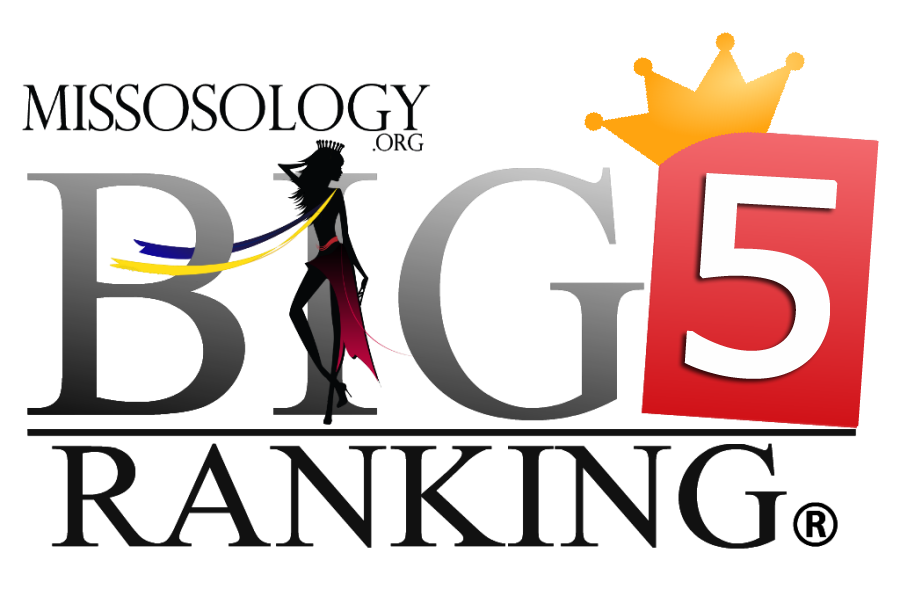 2019 will be remembered as the first year since 2007 that none from the Top 5 Pageant Powerhouses has won a major international title. USA, Venezuela, Brazil, Philippines and Colombia all failed to produce a title this year. Puerto Rico's first Miss Earth crown had put the island into the same ranks as the Philippines for having won all of the Big 5 Pageants. Also, the Kingdom of Thailand did win two major crowns for the very first time. They won the Miss International and Miss Supranational titles, respectively. For the past decade, only Ecuador (2011), Philippines (2013 and 2015) and Venezuela (2013) have achieved a double win in a single year. France (1953), Brazil (1968), Australia (1972) and India (1994 and 2000) have also achieved the same feat in the past. Thailand is now the newest member of the club.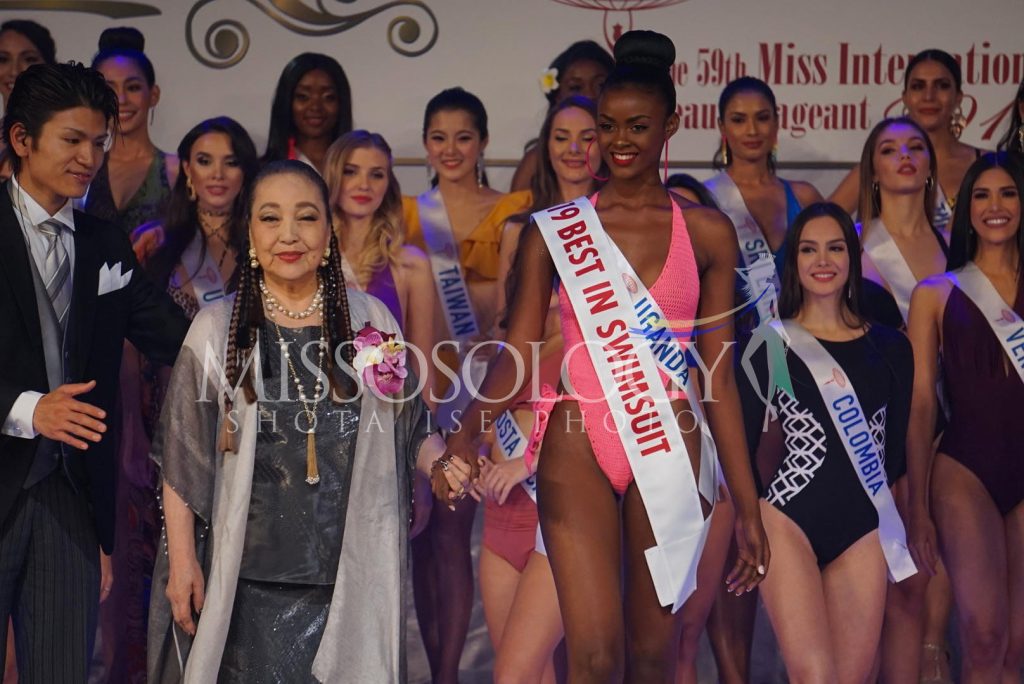 In terms of rank, No. 117 Uganda is the biggest gainer this year. It went up 14 notches from last year's 131st ranking. Evelyn Namatovu made a impressive mark at this year's Miss International where she won 2nd Runner-up and Best in Swimsuit. Uganda only competed twice at Miss International.
Equatorial Guinea's consistency in joining pageants has slowly given them an edge while reaping the fruits of their hard work. From 175th rank in 2017, it went up to 163rd rank last year. This year, after appearing at Miss International for the first time, it moved further up to 155th. No. 83 Namibia gained seven ranks up after almost winning the Miss Supranational title. Armenia also gained seven ranks up, thanks to their return at Miss International.
The anticipation that the Philippines would take over Brazil in the 3rd position did not materialize. Elise Miele Coelho prevented it to happen when she outranked Michelle Dee in the Miss World 2019 finals. Mexico (#12), South Africa (#14) and Puerto Rico (#15) are slowly cruising their way to the Top 10.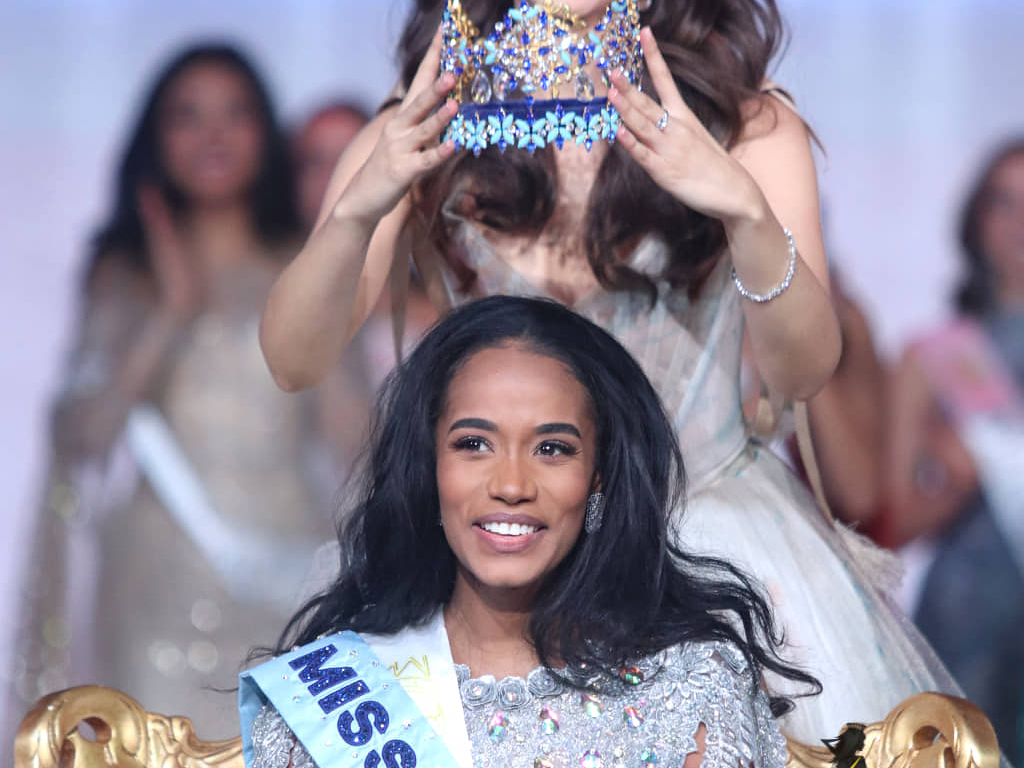 Miss World 2019, which was the last Big 5 Pageant to crown their winner this year, did not create much changes in the ranking.
For 2020, Missosology is planning to change the point system relevant to the size, historical significance and marketability of the pageant. There is no plan to make it a "Big 6".
| 2017 | 2018 | 2019 | COUNTRY or REGION | TOTAL | Universe | World | International | Earth | Supranational |
| --- | --- | --- | --- | --- | --- | --- | --- | --- | --- |
| 1 | 1 | 1 | U.S.A. | 21342 | 8440 | 5990 | 4730 | 1582 | 600 |
| 2 | 2 | 2 | VENEZUELA | 19287 | 6430 | 4715 | 5310 | 2212 | 620 |
| 3 | 3 | 3 | BRAZIL | 13998 | 4590 | 3435 | 3610 | 1768 | 595 |
| 4 | 4 | 4 | PHILIPPINES | 13954 | 3700 | 2710 | 4340 | 2444 | 760 |
| 5 | 5 | 5 | COLOMBIA | 13524 | 4810 | 2225 | 4530 | 1244 | 715 |
| 6 | 6 | 6 | AUSTRALIA | 11197 | 2900 | 3865 | 3270 | 752 | 410 |
| 7 | 7 | 7 | INDIA | 11062 | 2890 | 3755 | 2570 | 1032 | 815 |
| 8 | 8 | 8 | SPAIN | 10629 | 2780 | 2350 | 4250 | 1024 | 225 |
| 9 | 9 | 9 | JAPAN | 10379 | 2850 | 1725 | 4990 | 624 | 190 |
| 10 | 10 | 10 | FINLAND | 10170 | 3070 | 2670 | 4090 | 220 | 120 |
| 12 | 11 | 11 | FRANCE | 9822 | 2600 | 4020 | 2440 | 522 | 240 |
| 14 | 13 | 12 | MEXICO | 9485 | 2840 | 2670 | 2500 | 880 | 595 |
| 11 | 12 | 13 | SWEDEN | 9480 | 3890 | 3150 | 1860 | 440 | 140 |
| 16 | 14 | 14 | SOUTH AFRICA | 9204 | 3050 | 4560 | 510 | 884 | 200 |
| 17 | 17 | 15 | PUERTO RICO | 8989 | 3520 | 2090 | 1970 | 594 | 815 |
| 13 | 15 | 16 | ISRAEL | 8785 | 2790 | 3495 | 2120 | 350 | 30 |
| 15 | 16 | 17 | GERMANY | 8585 | 2930 | 2815 | 2530 | 230 | 80 |
| 20 | 20 | 18 | THAILAND | 8156 | 1970 | 1410 | 2550 | 1356 | 870 |
| 18 | 18 | 19 | KOREA | 7828 | 1560 | 1760 | 3300 | 868 | 340 |
| 19 | 19 | 20 | UNITED KINGDOM | 7685 | 410 | 4885 | 2360 | 30 | 0 |
| 21 | 21 | 21 | NETHERLANDS | 6911 | 2010 | 2240 | 1880 | 566 | 215 |
| 25 | 23 | 22 | POLAND | 6616 | 920 | 1340 | 1940 | 1276 | 1140 |
| 22 | 22 | 23 | CANADA | 6603 | 2770 | 2030 | 1010 | 388 | 405 |
| 23 | 24 | 24 | ARGENTINA | 6421 | 2090 | 2050 | 1820 | 286 | 175 |
| 24 | 25 | 25 | GREECE | 6250 | 2460 | 1910 | 1520 | 180 | 180 |
| 26 | 26 | 26 | NORWAY | 6105 | 2280 | 1655 | 1830 | 290 | 50 |
| 28 | 28 | 27 | NEW ZEALAND | 5816 | 1170 | 2360 | 1910 | 266 | 110 |
| 27 | 27 | 28 | ITALY | 5657 | 2250 | 1805 | 1080 | 422 | 100 |
| 29 | 29 | 29 | PERU | 5652 | 2350 | 1500 | 850 | 482 | 470 |
| 33 | 30 | 30 | JAMAICA | 5550 | 1330 | 3795 | 240 | 40 | 145 |
| 30 | 31 | 31 | DOMINICAN REPUBLIC | 5445 | 1750 | 1700 | 1270 | 450 | 275 |
| 31 | 33 | 32 | ENGLAND | 5398 | 2540 | 830 | 1430 | 338 | 260 |
| 32 | 32 | 33 | IRELAND | 5340 | 1500 | 2490 | 1220 | 50 | 80 |
| 34 | 34 | 34 | DENMARK | 5280 | 1170 | 2285 | 1220 | 370 | 235 |
| 36 | 36 | 35 | RUSSIA | 5257 | 1050 | 1550 | 1340 | 1052 | 265 |
| 35 | 35 | 36 | AUSTRIA | 5151 | 1210 | 2225 | 1170 | 546 | 0 |
| 37 | 37 | 37 | ICELAND | 4880 | 1030 | 1590 | 1880 | 10 | 370 |
| 38 | 38 | 38 | BELGIUM | 4715 | 1510 | 1310 | 1530 | 180 | 185 |
| 39 | 39 | 39 | PANAMA | 4699 | 1420 | 830 | 1470 | 314 | 665 |
| 41 | 41 | 40 | TURKEY | 4261 | 830 | 1435 | 1570 | 176 | 250 |
| 40 | 40 | 41 | SWITZERLAND | 4252 | 1650 | 1320 | 690 | 492 | 100 |
| 42 | 42 | 42 | CHILE | 4154 | 1820 | 800 | 490 | 954 | 90 |
| 43 | 44 | 43 | CZECH REPUBLIC | 4102 | 650 | 670 | 890 | 1192 | 700 |
| 44 | 43 | 44 | ECUADOR | 3943 | 960 | 885 | 1040 | 818 | 240 |
| 46 | 46 | 45 | CHINA PR | 3691 | 560 | 1470 | 1220 | 356 | 85 |
| 45 | 45 | 46 | TRINIDAD & TOBAGO | 3595 | 1460 | 1745 | 110 | 160 | 120 |
| 52 | 50 | 47 | INDONESIA | 3473 | 580 | 1010 | 1090 | 168 | 625 |
| 46 | 46 | 48 | COSTA RICA | 3366 | 970 | 760 | 1040 | 386 | 210 |
| 48 | 47 | 49 | UKRAINE | 3344 | 870 | 750 | 830 | 444 | 450 |
| 47 | 48 | 50 | BOLIVIA | 3218 | 870 | 870 | 1050 | 288 | 140 |
| 49 | 49 | 51 | PARAGUAY | 3182 | 970 | 700 | 630 | 592 | 290 |
| 65 | 56 | 52 | VIETNAM | 2927 | 320 | 800 | 590 | 642 | 575 |
| 51 | 53 | 53 | HONGKONG | 2885 | 1040 | 800 | 960 | 50 | 35 |
| 53 | 52 | 54 | MALAYSIA | 2867 | 650 | 1220 | 610 | 202 | 185 |
| 50 | 51 | 55 | LEBANON | 2832 | 780 | 1120 | 590 | 272 | 70 |
| 55 | 57 | 56 | GUAM | 2640 | 730 | 1080 | 540 | 290 | 0 |
| 54 | 54 | 57 | HONDURAS | 2626 | 570 | 410 | 930 | 446 | 270 |
| 63 | 61 | 58 | PORTUGAL | 2588 | 510 | 690 | 740 | 408 | 240 |
| 57 | 58 | 59 | SRI LANKA | 2570 | 640 | 900 | 790 | 80 | 160 |
| 59 | 59 | 60 | SCOTLAND | 2505 | 940 | 815 | 310 | 350 | 90 |
| 63 | 64 | 61 | SINGAPORE | 2406 | 750 | 610 | 640 | 286 | 120 |
| 58 | 60 | 62 | YUGOSLAVIA | 2400 | 430 | 1240 | 570 | 160 | 0 |
| 61 | 62 | 63 | NICARAGUA | 2380 | 600 | 475 | 1100 | 190 | 15 |
| 60 | 63 | 64 | URUGUAY | 2350 | 1210 | 810 | 290 | 30 | 10 |
| 62 | 65 | 65 | GUATEMALA | 2328 | 780 | 530 | 570 | 358 | 90 |
| 69 | 67 | 66 | NIGERIA | 2280 | 470 | 1190 | 70 | 440 | 110 |
| 66 | 66 | 67 | CURACAO | 2070 | 1180 | 430 | 380 | 60 | 20 |
| 68 | 69 | 68 | WALES | 1976 | 980 | 530 | 220 | 116 | 130 |
| 66 | 68 | 69 | ARUBA | 1970 | 510 | 900 | 530 | 20 | 10 |
| 72 | 72 | 70 | KENYA | 1966 | 220 | 1130 | 190 | 336 | 90 |
| 71 | 70 | 71 | SLOVAKIA | 1940 | 390 | 350 | 460 | 340 | 400 |
| 70 | 71 | 72 | EL SALVADOR | 1910 | 930 | 430 | 270 | 210 | 70 |
| 80 | 78 | 73 | BELARUS | 1780 | 0 | 280 | 440 | 160 | 900 |
| 73 | 73 | 74 | CHINESE TAIPEI | 1746 | 510 | 500 | 380 | 236 | 120 |
| 76 | 74 | 75 | HUNGARY | 1700 | 470 | 550 | 220 | 220 | 240 |
| 78 | 80 | 76 | GHANA | 1654 | 350 | 830 | 130 | 324 | 20 |
| 74 | 75 | 77 | BAHAMAS | 1652 | 580 | 690 | 60 | 182 | 140 |
| 81 | 76 | 78 | ROMANIA | 1635 | 160 | 400 | 210 | 340 | 525 |
| 75 | 77 | 79 | POLYNESIE FRANCAISE | 1597 | 250 | 410 | 490 | 432 | 15 |
| 77 | 79 | 80 | CROATIA | 1590 | 390 | 930 | 30 | 70 | 170 |
| 79 | 81 | 81 | GUYANA | 1576 | 220 | 1200 | 10 | 136 | 10 |
| 88 | 82 | 82 | MAURITIUS | 1435 | 320 | 620 | 90 | 270 | 135 |
| 90 | 90 | 83 | NAMIBIA | 1410 | 550 | 510 | 100 | 20 | 230 |
| 82 | 83 | 84 | MALTA | 1380 | 380 | 660 | 200 | 90 | 50 |
| 85 | 86 | 85 | MONGOLIA | 1350 | 20 | 480 | 500 | 330 | 20 |
| 84 | 85 | 86 | ANGOLA | 1290 | 580 | 580 | 0 | 100 | 30 |
| 83 | 84 | 87 | CYPRUS | 1286 | 380 | 560 | 190 | 146 | 10 |
| 86 | 87 | 88 | ZIMBABWE | 1251 | 150 | 855 | 30 | 186 | 30 |
| 91 | 88 | 89 | EGYPT | 1240 | 270 | 490 | 70 | 380 | 30 |
| 87 | 89 | 89 | HAWAII | 1240 | 370 | 10 | 860 | 0 | 0 |
| 89 | 91 | 91 | GIBRALTAR | 1221 | 90 | 900 | 150 | 36 | 45 |
| 93 | 92 | 92 | KAZAKHSTAN | 1172 | 110 | 730 | 10 | 212 | 110 |
| 111 | 98 | 93 | NEPAL | 1170 | 120 | 590 | 110 | 320 | 30 |
| 92 | 93 | 94 | LUXEMBOURG | 1150 | 270 | 290 | 480 | 40 | 70 |
| 94 | 95 | 95 | US VIRGIN ISLANDS | 1122 | 320 | 570 | 10 | 82 | 140 |
| 95 | 94 | 96 | BOSNIA & HERZEGOVINA | 1102 | 0 | 290 | 0 | 762 | 50 |
| 96 | 96 | 97 | TANZANIA | 1056 | 210 | 390 | 60 | 396 | 0 |
| 102 | 97 | 98 | SLOVENIA | 1054 | 190 | 260 | 0 | 344 | 260 |
| 100 | 100 | 99 | HAITI | 1050 | 590 | 170 | 170 | 70 | 50 |
| 98 | 101 | 99 | TUNISIA | 1050 | 80 | 370 | 600 | 0 | 0 |
| 97 | 98 | 101 | BERMUDA | 1010 | 450 | 550 | 10 | 0 | 0 |
| 99 | 102 | 102 | LATVIA | 966 | 110 | 270 | 280 | 176 | 130 |
| 103 | 103 | 103 | NORTHERN IRELAND | 960 | 0 | 570 | 0 | 310 | 80 |
| 101 | 103 | 104 | CZECHOSLOVAKIA | 920 | 220 | 250 | 450 | 0 | 0 |
| 108 | 110 | 105 | ALBANIA | 890 | 430 | 170 | 0 | 80 | 210 |
| 105 | 105 | 106 | BOTSWANA | 880 | 270 | 530 | 0 | 80 | 0 |
| 104 | 105 | 107 | ESTONIA | 860 | 370 | 240 | 40 | 150 | 60 |
| 110 | 107 | 108 | MARTINIQUE | 850 | 50 | 290 | 30 | 470 | 10 |
| 106 | 108 | 109 | CUBA | 845 | 360 | 280 | 150 | 40 | 15 |
| 107 | 109 | 110 | SURINAME | 835 | 310 | 100 | 50 | 40 | 335 |
| 109 | 111 | 111 | CAYMAN ISLANDS | 790 | 320 | 450 | 0 | 20 | 0 |
| 117 | 113 | 112 | MYANMAR | 770 | 120 | 70 | 90 | 60 | 430 |
| 111 | 112 | 113 | GEORGIA | 760 | 150 | 270 | 40 | 250 | 50 |
| 113 | 114 | 114 | ETHIOPIA | 696 | 120 | 240 | 90 | 76 | 170 |
| 114 | 115 | 115 | BULGARIA | 690 | 260 | 380 | 10 | 10 | 30 |
| 120 | 119 | 115 | GUADELOUPE | 690 | 60 | 210 | 230 | 130 | 60 |
| 137 | 131 | 117 | UGANDA | 682 | 0 | 430 | 180 | 72 | 0 |
| 122 | 119 | 118 | BARBADOS | 680 | 170 | 490 | 0 | 10 | 10 |
| 117 | 116 | 118 | BELIZE | 680 | 380 | 190 | 30 | 70 | 10 |
| 114 | 116 | 118 | NORTHERN MARIANAS | 680 | 270 | 10 | 310 | 90 | 0 |
| 117 | 118 | 121 | SERBIA | 666 | 90 | 170 | 110 | 206 | 90 |
| 120 | 122 | 122 | LIBERIA | 650 | 40 | 500 | 60 | 50 | 0 |
| 116 | 121 | 123 | CONGO, D.R. | 640 | 330 | 150 | 140 | 20 | 0 |
| 127 | 126 | 124 | BRITISH VIRGIN ISLANDS | 610 | 350 | 250 | 0 | 10 | 0 |
| 124 | 123 | 125 | KOSOVO | 600 | 430 | 20 | 0 | 90 | 60 |
| 125 | 125 | 126 | MACAU | 590 | 0 | 250 | 130 | 170 | 40 |
| 122 | 124 | 127 | SERBIA & MONTENEGRO | 590 | 170 | 30 | 130 | 260 | 0 |
| 126 | 127 | 128 | TURKS & CAICOS | 530 | 400 | 80 | 0 | 50 | 0 |
| 133 | 132 | 129 | MOLDOVA | 505 | 0 | 250 | 70 | 40 | 145 |
| 130 | 129 | 130 | ZAMBIA | 500 | 90 | 180 | 50 | 170 | 10 |
| 128 | 128 | 131 | LITHUANIA | 496 | 40 | 180 | 130 | 46 | 100 |
| 129 | 129 | 132 | SAINT LUCIA | 480 | 90 | 260 | 0 | 130 | 0 |
| 134 | 134 | 133 | SOUTH SUDAN | 460 | 0 | 310 | 40 | 60 | 50 |
| 131 | 133 | 134 | GABON | 436 | 40 | 40 | 40 | 36 | 280 |
| 132 | 135 | 135 | SEYCHELLES | 420 | 10 | 400 | 10 | 0 | 0 |
| 145 | 140 | 136 | COOK ISLANDS | 406 | 100 | 250 | 20 | 36 | 0 |
| 135 | 136 | 137 | SWAZILAND | 370 | 20 | 350 | 0 | 0 | 0 |
| 136 | 137 | 138 | MACEDONIA FYR | 360 | 0 | 140 | 160 | 30 | 30 |
| 141 | 142 | 139 | ANTIGUA & BARBUDA | 340 | 110 | 230 | 0 | 0 | 0 |
| 138 | 137 | 140 | MOROCCO | 330 | 170 | 80 | 60 | 0 | 20 |
| 138 | 137 | 141 | GRENADA | 320 | 10 | 310 | 0 | 0 | 0 |
| 140 | 141 | 142 | USSR | 300 | 170 | 30 | 100 | 0 | 0 |
| 149 | 148 | 143 | CAMEROON | 290 | 0 | 40 | 20 | 160 | 70 |
| 143 | 143 | 143 | SENEGAL | 290 | 30 | 30 | 230 | 0 | 0 |
| 150 | 144 | 145 | MONTENEGRO | 280 | 60 | 140 | 0 | 60 | 20 |
| 146 | 147 | 146 | FIJI | 250 | 20 | 70 | 120 | 40 | 0 |
| 161 | 145 | 146 | MADAGASCAR | 250 | 10 | 80 | 120 | 40 | 0 |
| 144 | 145 | 146 | VIRGIN ISLANDS | 250 | 210 | 40 | 0 | 0 | 0 |
| 142 | 152 | 149 | SIERRA LEONE | 246 | 20 | 120 | 20 | 66 | 20 |
| 153 | 151 | 150 | RWANDA | 245 | 0 | 40 | 0 | 30 | 175 |
| 148 | 150 | 151 | SAMOA | 226 | 100 | 50 | 0 | 76 | 0 |
| 161 | 155 | 152 | LAOS | 220 | 40 | 30 | 130 | 0 | 20 |
| 147 | 148 | 152 | RHODESIA & NYASALAND | 220 | 10 | 210 | 0 | 0 | 0 |
| 152 | 153 | 154 | CRIMEA | 206 | 0 | 0 | 0 | 206 | 0 |
| 175 | 163 | 155 | EQUATORIAL GUINEA | 190 | 10 | 70 | 10 | 0 | 100 |
| 150 | 154 | 155 | GAMBIA | 190 | 50 | 90 | 0 | 0 | 50 |
| 155 | 155 | 155 | REUNION | 190 | 100 | 0 | 0 | 80 | 10 |
| 166 | 160 | 158 | BANGLADESH | 180 | 10 | 170 | 0 | 0 | 0 |
| 154 | 155 | 158 | NEW CALENDONIA | 180 | 10 | 0 | 160 | 10 | 0 |
| 156 | 158 | 158 | PAPUA NEW GUINEA | 180 | 100 | 70 | 0 | 10 | 0 |
| 158 | 159 | 161 | TONGA | 176 | 0 | 20 | 0 | 156 | 0 |
| 159 | 163 | 162 | COTE D'IVOIRE | 170 | 10 | 100 | 40 | 10 | 10 |
| 157 | 160 | 163 | ALASKA | 160 | 160 | 0 | 0 | 0 | 0 |
| 170 | 162 | 164 | PAKISTAN | 158 | 0 | 0 | 0 | 108 | 50 |
| 159 | 165 | 165 | ST. VINVENT & THE GR. | 140 | 80 | 60 | 0 | 0 | 0 |
| 161 | 166 | 166 | BONAIRE | 130 | 90 | 30 | 0 | 10 | 0 |
| 161 | 166 | 166 | ISLE OF MAN | 130 | 0 | 130 | 0 | 0 | 0 |
| 161 | 167 | 166 | MONTE CARLO | 130 | 0 | 130 | 0 | 0 | 0 |
| 182 | 176 | 169 | ARMENIA | 120 | 20 | 30 | 30 | 30 | 10 |
| 171 | 170 | 169 | KYRGYZSTAN | 120 | 10 | 60 | 30 | 20 | 0 |
| 166 | 169 | 171 | LESOTHO | 120 | 10 | 110 | 0 | 0 | 0 |
| 182 | 179 | 172 | CAMBODIA | 110 | 30 | 20 | 20 | 40 | 0 |
| 166 | 170 | 172 | SAN MARINO | 110 | 0 | 0 | 110 | 0 | 0 |
| 166 | 170 | 172 | ST. KITTS & NEVIS | 110 | 30 | 80 | 0 | 0 | 0 |
| 171 | 173 | 175 | JORDAN | 100 | 10 | 60 | 30 | 0 | 0 |
| 171 | 173 | 175 | MONTSERRAT | 100 | 0 | 100 | 0 | 0 | 0 |
| 171 | 173 | 175 | WESTERN SAMOA | 100 | 0 | 100 | 0 | 0 | 0 |
| 176 | 176 | 178 | JERSEY | 80 | 0 | 80 | 0 | 0 | 0 |
| 177 | 176 | 178 | TOGO | 80 | 0 | 0 | 50 | 0 | 30 |
| 177 | 179 | 180 | SINT MAARTEN | 70 | 40 | 30 | 0 | 0 | 0 |
| 179 | 181 | 181 | GREENLAND | 60 | 40 | 20 | 0 | 0 | 0 |
| 179 | 181 | 181 | GUINEA | 60 | 0 | 50 | 0 | 0 | 10 |
| 179 | 181 | 181 | OKINAWA | 60 | 60 | 0 | 0 | 0 | 0 |
| 182 | 184 | 184 | CAPE VERDE | 50 | 0 | 30 | 0 | 0 | 20 |
| 182 | 184 | 184 | CONGO, REP. OF THE | 50 | 0 | 0 | 30 | 20 | 0 |
| 182 | 184 | 184 | IRAQ | 50 | 20 | 0 | 0 | 10 | 20 |
| 182 | 184 | 184 | ST. BARTHELEMY | 50 | 0 | 50 | 0 | 0 | 0 |
| 188 | 188 | 188 | BRITISH GUIANA | 40 | 0 | 0 | 40 | 0 | 0 |
| 188 | 188 | 188 | MALAWI | 40 | 0 | 40 | 0 | 0 | 0 |
| 195 | 190 | 188 | GUINEA-BISSAU | 40 | 0 | 40 | 0 | 0 | 0 |
| 190 | 190 | 191 | AZERBAIJAN | 30 | 10 | 0 | 0 | 0 | 20 |
| 190 | 190 | 191 | DOMINICA | 30 | 10 | 20 | 0 | 0 | 0 |
| 190 | 190 | 191 | FRENCH GUIANA | 30 | 30 | 0 | 0 | 0 | 0 |
| 190 | 190 | 191 | PALAU | 30 | 0 | 0 | 30 | 0 | 0 |
| 190 | 190 | 191 | SAO TOME & PRINCIPE | 30 | 0 | 10 | 0 | 0 | 20 |
| 195 | 196 | 196 | AFGHANISTAN | 20 | 0 | 0 | 0 | 20 | 0 |
| 195 | 196 | 196 | CHAD | 20 | 0 | 10 | 0 | 10 | 0 |
| 195 | 196 | 196 | GUERNSEY | 20 | 0 | 20 | 0 | 0 | 0 |
| 195 | 196 | 196 | NIUE ISLAND | 20 | 0 | 0 | 0 | 20 | 0 |
| 195 | 196 | 196 | SAINT-MARTIN | 20 | 20 | 0 | 0 | 0 | 0 |
| 195 | 196 | 196 | SYRIA | 20 | 0 | 20 | 0 | 0 | 0 |
| 195 | 196 | 196 | TIBET | 20 | 0 | 0 | 0 | 20 | 0 |
| 195 | 196 | 196 | TRINIDAD | 20 | 20 | 0 | 0 | 0 | 0 |
| 204 | 204 | 204 | ALGERIA | 10 | 0 | 10 | 0 | 0 | 0 |
| 204 | 204 | 204 | ANDORRA | 10 | 0 | 10 | 0 | 0 | 0 |
| 204 | 204 | 204 | BHUTAN | 10 | 0 | 0 | 0 | 10 | 0 |
| * | * | 204 | BURKINA FASO | 10 | 0 | 0 | 10 | 0 | 0 |
| 204 | 204 | 204 | NEW HEBRIDES | 10 | 10 | 0 | 0 | 0 | 0 |
| 204 | 204 | 204 | PALESTINE | 10 | 0 | 0 | 0 | 10 | 0 |
| 204 | 204 | 204 | TANGANYIKA | 10 | 0 | 10 | 0 | 0 | 0 |
| 204 | 204 | 204 | TOKELAO | 10 | 0 | 0 | 0 | 10 | 0 |
| 204 | 204 | 204 | UZBEKISTAN | 10 | 0 | 10 | 0 | 0 | 0 |
| 204 | 204 | 204 | ZANZIBAR | 10 | 0 | 0 | 0 | 10 | 0 |