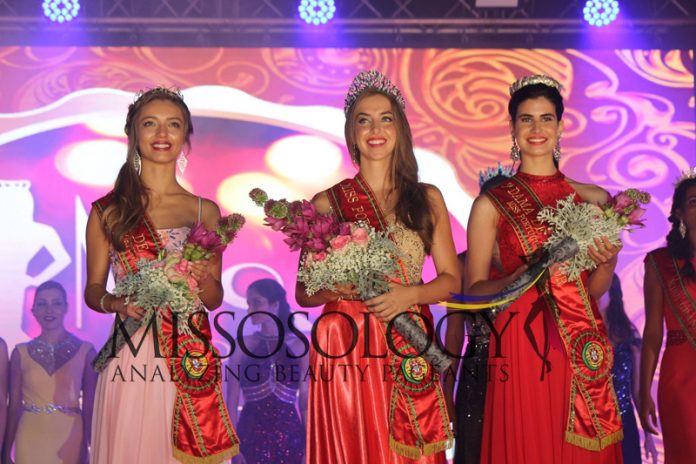 Ines Brusselmans has been crowned as Miss Portuguesa 2019 and thus making her as the official Miss World Portugal 2019. This is her second time to compete at Miss Portuguesa. She competed in 2015 where she finished as first runner-up. She was also previously Miss Supranational Portugal 2016.
The 1st runner-up is Cristiana Silvia (top photo, left) while the 2nd runner-up is Beatriz Mota (17). The pageant was held in Municipio de Gondomar, one of their major sponsors. Gondomar is home to the world -famous golden filigrees.
Outgoing queen Ana Rita Aguiar crowns Miss Portuguesa 2019 Ines Brusselmans
Prior to the crowning of Ines, several crowns were also awarded. Crowned as Miss Universe Portugal 2019 is Silvie Silva from Portuguese Community of Monaco. Meanwhile, the title of Miss Supranational Portugal 2019 meanwhile went to Carolina Liquito.
Miss Supranational Portugal 2019 Carolina Liquito

Miss Universe Portugal 2019 Silvie Silva
The surprise event of the evening was when Isidro de Brito, National Director of Miss Portuguesa, made an announcement designating the outgoing queen, Ana Rita Aguiar as Miss International Portugal 2019.
Ana Rita Aguiar, the outgoing queen, is Miss International Portugal 2019
Portugal is not that strong when it comes to major international pageants which is collectively known as the Big5 Pageants. To date, only Fernanda Alves has snatched a Big5 crown after winning the Miss International 1996 title.