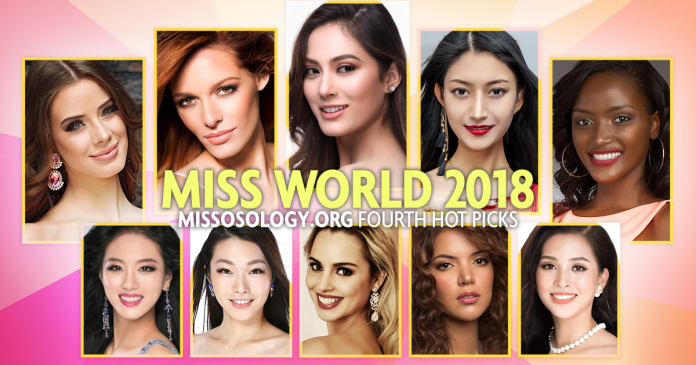 Text and graphics by Drew Francisco
The results of the Miss World 2018 fast track events are now out, causing a major shake-up in our Fourth Hot Picks.
From the 15th spot, Nepal's Shrinkhala Khatiwada now sits atop our current leaderboard after winning the Multimedia challenge and the all-important Beauty With A Purpose fast track. Top Model winner Maëva Coucke of France remains in the Top 5 at number 2, while Top Model and Talent challenges runner-up Peirui Mao of China is now up at number three. Chile's Anahi Hormazabal, who secured a Top 30 placement via the Head to Head challenge keeps her place at number four, while Uganda's Quiin Abenakyo is now in fifth place following her historic win (Top 30 placement for the first time in the pageant's history) in the Head to Head challenge.
With four days left before the big day, expect the unexpected in this unpredictable pageant. For now, check out the complete list of our Fourth Hot Picks below:
1 Nepal – Shrinkhala Khatiwada
2 France – Maëva Coucke
3 China – Peirui Mao
4 Chile – Anahi Hormazabal
5 Uganda – Quiin Abenakyo
6 Korea – Ah Cho
7 Japan – Kanako Date
8 New Zealand – Jessica Tyson
9 Venezuela – Veruska Ljubisavljević
10 Vietnam – Trần Tiểu Vy
11 United States – Marisa Butler
12 Netherlands – Leonie Hesselink
13 India – Anukreethy Vas
14 South Africa – Thulisa Keyi
15 Mexico – Vanessa Ponce
16 Australia – Taylah Cannon
17 Thailand – Nicolene Pichapa Limsnukan
18 Malaysia – Larissa Ping
19 Senegal – Aissatou Filly
20 Indonesia – Alya Nurshabrina