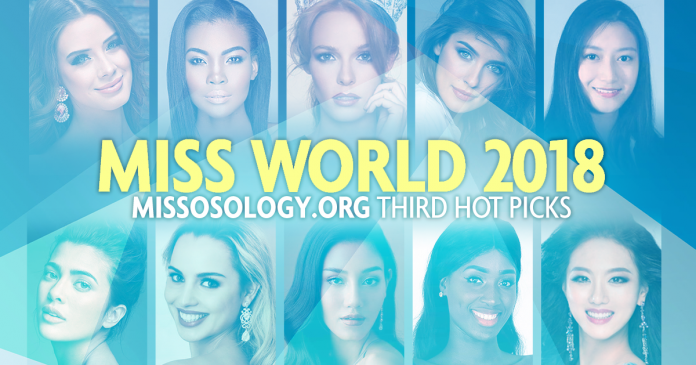 Text and graphics by Drew Francisco
Naysayers claim that the Miss World pageant has no clear criteria for choosing the winner. But what sets the pageant apart from the rest is the excitement that comes with predicting who will be the newest "Beauty With A Purpose" queen.
This year's edition is no exception. While there are a lot of stunning, accomplished women competing in Sanya, China for the elusive blue crown, it remains anyone's ball game. The results of the fast track challenges could help, however, in gauging the candidates' performances as well as who are getting the nod of the powers that be.
After settling in the third spot in our first two lists, Maëva Coucke of France finally sits atop our leaderboard. Her victory in the Top Model challenge should be a confidence booster as two of the last five Miss World winners (Megan Young and Mireia Lalaguna) won the same award during their respective editions. It is very possible that France can achieve its second Miss World crown with this sophisticated and sweet lady.
Zooming in to the second spot (from 11th) is Thulisa Keyi of South Africa. With a Top 5 placement in the Top Model round and as co-winner of the Designer Award, Thulisa is surely doing a fantastic job in Sanya. South Africa traditionally does well in Miss World and Thulisa is very much capable of sustaining the groundwork laid out by her predecessors.
From 20th to third spot is the beautiful Taylah Cannon of Australia. She possesses a very sweet and soft beauty and one can say that she is on the same league as former Miss World winners Rolene Strauss and Kaiane Aldorino. Taylah is a great speaker, too, so we expect her to do well in the interview and other speaking engagements.
Remaining in the Top 5 is the stunning Anahi Hormazabal of Chile. There is no doubt that all eyes will be on this stunning young woman who is probably one of the best Chile has ever sent to any pageant in the last decade. She is the top-rated Latina in the competition at the moment!
Rounding out the Top 5 for now is the host delegate, Mao Peirui of China. Her winning the Designer Award and finishing 1st runner-up in the Top Model challenge shouldn't come as a surprise. But her Head to Head Challenge interview was the deal-breaker. This girl is eloquent! With China winning the Miss World crown twice in their hometown, it won't be a surprise if they win their third this year.
Check out the complete list below:
1 France – Maëva Coucke
2 South Africa – Thulisa Keyi
3 Australia – Taylah Cannon
4 Chile – Anahi Hormazabal
5 China – Mao Peirui
6 Philippines – Katarina Rodriguez
7 New Zealand – Jessica Tyson
8 Thailand – Nicolene Pichapa Limsnukan
9 Senegal – Aïsattou Filly
10 Korea – Ah Cho
11 Mexico – Vanessa Ponce
12 Vietnam – Tran Tieu Vy
13 Spain – Amaia Izar
14 Puerto Rico – Dayanara Martínez
15 Nepal – Shrinkhala Khatiwada
16 Brazil – Jéssica Carvalho
17 Italy – Nunzia Amato
18 Malaysia – Larissa Ping Liew
19 Nigeria – Anita Ukah
20 Germany – Christine Keller