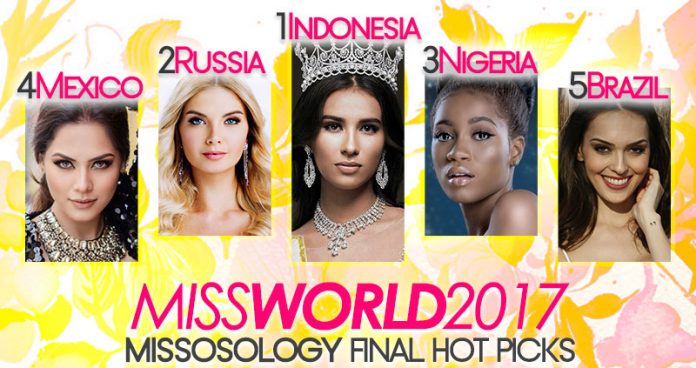 Written by Ric G. Galvez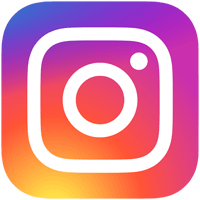 @ricggalvez
Needless to say, Miss World is one of the most unpredictable pageants in the world. The contestants are not simply judged by two or three criteria but rather by rigorous, well-rounded set of requirements that will eventually reveal the true personality of a woman.
The panel of beauty experts at Missosology has reviewed the trajectory of the pageant based on historical trends and more importantly the narrative that the pre-final contests has given us. Based on those, these are the final hot picks for Miss World 2017.
1. INDONESIA Achintya Holte Nilsen– Buoyed by its fresh victory at Miss International 2017, Indonesia could sustain its momentum and clinch its long overdue Miss World crown. The signs are there for Achintya to finally bag the title. Her country has reliably placed at the semis, placed second runner-up in 2016 and 2017 and has even played host to the pageant. On top of that Nilsen is the best Miss Indonesia we've seen in years. She's articulate, genuine and has been a semifinalist in every pre-final contests with the exception of the sports competition.
2. RUSSIA Polina Popova – She's the most popular among the contestants and is a safe bet for the crown. Polina could very well be the third Russian to win the crown (and the second using a Russia sash) thanks to her unquestionable beauty. She's an elegant woman with such flair who spent a lot of time in China prior to the pageant and speaks perfect English. It is of little wonder why she is a consistent top pick not only of Missosology but also by other pageant blogs.
3. NIGERIA Ugochi Ihezue – Relatively side-lined from the start, she straightforwardly stood out from the crowd by winning the Top Model contest. Lissome, tall and graceful, she is in a good position to follow the footsteps of Agbani Darego. Remember, so many Miss World titleholders were also Top Model winners so there is that kind of indelible "winner alert" tag on Ugochi.
4. MEXICO Andrea Meza – It has been a long road of frustration for Mexico at Miss World and it is likely that this year, they may be in the semis but the crown is still not within reach. Still, Andrea is a woman to watch at the competition. Her spellbinding beauty is what the organization is looking for and this year could be another high placement for the country.
5. BRAZIL Gabrielle Vilela – Reliably well-prepared, Gabrielle is one of the fiercest candidate that could easily walk away with the crown. Her beauty is just full of sophistication and it is of little wonder why she is one of the Top Model semifinalists. She has also shown dedication towards charity projects which earned her a semis place at the Beauty with a Purpose contest as well.
6. CROATIA Tea Mlinarić – Largely unnoticed from the start, Tea, a young 18-year old beauty, is proven to be resilient. Originally, she is one of the darkhorses that had the pageantsphere chatting but she rose to fame when she clinched the 3rd place at the Top Model contest. Her country was quite strong in the mid-90s and is ready to make a comeback at Miss World.
7. PHILIPPINES Laura Lehmann – She has been left-out from many of the pre-final contests and that's is a serious concern. Her saving grace though is the Beauty with a Purpose project which could propel her past the Top 10. She's affable, witty and dedicated but could be the weak link in what is supposed to be the longest unbroken streak of the Philippines at Miss World.
8. FIJI Nanise Rainima – Placing second at the talent competition and earning a spot at the Beauty with a Purpose contest is good enough to put a spotlight on Nanise. She may be representing a small island nation but she's got a big heart with a can-do spirit. She will definitely place higher in the pageant than what most people expected from her.
9. DOMINICAN REP Aletxa Mueses – As the winner of the sports contest, Aletxa is assured of a place in the semis. This woman though has a great rapport with her fellow contestants and she has shown that she is not just about beauty but also about physical well-being and great attitude.
10. EL SALVADOR Fatima Cuellar – She is one of the underrated beauties which we think could upend the perceived dynamics of the contest. She is one of the Top Model semifinalists and there's a key reason as to why – she's got a great stage presence! This could be her ticket to a very surprising placement at Miss World 2017.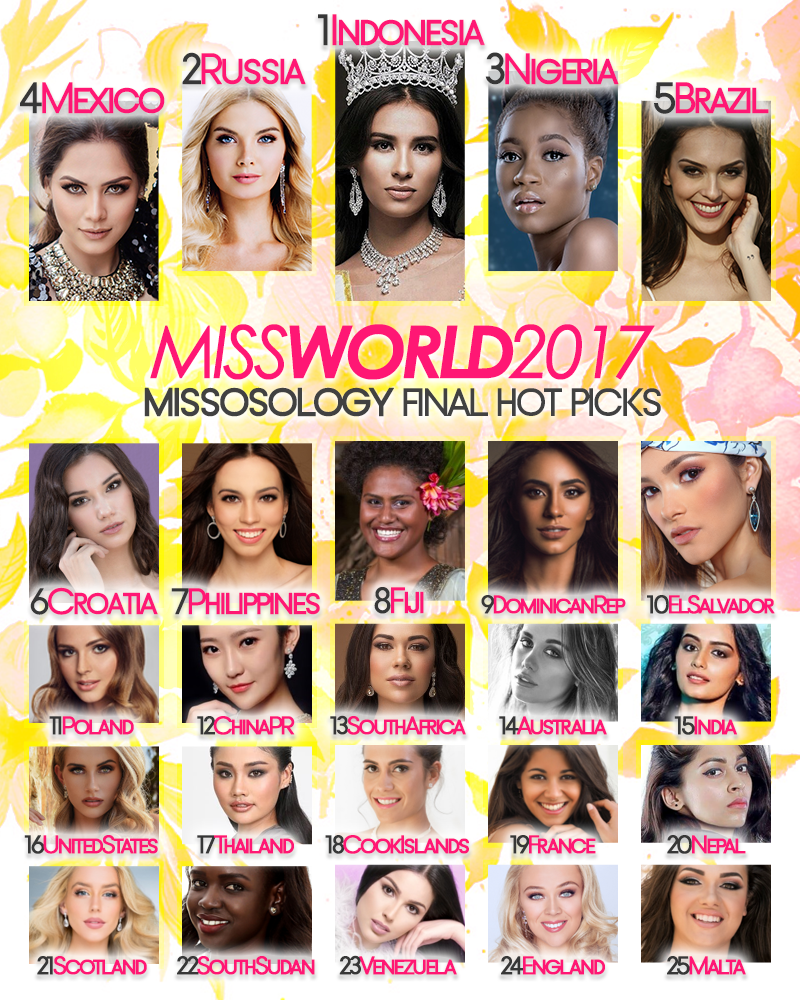 11. POLAND Magdalena Bieńkowska
12. CHINA PR Guan Siyu
13. SOUTH AFRICA Adè van Heerden
14. AUSTRALIA Esma Voloder
15. INDIA Manushi Chhillar
16. UNITED STATES Clarissa Bowers
17. THAILAND Patlada Kulphakthanapat
18. COOK ISLANDS Alanna Smith
19. FRANCE Aurore Kichenin
20. NEPAL Nikita Chandak
21. SCOTLAND Romy McCahill
22. SOUTH SUDAN Arual Longar
23. VENEZUELA Ana Carolina Ugarte
24. ENGLAND Stephanie Hill
25. MALTA Michela Galea