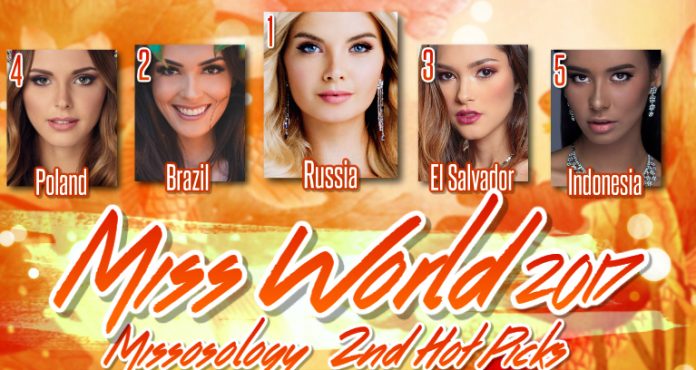 As the world's oldest and most prestigious major international beauty pageant, it is crucial that Miss World should not be swayed by the popular opinion on the internet. The ability of anyone to criticise, bash or even threaten not only the contestants or winners but even the beauty pageant organisers is made easier thanks to social media. In fact, if I was asked like what Miss Universe asked Miss Philippines Maxine Medina at Top 6, I would say that the most significant change that happened in the last 10 years is how the fans have abused their power to criticise through social media which is no longer constructive. It has now become destructive.
That is why if the last year's results caused an uproar (depends on which side of the fence you are sitting really), Miss World have shown composure and resilience. They chose the winner who gave the best answer during the finals night and Miss World didn't care if some of the fans agreed with it or not. So this year, I would like to think that the results will be generally accepted and it would be if Miss Russia Alina Popova will be crowned Miss World 2017. Alina is just uber-hot and a drop dead gorgeous blonde who can be the face of Beauty with a Purpose. I would like to think that the world is now ready for a third Russian Miss World.
Not far behind is Miss Brazil Gabrielle Vilela. We can summarise her beauty as elegant. It's also been a while since Brazil had a Miss World and their national organisation is well-run and I can see that a lot of effort was put on their Miss World contestants.
What I particular like about Miss World is that sash weight isn't really that pronounced in here. That is why that I am quite happy that our beauty experts has chosen Miss El Salvador Fatima Cuellar in the third place in this Hot Picks. El Salvador is a tiny Central American nation that is not really strong at pageantry but Fatima has shown a great can-do spirit and I hope that she will be recognised not only for her divine beauty but also for her great pride in representing her nation.
Placing fourth is Miss Poland Magdalena Bieńkowska. I like her beauty a lot and she has a genuine charitable spirit. But when it comes to a Miss Poland, I always throw a caution in there somewhere. Remember that the last Polish girl to really make an impact at Miss World was Katarzyna Borowicz who made it to the Top 5 way back in 2004. It is as if Poland is sending great girls every year but they always fall short although Anna Jamróz (2009) and Marta Kaja Palucka (2015) managed to make it to the cut.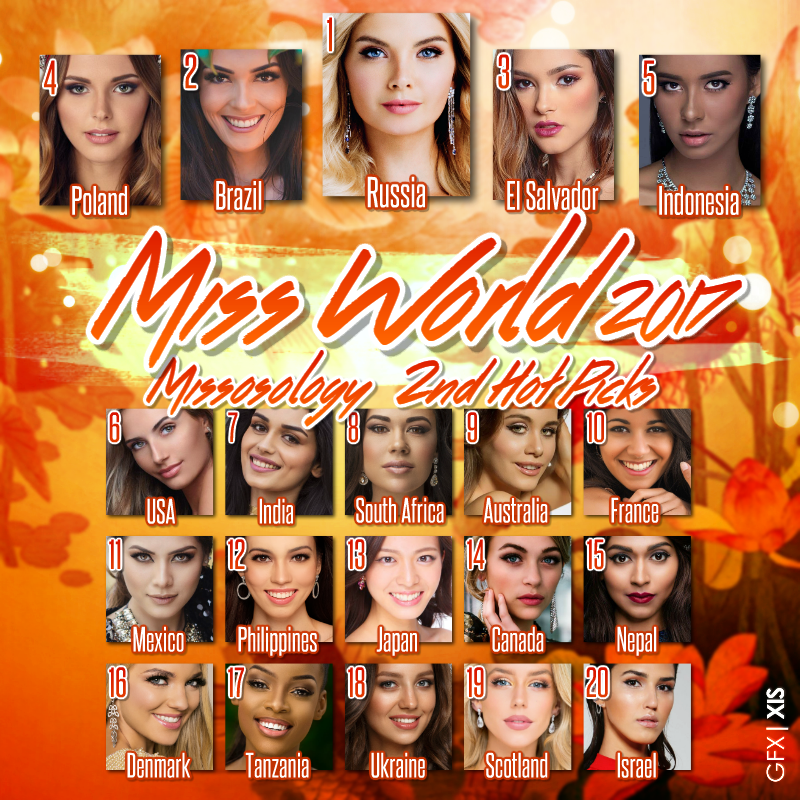 Rounding up the top 5 is Miss Indonesia Achintya Holte Nilsen. I genuinely think that the time is right for Indonesia to win a major international crown. It is not only because the country has passionate and proud beauty pageant fans but also because it is long overdue. I also think that Achintya has all the qualities needed to become a great Miss World.
Still, this being Miss World, uncertainties are bountiful. It would be not surprising at all if another American beauty will walk away with the crown. You see, Miss United States Clarissa Bowers has a bubbly personality and she is just super hot with that great curves and that confident aura. Miss India Manushi Chhillar is also a beauty to watch out. She can easily give the front-runners a strong challenge. Her beauty echoes the glory days of India in the world of pageantry. She's smart, elegant and confident and that's a trifecta for victory.
We should also keep an eye on Miss South Africa Adè van Heerden and Miss Australia Esma Voloder. Both beauty gives a supermodel vibe and they are also great in interviews and you can see that they just oozing with confidence.
I guess whoever will win Miss World 2017, the fans will not be unanimous with their opinions. There is no pleasing anyone and I just hope that the same scenario last year will be avoided. Still, I trust Miss World will pick the right girl because Miss World 2016 Stephanie del Valle was able to discharge her duties honourably and she has proven her haters wrong. If any of these girls in the list will win, it will not come as a surprise and there is no doubt that she truly deserves it.
MISS WORLD 2017 2ND HOT PICKS
RUSSIA
BRAZIL
EL SALVADOR
POLAND
INDONESIA
UNITED STATES
INDIA
SOUTH AFRICA
AUSTRALIA
FRANCE
MEXICO
PHILIPPINES
JAPAN
CANADA
NEPAL
DENMARK
TANZANIA
UKRAINE
SCOTLAND
ISRAEL
Written by Ric G. Galvez
ric@missosology.org
instagram.com/ricggalvez/