Miss World 2013:  Megan Young of Philippines Just looking at Megan Young has made us feel powerful. There's the proud tilt of her chin, the direct line of her posture, the graceful sweep of her hair, the steely eyes, the delicate features, the beautifully set mouth. When you see her onscreen, it seems like everyone else is just sleepwalking. Her mestiza beauty comes courtesy of her American father and Filipina mother, and it's not surprising to note that she's been turning heads practically since birth. Everything so far has been tour-de-force and if you want to see the best, then Megan clearly is one of the best from the rest. If ever, she is proclaimed the most beautiful woman in the world and its 1st crown from the Pearl of the Orient, she would have beaten the most breathtaking and competitive batch of any pageant this millennium. It would be monumental to witness this moment in time for the Philippines to snatch the title under Miss Young's magnificent face, mesmerizing performance and an icon of beauty in the making.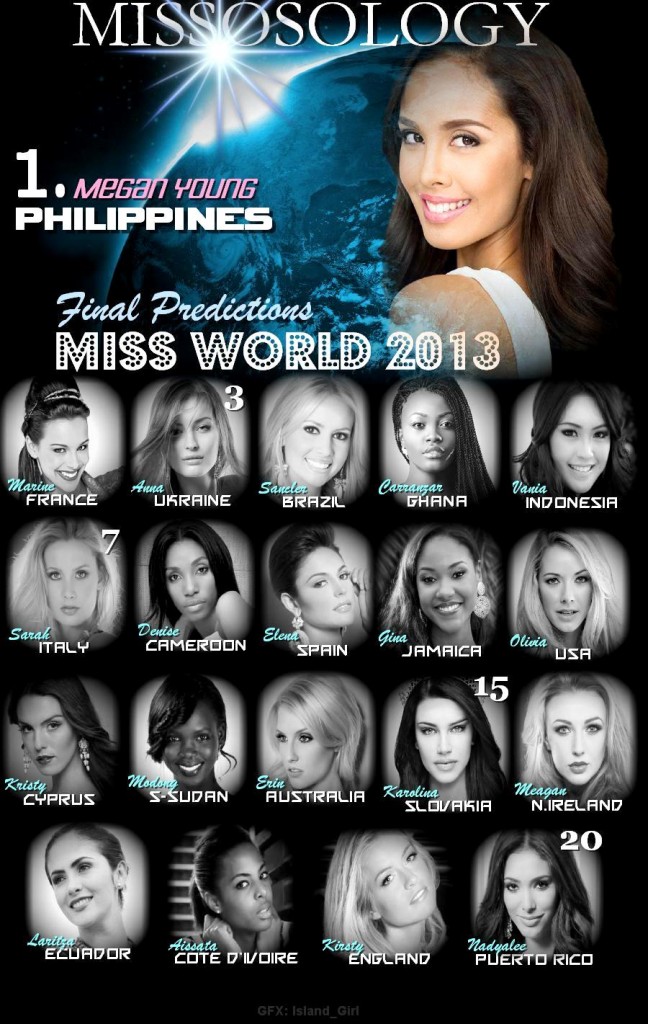 1st Princess: Marine Lorphelin of France Readers, Marine Lorphelin has something. And by something, we mean everything. What sets her apart is the alacrity in her eyes, the persistent bounce in her step. Her every move seemed an exercise in control, a sort of beautifully molded artifice. And when she opens that mouth, it only gets better, as her low-pitched, harmonious voice runs circles around whomever or whatever stands in front of her. But Marine was no confection: she is a masterpiece with a heart of gold and displayed inner beauty on her ongoing sincere humanitarianism. She really defines the perfect classical beauty and embodiment of womanhood in every sense.
2nd Princess: Anna Zaiachkivska of Ukraine There is an angel called Anna, who was sent by God himself. Anna Zaiachkivska did not inhabit this earth. She flitted about in the celluloid heavens, showing her face and, later, offering her majestic voice at sporadic intervals. Her skin is flawless, the arch of her eyebrow was perfection. There was something so perfect, so transcendent about Anna's face and demeanor – you could lose yourself in it. A close-up on her face was tantamount to a close-up on your own: it is so intimate that her emotions is a reflection of what beauty is all about. In proclamation, she is a GODDESS: the most exquisite alchemy of pure beauty and warmth character.
4. Sancler Frantz of Brazil Sancler Frantz was glamorous in a way we can't quite understand. Her slinking accent, the alabaster face, the unerringly svelte wardrobe — all of it communicated as much. She was exquisite. There is no other way to put it. She could easily lay claim to the title of sexiest woman in this line-up. She is symmetrically gifted, blessed with beauty and feminine curves that make the boys say "whoa." But that exquisiteness has long been attributed to the work she has championed in her country passionately and beautifully .
5. Carranzar Shooter of Ghana It's suggested that intelligence, sensibility and verve were beautiful to unite charisma and regal bearing. She is a real person. A human being with sincere intentions and humble inner beauty. Standing at a striking 1.88, Carranzar Shooter possesses the kind of statuesque frame and irresistible charm the one demands from a beauty queen. Her long dark hair and piercing eyes only add to the overall package, while her down-to-earth- personality has ensured that she comes across as a prototypical girl-next-door. And although she'd obviously make any guy's friends insanely jealous, she is a woman in control of her destiny. It would be thrilling to have a 2nd African goddess bring home the blue crown once again.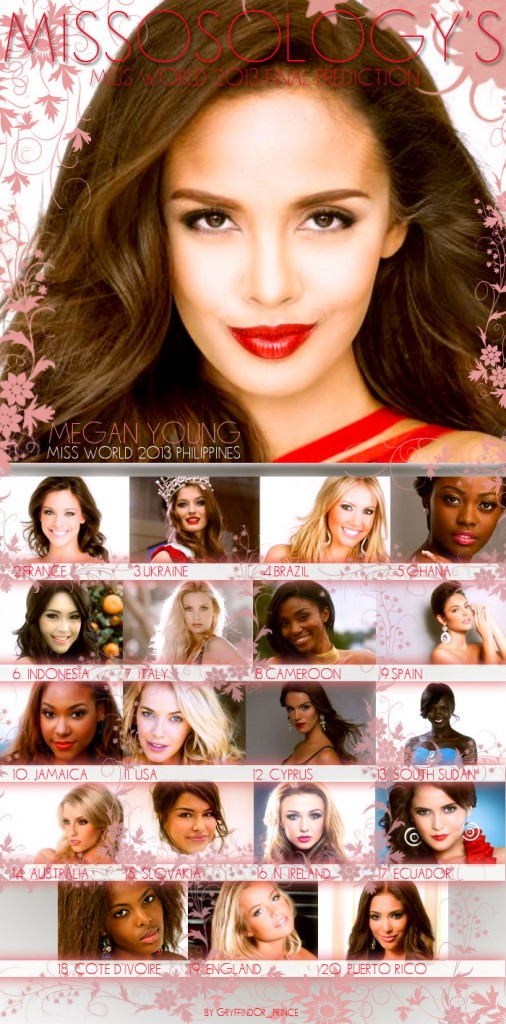 6. Vania Larissa of Indonesia It's hard being the host country when you know you don't have full control on everything and a rain of insults are expected to come your way. She stood her ground graciously as the woman who won Miss Talent proudly. Let's not forget she has one of the most endearing and inspiring BWAP project around. Vania… she breathed life, she breathed love, she breathed hope. She brought soul and class just by being who she was.
7. Sarah Baderna of Italy Her formidable sexual appeal stemmed from a stunning androgyny, and an ability to simultaneously embody the passive and the dominating, the masculine and the feminine, the demure and the suggestive. This blonde is very avant-garde. Put differently, she was the canvas of a different meaning of feminine ideal. Complicated and beautifully assembled, an Italian artwork of desire and fantasy. Sarah is the product of her own brand and enigmatic aura, molded together as one of the powerhouse name of this bunch.
8. Denise Ayena of Cameroon Her existence in the competition showed us where is the limit for beauty. She is that thing you can't describe with all the poems in the world. The confidence and colorful of her personality just jumps out of the screen. She's enjoying the company of all those great ambassadress of the world. Of course, we'll definitely remember Valerie, the first Miss Cameroon in Miss World.
9. Elena Ibarbia of Spain The first time audiences saw Elena Ibarbia, she was projecting the image of your classic Miss World prototype in Beach Beauty. The second time we saw her, she was in the throes of a very innocent and natural lady during the opening ceremony. There's something uncanny about Elena's veneer of innocence. It's not exactly right, but it makes you feel mystical feelings of perdition, and that's compelling nonetheless. Whether she's dressed up in casual or just being altogether angelic, the very effortless Elena is easily among the world's most beautiful women and a sure top contender.
10. Gina Hargitay of Jamaica Jamaicans are known in the pageant world for having swag and excellent speakers. They are always ready for Miss World. They have a rich history of being the top dog of the Caribbean. Gina symbolizes the true Jamaican beauty who have great backgrounds, topnotch communication skills and are well-educated. She knows how to sell herself and carry it with panache.
11. Olivia Jordan of USA Her all-American girl persona coupled with modeling prowess and naturalness seemed to be a favorable one. Olivia has an air of likeability factor and style you shouldn't missed. If all doesn't work out, she should try Miss California again since she has "it" factor written all over her.
12. Kristi-Mari Agapiou of Cyprus This half-English and half-Cypriot is a silent killer. It was a breeze for Kristi-Mari to be hailed as one of the finalists in the Top Model competition as she is a remarkable one herself. Let's also glorify her for having the best set of eyes and knows how to use them hypnotically.
13. Manuela Matong of South Sudan She stands out in a pool of beauties with haunting features. Her biggest asset was exotic beauty, subtle glamour, her pooling eyes, her mouth and that breathtaking skin of hers. Manuela is the beauty that an editor or scout would love to be on the covers of high fashion magazines.
14. Erin Holland of Australia She got pipe for days. She has a powerful voice that speaks to the core and lives to the beat of the drum. Erin is the voice of beauty, talent and change.
15. Karolina Chomistekova of Slovakia Karolina is a hit or a miss beauty. In our eyes, she's a hit as she proved her worth and competitiveness. She is exciting and unexpected.
16. Meagan Green of Northern Ireland Without a doubt, Meagan has one of the most enchanting faces in this year's edition. Sadly, she's overlooked and too many competitive stunners in her continental region. But she deserved a spot in our coveted list for her amazing-ness and powerful conviction.
17. Laritza Parraga of Ecuador Pegged by pageant fanatics around the globe as the reincarnation of the unforgettable Barbara Turbay of Colombia last year. Laritza is one of the stars of The America's (North, Central, South). We can't get enough of her selfie photos as she is rightfully attractive by law and representing your Latin fierceness.
18. Aissata Ezzedine of Cote D'Ivoire Her name sounds like a tribal princess who comes from a royalty family. Aissata is an African head turner for all the right reasons. She just looks so royal with her classic modeling characteristics.
19. Kirsty Heslewood of England When we look at her, you just find yourself engulf to the type of cuteness and sweetness she emulates. She has the type of beauty that you could be proud of and just approach easily. Kirsty is an underrated beauty who deserves our attention and love.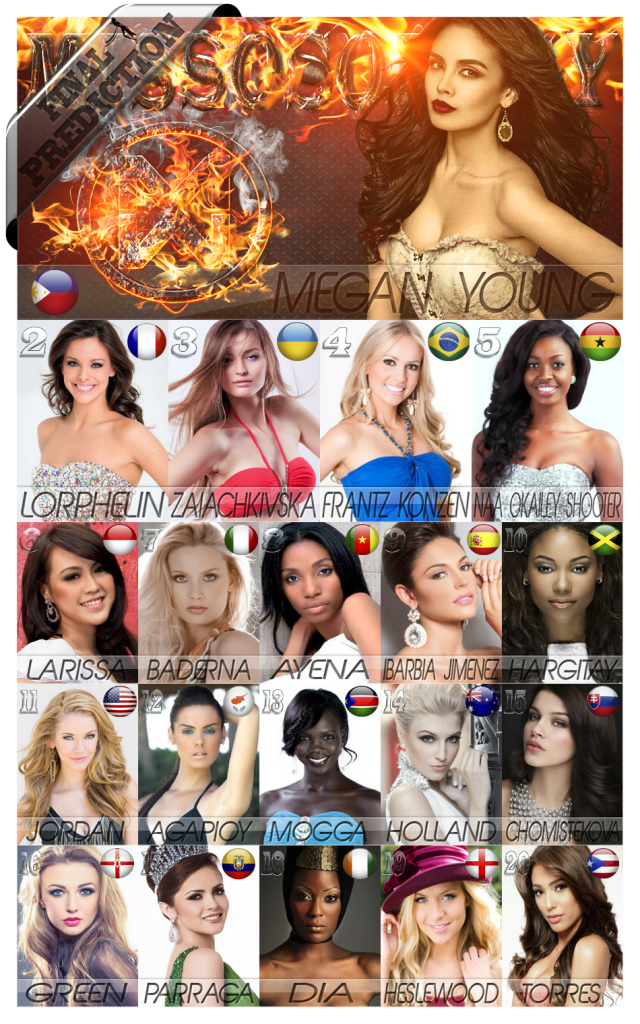 20. Nadyalee Torres of Puerto Rico Being picked as one of the beauties to promote the pageant in the press conference, she certainly won hearts by being one of the best communicators in her region. Armed with a loving smile and personality, she made Puerto Rico proud with dignity. Nadyalee is just too contagious to be not included in our list for her enthusiasm and loveliness to showcase to the world.