Analyzing Miss World 2014
By Ric Galvez
And so the inevitable did happen. A front-runner from the start, the stunningly beautiful and soon-to-be medical doctor Rolene Strauss captured the world's most prestigious beauty pageant crown. Indeed it was a deserving win and a great addition to the group of Big4 Beauties that included Valerie Hernandez and Jamie Herrell. When the Big4 Beauty Queens of 2014 will all be crowned by January of 2015, I do hope it will be one heck of a stunning group.
The victory of Rolene Strauss at Miss World 2014 is a vindication for all the efforts made by the Miss South Africa organization. I have never seen a hardworking yet humble and approachable national organization like the Miss SA. Indeed those who are humble in heart will be greatly rewarded.
It has been decades since South Africa had a major crown and this is its third Miss World title. The significance of Rolene's victory couldn't be even greater knowing that she is the first ever Miss South Africa to win a Big4 crown in a post-apartheid era. Her victory is very much well celebrated across her rainbow nation. Although she is a true-blooded Afrikaans, millions of her fellow South Africans of any color and creed is truly proud of her.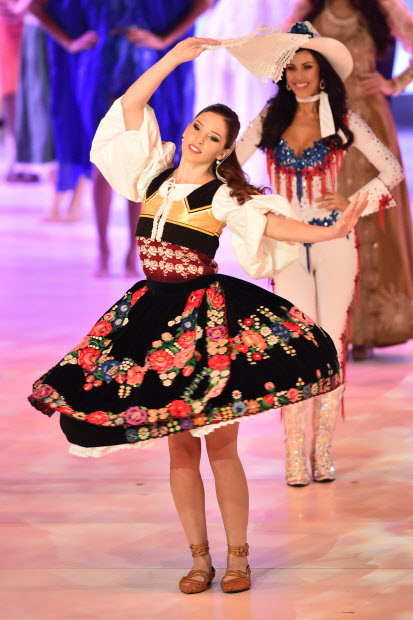 The Miss World pageant this year, as expected, feels like, tastes like and looks like, the Miss World of yesteryears. The overall texture of the finals night lacks that necessary excitement associated with a real competition. It is as if like a graduation ceremony where everybody knows who will be the class valedictorian and that the whole event is just a matter of formality.
I am happy to say though that there were some great parts in the pageant. In particular, the opening number was absolutely a surprise. Multi-platinum artist Sky Blu from LMFAO performed the lively We Love Girls where the rhythm is more suited for Miss Universe or Miss Earth rather than for Miss World. It was indeed, for me, a welcome change and how to it was integrated to the Dances of the World was just great!
I noticed that the dances that they chose this year were all lively starting from Miss Bolivia Andrea Forfori's Tobas dance that dates back to the Incan times to Miss United States Elizabeth Safrit's cowboy line dancing complete with a concluding "yee-haw". But the greatest disgrace of the evening was when Miss Slovakia Laura Longauerová's dance was mislabeled as a dance from Slovenia. Miss World should be ashamed for such mistake because national organizers gave lots of efforts in providing costumes and training their girls for this particular segment. All of those efforts will become a total waste if you credit it to the wrong nation. I urge Miss World to issue a sincere apology for this mishap.
The most memorable part of the whole ceremony was when Miss Malaysia Dewi Liana Seriestha, Miss Scotland Ellie McKeating, Miss Canada Annora Bourgeault and Miss Thailand Nonthawan "Maeya" Thongleng paid tribute to the organization and Julia Morley with their wonderful rendition of You Raise Me Up. But hey, hands down, Dewi Liana was the best, at least in my opinion. The rest of the girls though have great voices and I saw Julia was beaming with joy and pride as they sang.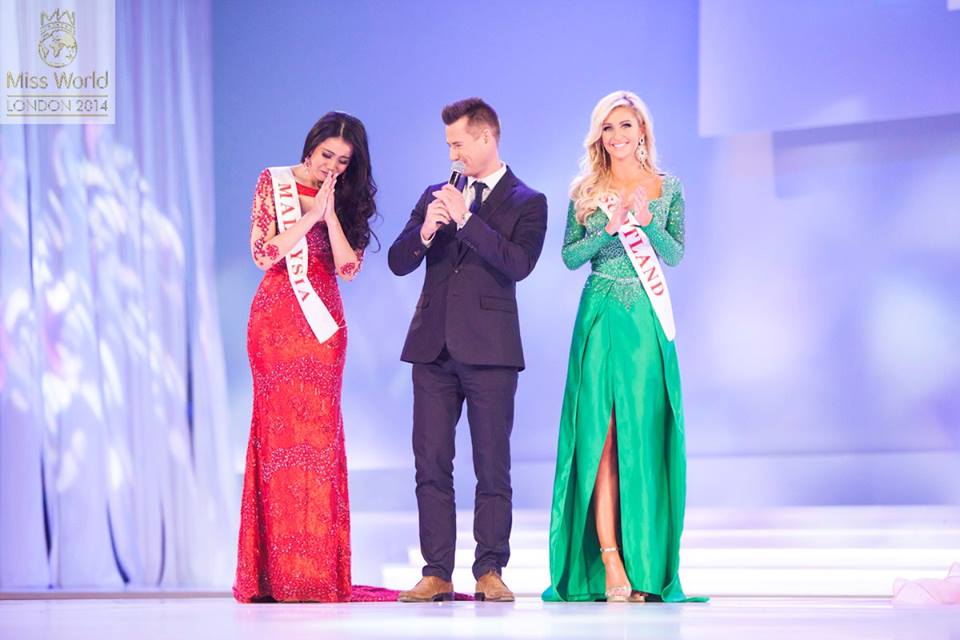 Anyway, the Top 25 was mainly unexpected although there are a lot of favorites that made it. There were so many inconsistencies in there however that basically belies the whole ranking system of Miss World. One clear example was how Miss Bosnia & Herzegovina Isidora Borovčanin won the Top Model competition but failed to be in Top 25.
It was interesting however, to see how most of the ASEAN (Association of South East Asian Nations) made it to the quarterfinals. Miss Indonesia Maria Sastrayu, Miss Malaysia Dewi Liana Seriestha, Miss Vietnam Nguyễn Thị Loan and Miss Philippines Valerie Weigmann all made it based on their overall performance. On top of that, Miss Thailand Nonthawan "Maeya" Thongleng barged in to the Top 11 after gaining the most number of votes via the official Miss World app. This makes the ASEAN region as the most successful region in the Miss World 2014 pageant!
I would like to point out though the significance of the Top 25 placement of Miss Philippines Valerie Weigmann. For a long time, a contestant whose immediate predecessor won the Miss World crown is doomed to clap. Valerie, it must be stressed, broke that curse. She was in a difficult position from the start of the competition and I am personally convinced that there was a concerted effort in the part of Miss World – intentionally or subconsciously (?) – to stifle the ascent of a candidate just to prevent a back-to-back win.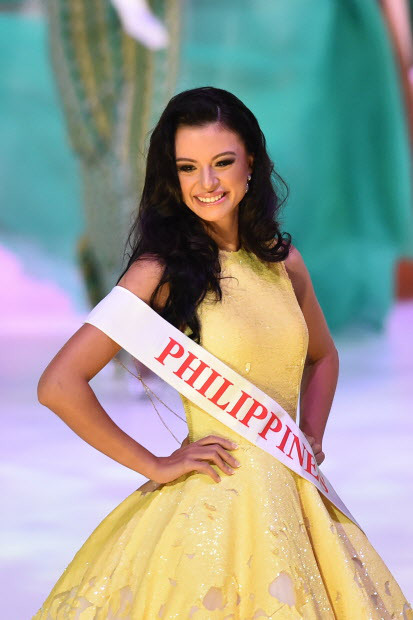 Another point that I would like to make was the inconsistency of the app voting. Last year, Gibraltar won the most number of votes and their contestant was given a Top 6 placement. So how come that Miss Thailand Nonthawan "Maeya" Thongleng was given only a Top 11 place this time around? Isn't that unfair to all who voted for her? Isn't it that such placement should be consistent and in line with the precedent?
It was great to see countries such as Trinidad and Tobago, Finland, Dominican Republic and the Netherlands making the cut. I saw Miss Mexico Daniela Álvarez visibly happy when she was called and even looked shocked when she progressed to the Top 10. Miss Russia Anastasia Kostenko was also strong from the start and I was expecting she would move up further. I was heartbroken not to see Miss Puerto Rico Genesis Davila, Miss France Flora Coquerel and Miss Venezuela Debora Menicucci in the Top 25. It was even painful to know that this is already a 3-year losing streak for the Venezuelan beauties!
The Miss World 2014 contest moved on with the Top 10. Again, like last year and the years before it, it was very unclear how the judges came up with the Top 10 semifinalists. We were told that scores of all Top 25 were back to zero. But the question is – what are the criteria in selecting which candidate will move on to the next round? The same question can be asked on what basis did the pageant came up with its Top 5?
The Top 5, I must note, was a brilliant choice. Miss Australia Courtney Thorpe's hardwork truly paid off and I would like to mention that my friend Peter Sereno had been one of the people that made this feat possible. Cheers to you Peter and Courtney! I also know Courtney to be a down to earth and a hardworking woman who truly believes in the cause of the pageant. Too bad she failed to articulate it well in the final question but nevertheless she was really sincere about what she said.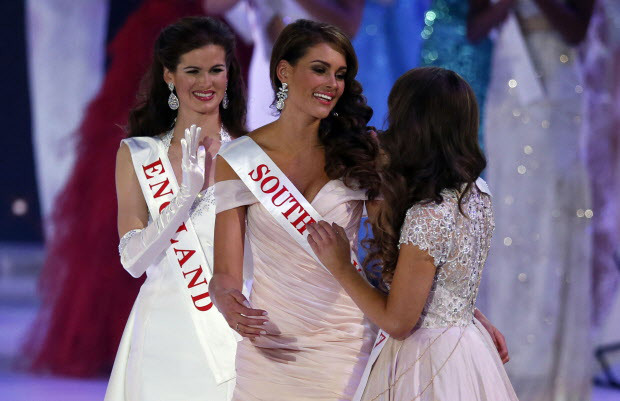 Miss England Carina Tyrrell, the hometown girl, was one of the strong contestants even before the pageant started. She was also a Miss World prototype whose beauty echoes the glory days of England in the 60s and 70s. Even her fashion choice echoed that era too as just when I thought gloves and gowns no longer go hand and hand in the pageantry world. But then, what do I know as I am no Nick Verreos.
Miss United States Elizabeth Safrit easily moved to the Top 5 as I think the judges saw what I saw. The sheer elegance and confidence of Elizabeth in her equally regal gown was just a showstopper. I know Elizabeth had her own share of detractors and critics even seconds after she was crowned as Miss World United States. But since she went this far at the competition, Elizabeth had the last laugh.
Miss Hungary Edina Kulcsár was a surprise for me. There was actually a circulating link showing that Edina did participate at a contest with a bizarre name called Miss Plastic Surgery. She allegedly won a car for being the first runner-up and the contest was for women who were unrepentant of their major beauty enhancement surgeries. Whatever is the truth of the matter Edina surprised everyone with her genuineness in her final answer. She is currently the most successful Hungarian beauty queen at the Big4 pageants ever!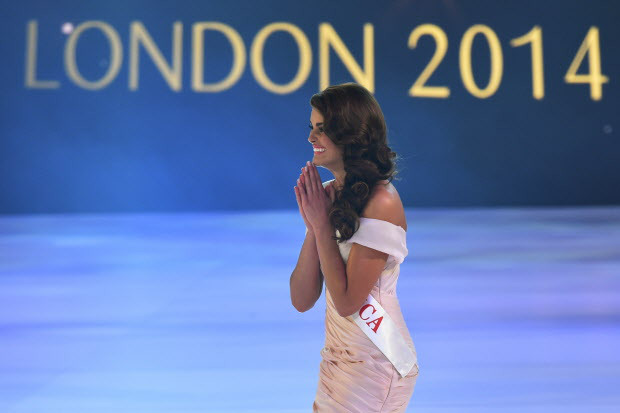 Miss South Africa Rolene Strauss did stand out. She was not only the tallest among the Top 5 finalists, she was also the one with a striking beauty. Her answer to the final question is the best among the 5 and by calling Miss World as a beacon of hope to all over the world, Rolene's scores could have shot up way beyond the galaxy. I also like the fact how Rolene equated her experiences in South Africa with the aspirations of the Miss World organization. Above all, I love how she did it with obvious sincerity.
Rolene came into this competition with a lot of burdens hanging over her. At one point, we had to publish an article about her weight gain. Whether it was true or not, it doesn't matter as the real Rolene that we saw at ExCel was a curvaceous and hot Rolene. We also published an article expressing serious doubt about her ability to win perhaps a way to deal with possibility of a heartbreak which happens in Miss World from time to time.
But deep inside in the hearts of everyone at Missosology, Rolene was the clear winner. She was the predicted winner in our final predictions and many other beauty pageant websites also predicted her win. I thought Miss India Koyal Rana would give Rolene a strong competition but Koyal failed to even land at the Top 5. I also thought Miss Scotland Ellie McKeating might spoil it all for Rolene, entertaining the possibility of an appeasement after the divisive independence referendum held earlier this year.
In overall, despite some serious mishaps, Miss World 2014 was a success. Megan Young became the first ever reigning Miss World to host the finals night and she did it with her signature charm and sweetness. The other hosts were so-so. As usual Steve was awkward and I don't like the fact that the host would butt in while a contestant was answering the questions. Tip to Big4 hosts: you are not allowed to comment or butt-in during the Q&As.
Aishwarya Rai Bachan was also honored at the ceremonies. This echoes the same attention given to Wilnelia Merced Forsyth back in 2011 but this time around, I think it's more prestigious and formal.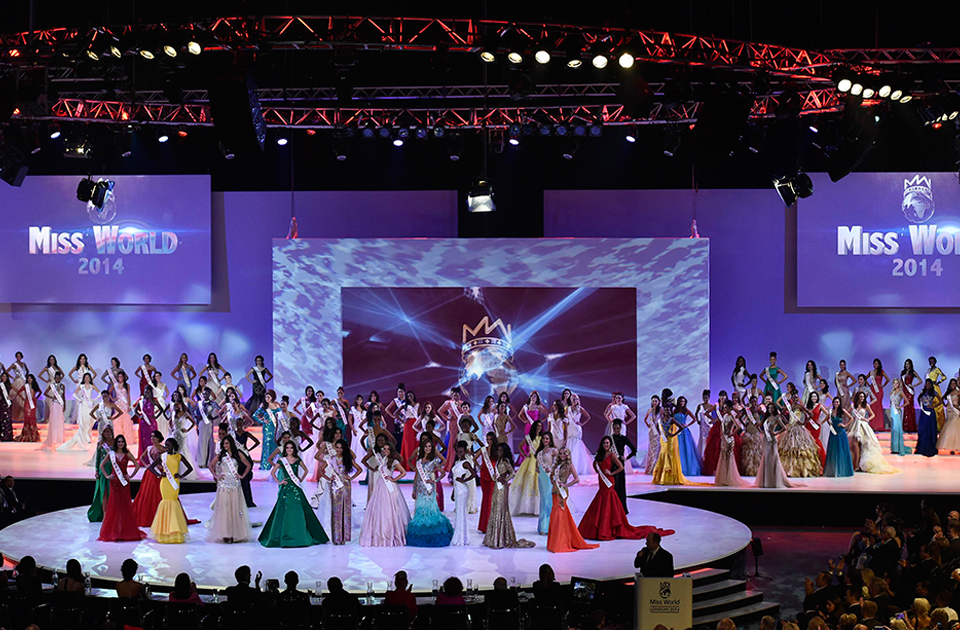 The stage was awfully small but not drab and having The Vamps to perform brings Miss World to the level of the pop culture. The overall result, thankfully, was welcomed by everyone despite being in a year peppered with surprises. Rolene will come back to South Africa as a hero and leafing through the December 16 issue of The Times newspaper, Rolene's photos were splashed in the front page and beyond. I am pretty excited to catch up her homecoming parade. It will surely be one heck of a celebration, celebrated by everyone in South Africa of all races, color, religion and creed. Congratulations to the Rainbow Nation!