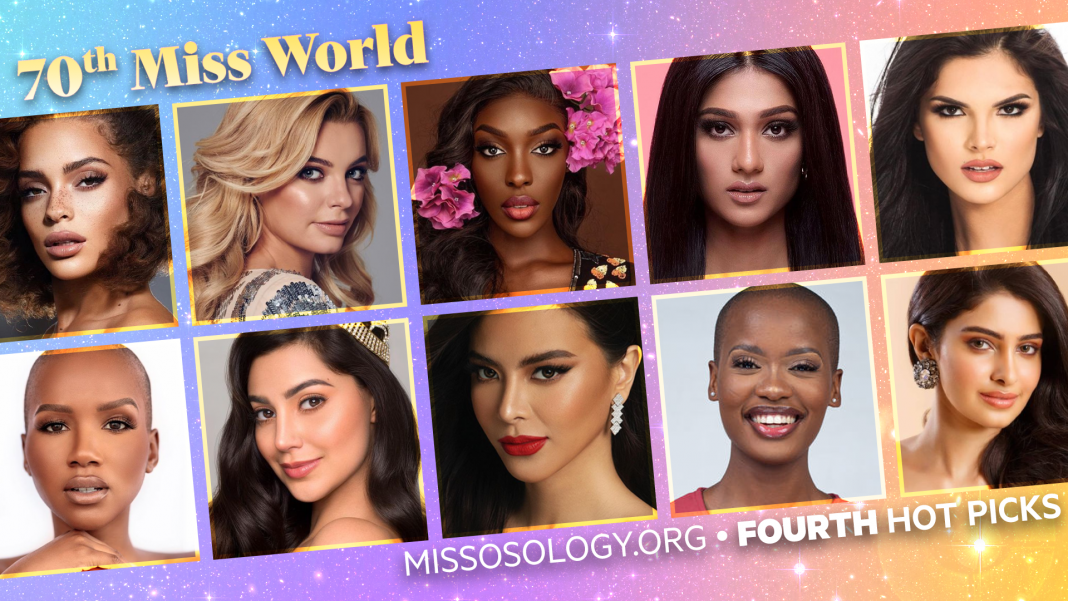 What sets the Miss World pageant apart from the other competitions is the excitement that comes with predicting who will be the newest "Beauty With A Purpose" queen. While there are a lot of stunning, accomplished women competing in Puerto Rico for the elusive blue crown, it remains anyone's ball game.
The results of the fast track challenges could help, however, in gauging the candidates' performances as well as who are getting the nod of the powers that be. And the Head to Head challenges is one way to gauge who among these ladies have the communication skills needed to become a Miss World. After watching the head to head challenge videos plus an overall impression of the candidates, our core group of experts came up with our Fourth Hot Picks.
After settling in the fourth spot in our previous list, Cote d'Ivoire's Olivia Yacé finally sits atop our leaderboard. She is currently leading on Mobstar and it is no surprise given her stunning beauty and understated elegance. It would be a refreshing to see an ebony stunner from Africa win the Miss World crown again after 20 years, and Olivia would be a great choice.
In second place for now is Alejandra Conde of Venezuela who remains a top contender from the Americas. There is no doubt that all eyes are on this stunning woman who is probably the best Venezuela has ever sent to Miss World since 2011.
Still in third is Poland's Karolina Bielawska who has proven during the Head to Head challenge that she is more than just her beautiful face. With her dedication to charity, Karolina is very much capable of sustaining the groundwork laid out by the former and current Miss World.
Zooming to the fourth rank is Malaysia's Lavanya Sivaji. We know she could speak well, but her Head to Head Challenge interview was the deal-breaker. She is not just eloquent, she speaks with so much passion. With momentum on Malaysia's side with its successful campaigns in other pageants this year, we expect Lavanya to give Malaysia a memorable pageant year 2021.
And rounding out the Top 5 for now is the lovely Sienna Evans of the Bahamas. She possesses a very sweet and soft beauty and one can say that she is on the same league as former Miss World winners Rolene Strauss and Kaiane Aldorino.She is a great speaker, too, so we expect her to do well in the interview and other speaking engagements.
Check out the complete list below:
1 Cote d'Ivoire, Olivia Yacé
2 Venezuela, Alejandra Conde
3 Poland, Karolina Bielawska
4 Malaysia, Lavanya Sivaji
5 Bahamas, Sienna Evans
6 India, Manasa Varanasi
7 France, April Benayoum
8 Colombia, Andrea Aguilera
9 South Africa, Shudufhadzo Musida
10 Philippines, Tracy Maureen Perez
11 Japan, Tamaki Hoshi
12 Paraguay, Bethania Borba
13 Botswana, Palesa Molefe
14 Jamaica, Khalia Hall
15 Argentina, Amira Hidalgo
16 Ireland, Pamela Uba
17 Dominican Republic, Emmy Pena
18 Guinea, Nene Bah
19 Mexico, Karolina Vidales
20 Vietnam, Đỗ Thị Hà
21 Nepal, Namrata Shrestha
22 USA, Shree Saini
23 Puerto Rico, Aryam Díaz
24 Cameroon, Audrey Monkam
25 Belgium, Celine Van Ouytsel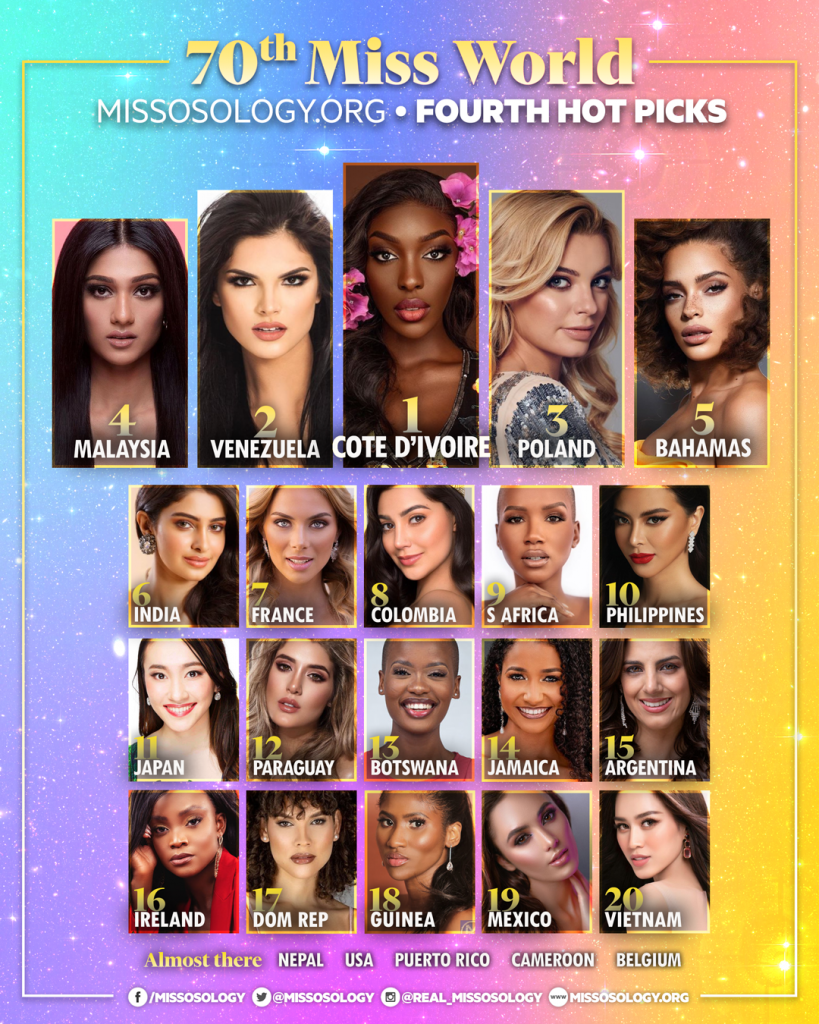 Follow Missosology's social media pages for more updates. Missosology.Org