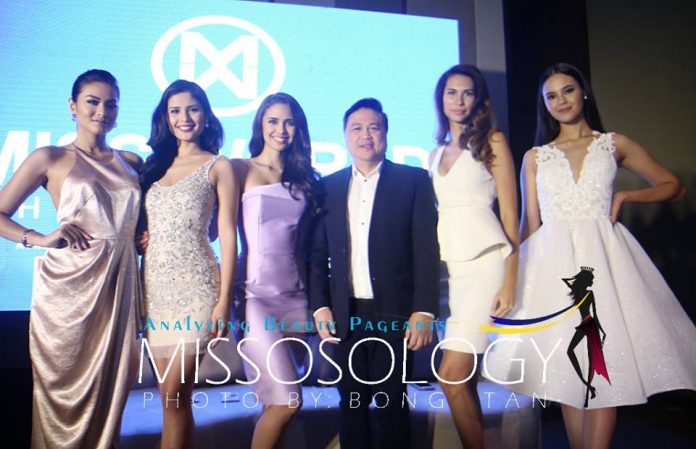 Text by Drew Francisco; Photos by Bong Tan and Drew Francisco
This year's Miss World Philippines (MWP) team promises a "trendsetting" edition, as it introduces three new titles and renews its commitment to charitable advocacies.
Aside from the main title, the Miss World Philippines 2017 pageant will have three new titles: Miss Eco Philippines (to compete in Miss Eco International 2018 pageant in Egypt), Reina Hispanoamericana Filipinas (to compete in Reina Hispanoamericana 2017 pageant in Bolivia) and Miss Multinational Philippines (to compete in Miss Multinational 2017 pageant in India).
"I can assure you that the Miss World Philippines 2017 will be bigger and better in more ways than one and will be something that will redeem (our) sense of pride and patriotism as a nation," said MWP national director Arnold Vegafria in a media conference held July 7 at New World Makati Hotel.
The pageant has also chosen the Jose Reyes Memorial Medical Center as its beneficiary, with particular focus on the care and rehabilitation of its indigent pediatric ward.
"It has always been our priority to perpetuate the Miss World Organisation's noble advocacy of Beauty with A Purpose," added Vegafria.

Makeover
With a team composed of the country's top stylemeisters, fashion mavens, runway directors and pageant experts, MWP org will introduce "a timely makeover" to the pageant, including a newly designed crown.
MWP general manager Bessie Besana announced that this year's pageant will feature important pre-pageant activities such as the brand fashion show (which is open to public), charity gala night (where candidates will showcase the creations of six young Filipino designers, as well as their talents), sports challenge, beach beauty and the charity day.
The winners of the pre-pageant activities (top model, talent, sports, beach beauty and multimedia) will get automatic slots in the semifinals of the Miss World Philippines 2017 pageant night, which will take place on September 3 at the Mall of Asia Arena.
MWP also unveiled a new theme song, composed and sung by singers Jay-R and Kris Lawrence. The pageant also launched its "refurbished" social media accounts, in line with the Miss World pageant's new format which gives "greater emphasis on social media and interactivity". Missosology.Org