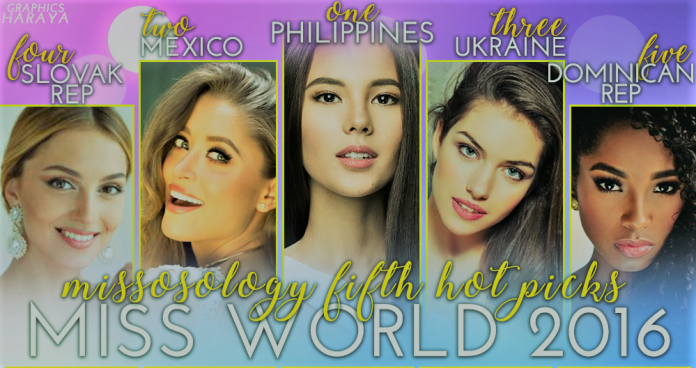 Washington DC.  One more challenging week to go, and the real battle for the elusive blue crown is getting more intense.  A lot of new approaches to the Miss World scoring system or leader board were slowly revealed to the public, which in turn have drawn mixed emotions from among the fans, national directors and the delegates themselves.  The talent champion, as announced earlier, will be determined by a public voting scheme.  The Top 10 were revealed based on a closed door audition and presentation, and the summary of their respective performances are now available online.  In addition, the multimedia challenge, which is also largely based on the popularity of the delegate, will surely be an easy task for those who have a strong fan base, national population and high degree of interest in beauty pageants.  Sadly, this will be the proverbial Achilles' heel of the European and African delegates, who have a history of not performing very well in this category, despite sending extraordinary delegates with mesmerizing beauty.  The two important categories:  Beauty with a Purpose and the Top Model competitions won't be held until next week, so this ranking will most likely change after these challenges or events are over.  The sports competition is currently underway, although this category does not seem to affect the overall outcome of the pageant.  Miss World 2016 finals will be held on December 18th at the brand new  The Theater at MGM National Harbor, Maryland.
Topping our list, and still the head of our hot picks is Catriona Gray of the Philippines.  There is nothing about Catriona that you cannot criticize.  She is goodhearted, very sincere and is known for being truly accommodating to her fans.  Since her crowning, Catriona has prepared for the international pageant, especially in managing her social media account and how to connect with the people who are following the Miss World pageant.  Her national director is also very helpful in providing her with the necessary back up assistance, such as getting enough attention through national media in the Philippines.  Currently, she is also the leading Miss World delegate in the Mobstar ranking, and several accounts have been made for her by fans and followers.  You will be surprised when you see Mobstar accounts made for her, such as like "Catriona Red", "Catriona White" and so on.  Such is her remarkable impact in the global scale, not to mention her innate beauty that is beyond comparison.
In close second is Ana Girault of Mexico.  To the conservative ones, she may be easily kicked out as a contender, but to the liberal-minded, she is exactly what a modern day beauty queen should be all about – outspoken, confident and has an uber-gorgeous face!  Ana, arguably, is the most interesting figure at this year's Miss World.  She never runs out of controversial stories, and she is mainly the reason why a lot of pageant followers are glued to this pageant.  Whatever Ana does (or does not do), becomes some sort of a story.  Yes, that's Ana, and we feel that she can give a lot to Miss World if she wins this title, which will be Mexico's first.
In third place, and moving up the ladder, is Ukraine – Oleksandra Kucherenko – who is a very talented teenager, with such an amazing face!  It has been a long while since we last had a teenage Miss World winner, and it won't hurt if we have Oleksandra as the eventual winner this year, considering the fact that Ukraine has been consistently sending outstanding girls at this pageant since they started joining in 1992.  However, we feel that they are always being shortchanged, with only a Top 10 finish as their best placement.  In fact, they have produced the likes of the legendary Oleksandra Nikolayenko, who eventually became the wife of the billionaire friend of Donald Trump, and was the person behind the success of Ukraine in Miss Universe since 2010.  It is about time to recognize Ukraine at Miss World.
Slovakia's Kristína Činčurová is in our Top 5 for the first time at fourth position, and much to our regret.  Yes, Kristína should not have been ignored in our previous hot picks.  Her superior beauty is something that we have not seen since 2006, when neighboring Czech Republic had won their first Miss World crown, courtesy of Tatana Kucharova.  As for Tatana and Kristína, both have the kind of facial profile that has a history of being favored well in Miss World.  Kristína happens to be the towering version, at 1.80 m, so we expect her to do really well in the all-important Top Model competition.
And to complete our Top Five is the amazing Yaritza Reyes of the Dominican Republic.  We have a feeling that either Yaritza or Puerto Rico's Stephanie del Valle, will be the torchbearer for the Caribbean in the Top 5.  It could be both of them, but who knows.  Yaritza is such a living doll.  She was unfairly kicked out of the Top 5 at Miss Universe 2013, although she was the lone candidate of color who penetrated the Top 10 when the pageant was held in Moscow, Russia that year.  Now at the age of 23, and is wiser and even better looking, Yaritza is set to win the second crown for her beloved Republica Dominicana!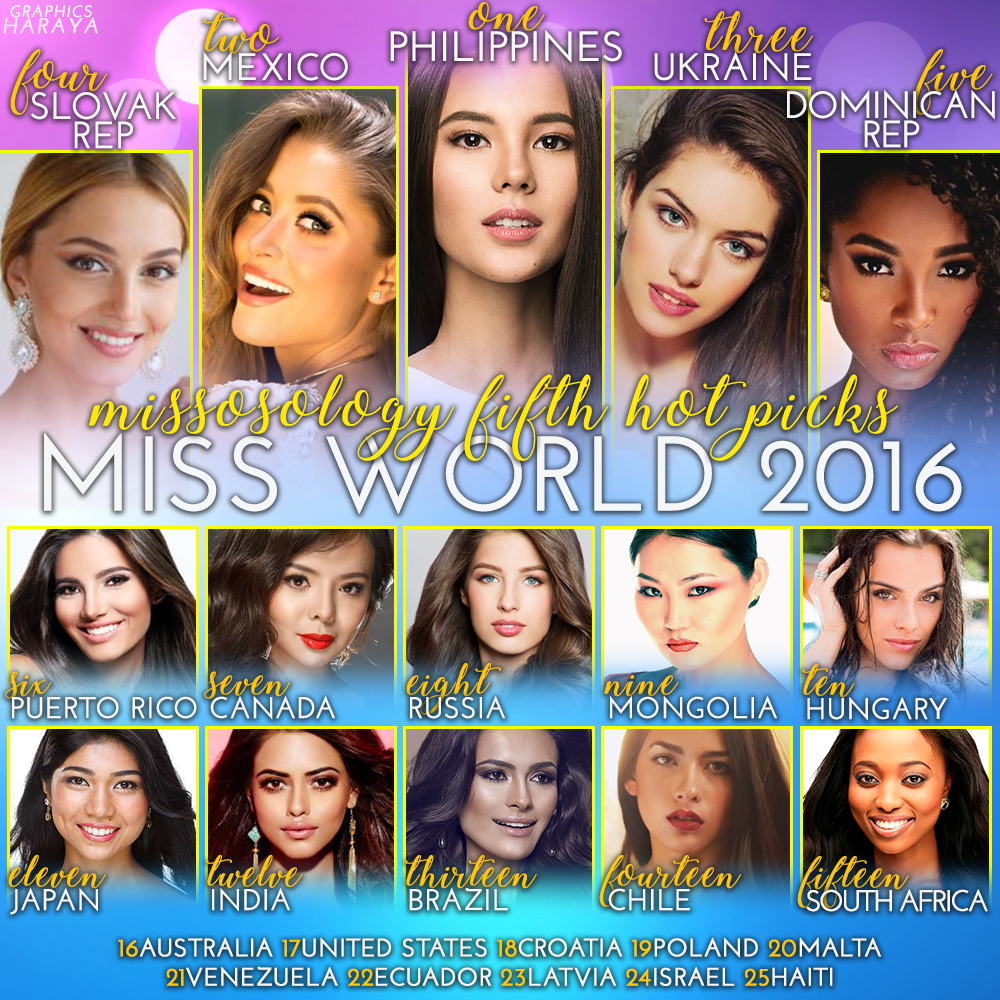 Puerto Rico's Stephanie del Valle dropped to sixth place, but the game is not over yet for this stunning Boricuan.  The Beauty with a Purpose project of Stephanie, as reports say, is unique and we are looking forward for her to present and convince the judges about her genuine concern for the less privileged.  Puerto Rico, as many know, is currently suffering from serious economic crisis, and has been dependent on subsidies from the United States.  Winning the title may not solve all their problems, but it will surely boost the morale of the islanders and turn things for the better.
Not to be ignored, and is going further up the ranking is Canada's Anastasia Lin at seventh place.  Among the delegates with a distinct Oriental look, it is Anastasia who has become the most familiar face, largely because of last year's controversial decision of the Chinese government not to accept her entry into the Chinese territory when the Miss World 2015 edition was held in Sanya.  This year, however, she is back with a bang, and is much stronger than ever.  This is where we appreciate the dedication and sincerity of Anastasia towards her Beauty with a Purpose project, and towards Miss World in general.  Despite the long wait and a blooming acting career, she remained true to her advocacy, and her loyalty to the Miss World brand name is worthy of admiration.
Yana Dobrovolskaya of Russia still remains in the Top 10, and is now in eighth place.  Her Top 21 placement in the talent competition gave us a sigh of relief as we felt that she was becoming less visible while in Washington DC.  But never underestimate this young contender, who just turned 19 last December 8th.  She is one of the sweet teenage beauties whom we would love to see winning the crown of Miss World this year.  Russia already has two Miss World crowns, and they were 1st Runner-up last year.  Yana may be able to avenge the near win that they had last year, although we have not seen in recent years a scenario when a country who was 1st Runner-up the previous year would win the crown a year later.
On ninth place is the unstoppable delegate from the land of the eternal blue sky – Bayartsetseg Altangerel of Mongolia.  Insiders have informed us that Bela is one of the most polite and endearing delegates this year, and is gaining the respect of her fellow contenders.  Her talent, which was a combination of magic tricks, dance and calligraphy was the most unique that we have ever seen  in years.  Based on merits alone, that could be the winner of the talent award, but with less population, it will be hard to amass the number of votes needed to win the ticket for an automatic placement in the Top 20.  Bela is a seasoned actress, and is bound to audition for a major role in the movie Mulan.  So, we are assured that this talented and intelligent Mongolian will surely go places no matter what.
And rounding up our Top Ten is the acrobatic dancer from Hungary, Tímea Gelencsér.  Two years ago, Hungary almost bagged the Miss World award, thanks to the outstanding performance of Edina Kulcsár, Hungary has caught the attention of worldwide fans.  Since 2012, Hungary has been achieving success in the world of pageantry, which started with a Top 10 placement at Miss Universe 2012, a Top 5 placement in Miss International 2013 and then the 1st Runner-up placement at Miss World 2014.  At Miss Earth 2015, they also placed for the first time in the Top 16, and just last week, they were 4th Runner-up at Miss Supranational 2016.  With all these developments, the Hungarian beauty pageant industry is bound to grow, and if Tímea wins Miss World, it will surely be a huge story in Hungary!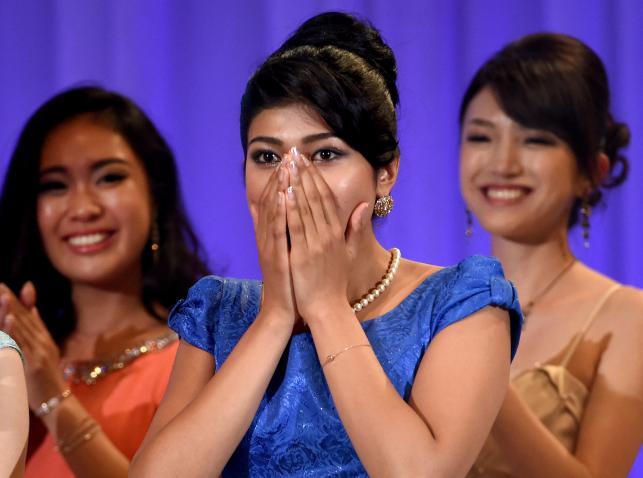 Meanwhile, Japan's news maker, Priyanka Yoshikawa is now in 11th Place, thanks to her bubbly personality, interesting story (the first half Indian to win the Miss World Japan title) and English fluency.  Never have we seen a Japanese delegate at any major international pageant with such fluidity in speaking the English language as Priyanka's.   Speaking of Indian beauty, Miss World India Priyadarshini Chatterjee follows Priyanka at 12th place.  One of these two Priya's will definitely place higher than the other, so it all boils down as to which one will get the interest of the Miss World organization. However, in terms of history, India has the overwhelming edge.  Brazil is back in our Top 15 at 13th place, and we are very happy to see her with a fresher look.  At 26, Beatrice Fontoura is one of the oldest delegates this year, but unlike Anastasia who is the same age as her, Beatrice looks more mature.  However, it is in the Beauty with a Purpose project that Brazil gets huge points, so we expect Beatrice to place high from among the 120 delegates.  Antonia Figueroa of Chile is in 14th place, as she is certainly one delegate who is easily noticeable even in group photos.  Completing our Top 15 is Miss South Africa, Ntandoyenkosi Kunene, who is definitely the strongest contender from the African continent this year.
It's never too late for the delegates from Australia and USA, who are now pegged at 16th and 17th position, respectively.  Thereis certainly hope for them in categories where their countries normally perform the best – Top Model!  Croatia, who is a Top 10 placer at the talent competition is in 18th position now.  At 19th and 20th places, respectively, are Poland and Malta who are both new in our ranking.  They are also Top 10 talent finishers.
Venezuela and Ecuador both dropped to several places down, and are now in the 21st and 22nd spots, while Latvia, Israel and Haiti are slowly gaining our attention and are in the 23rd to 25th spots, respectively.
After the sports competition and the Beauty with a Purpose announcement, we will reveal our Sixth Hot Picks, so stay on board!  Meanwhile, do you agree with our list?  Post your comments below!
Written by:  Stephen I. Diaz