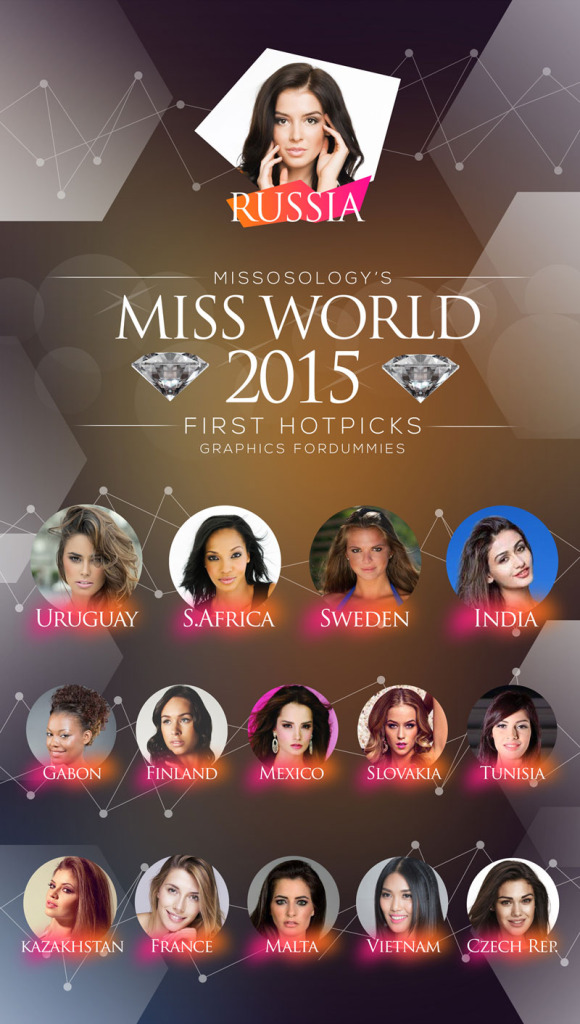 MISS WORLD 2015 1st Official Hot Picks
Among the dozens of girls who have been crowned as the Miss World national queens, Missosology has compiled the ones who are expected to make waves in this year's edition.  Undeniably known as the world's largest pageant spectacle with worldwide audience surpassing the billion mark, Miss World continues to attract beautiful and competent delegates who are also well-accomplished, educated and dedicated to charity works.  Who's hot at this point?  Here they are!
1. RUSSIA.  Sofia Victorovna Nikitchuk tops our initial list, and at this point, we believe that she is the one to beat at Miss World 2015.  Winning the competitive Miss Russia pageant is already a huge accomplishment, considering the fact that she will wear the world's most expensive pageant crown for a year.  Will she trade it for the Miss World crown?  We will eventually find out but for now, we really think that she is the best!
2. URUGUAY.  When Sherika de Armas was chosen as Miss Mundo Uruguay 2015, a lot of Missosologists were disappointed because they wanted her to get the Miss Universo Uruguay title.  This stunner is very photogenic, and can easily win the Top Model competition.
3. SOUTH AFRICA.  After Rolene Strauss won the crown last year, it may be very difficult for Liesl Laurie to accomplish a back-to-back win, or place high, because under Julia Morley, the reigning queen's country is normally being listed out.  (Who knows, maybe it will be a different story this year, now that we mentioned it.)  But, we love Liesl!  She is charming and intelligent so we expect her to fight hard for the crown!
4. SWEDEN.  Natalia Fogelund has been the favorite of most Missosologists to win the Miss World Sweden title since the time that the official photos were released.  And we are glad that she was crowned, so we see many pageant fans who look forward for Sweden at this year's pageant!   Natalia is a great follow-up for  Olivia Asplund who won the Beach Fashion award last year.  Will she surpass her predecessor's performance?
5. INDIA.  Since her crowning, Aditi Arya has been seen working with the Miss World Organization for various charitable activities and that is quite a hint.  Although she was not a major favorite by pageant fans and followers during the Femina Miss India pageant, she proved her worth by displaying grace, confidence and intelligence when they mattered the most.
6. GABON.  Indeed, this western African country never runs out of stunners!  Reine Ngotala is another black barbie who will be sent by this rich oil-producing nation, but with a very weak sash weight at the BIG 4 pageants.  Reine may just be the first to give her country a placement at a BIG 4 pageant, and we certainly believe that Gabon deserves it!
7. FINLAND.  Carola Miller is tall, statuesque and beautiful.  At Miss Suomi, many thought that she was more suited for Miss Universe.  But just like Sherika de Armas of Uruguay, she will be sent to Miss World instead.
8. MEXICO.  We kinda feel that Miss World still has to warm up with Mexico.  They came so close to winning the blue crown several times, but there was something that would prevent them from doing so.  Will Yamelin Ramírez achieve what Perla Beltran and Dafne Molina failed to deliver?
9. SLOVAKIA.  Yes!  Slovakia did it again!  They crowned a major blonde stunner, and we hope that Lujza Straková will avenge the travesty that happened last year when their bet proudly performed a Slovakian dance, but was introduced in the live stream as Slovenia.
10. TUNISIA.  Tunisia experienced a hurtful event this year that really hurt their international image, but Miss Tunisia Organization remained strong. The lovely Rawia Djbeli was crowned in a posh pageant night, and we hope that this time, Miss World will notice this stunning north African goddess.
11. KAZAKHSTAN.  Regina Vandysheva is an athlete, so we expect her to do well in the Sports Event.  Although as Miss Kazakhstan 2014, some expect her to compete at the next edition of Miss Universe, but according to the Miss Kazakhstan Organization website, she will compete at Miss World 2015.
12. FRANCE.  Camille Cerf, the reigning Miss France, already competed at Miss Universe where she placed in the Top 15. Will she place higher at Miss World 2015?
13. MALTA.  Katrina Pavia is a sweet looking girl, with an ideal Miss World look.  Her country may have a weak sash at Miss World, but at this point she has gained quite a number of followers.
14. VIETNAM.  Trần Ngọc Lan Khuê selection as Miss World Vietnam 2015 has been warmly received by her constituents, and her organization is one of the most supportive national organizations in Asia.
15. CZECH REPUBLIC.  And finally, we got cute and bubbly Andrea Kalousová who got the judges' vote at the annual Ceska Miss competition, which means that she is going to Miss World.