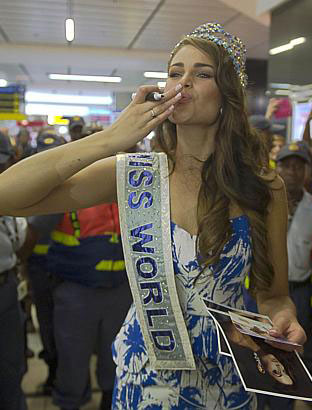 Warmly welcomed in Johannesburg's OR Tambo Airport, the visibly pleased Rolene Strauss, Miss World 2014, gave an emotional speech highlighting her mission as a beauty queen. Rolene stressed the need for her fellow South Africans to look at her inner beauty and urge them to "walk this journey with me". She was feted in a special stage erected within the premises of the airport and was joined by her family, Penny Coelen-Rey  (Miss World 1958) and Fikile Mbalula (Minister of Sport and Recreation).
"I have no words to describe how I'm feeling right now," said Rolene. She urged the young women to be just themselves. "You don't have to fit into a certain box to be someone. Don't try to be someone else. Create your own box."
Rolene will soon travel to various places including China, Indonesia, the Philippines, USA, among others. She will be promoting various charity projects in line with the Beauty with a Purpose program of the Miss World pageant.