After more than 500 days, Cheslie Kryst will be finally crowning her successor at the conclusion of the much-awaited Miss USA 2020 finals at Elvis Presley's world-famous home, Graceland, in Memphis, Tennessee.
READ: 20 standouts at the Miss USA 2020 prelims
After seeing all the ladies give it their all in the preliminary competitions, and watching profile videos and interviews of each candidates, Missosology's panel of correspondents and editors have come up with this year's Final Hot Picks for Miss USA.
Leading our Final leaderboard is Idaho's Kim Layne. She is no stranger to the Miss USA system as she was Miss Idaho Teen USA 2012 and competed in that year's Miss Teen USA alongside Nebraska's Sarah Rose Summers (who eventually won Miss USA 2018). Passionate about health promotion and disease prevention, She is currently pursuing a Doctor of Veterinary Medicine degree at Washington State University, and a Master of Public Health at the University of Minnesota.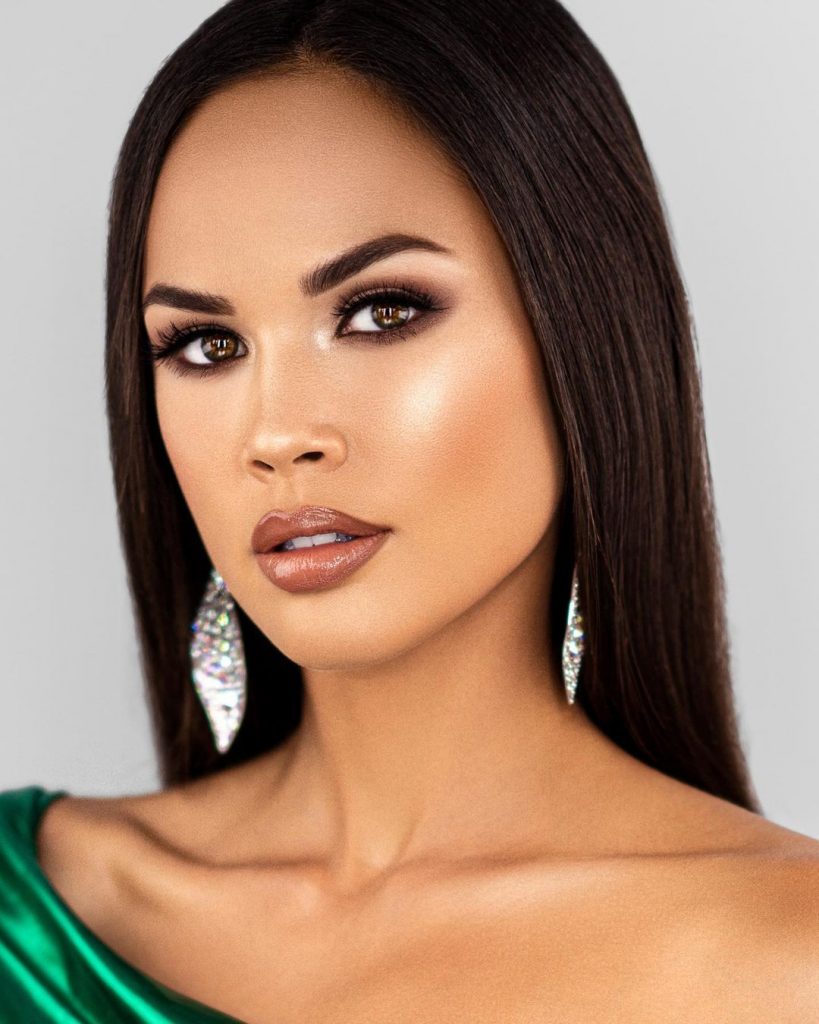 This 25-year-old stunner was a sight to behold in the Miss USA preliminaries, excuding an aura of class in both the swimwear and evening wear rounds. That blue body-hugging gown will surely complement the new Mouawad crown, too, in case that crown lands on her head! In case she wins, she will be the first half-Filipino Miss USA winner and will surely get the media mileage and following of one of the most pageant obsessed nations.
Not far behind is pageant veteran Andreia Gibau of New York who, in our opinion, was the star of the preliminaries. Her experience as Miss Earth USA 2017 and Miss Earth 2017 Top 16 finalist were evident during the prelims. Andreia is a speaker, writer, and philanthropist. She considers philanthropy being the core of who she is due to being an immigrant from Cape Verde and being born into poverty. Through her initiative, "More Than Enough," she serves as an advocate for inner city and underprivileged kids by instilling confidence and empowering them to live life to their full potential despite their circumstances.
In third place is the stunning Mariah Jane Davis of Oklahoma who looked every inch a goddess during the preliminary competitions. She works in reality television production, but has her sights set on working for a major network as an entertainment news host. As a suicide attempt survivor, Mariah advocates for mental health and created #LiftUpYourSister, a social campaign that provides women with a support group and encouraging resources that aim to restore hope.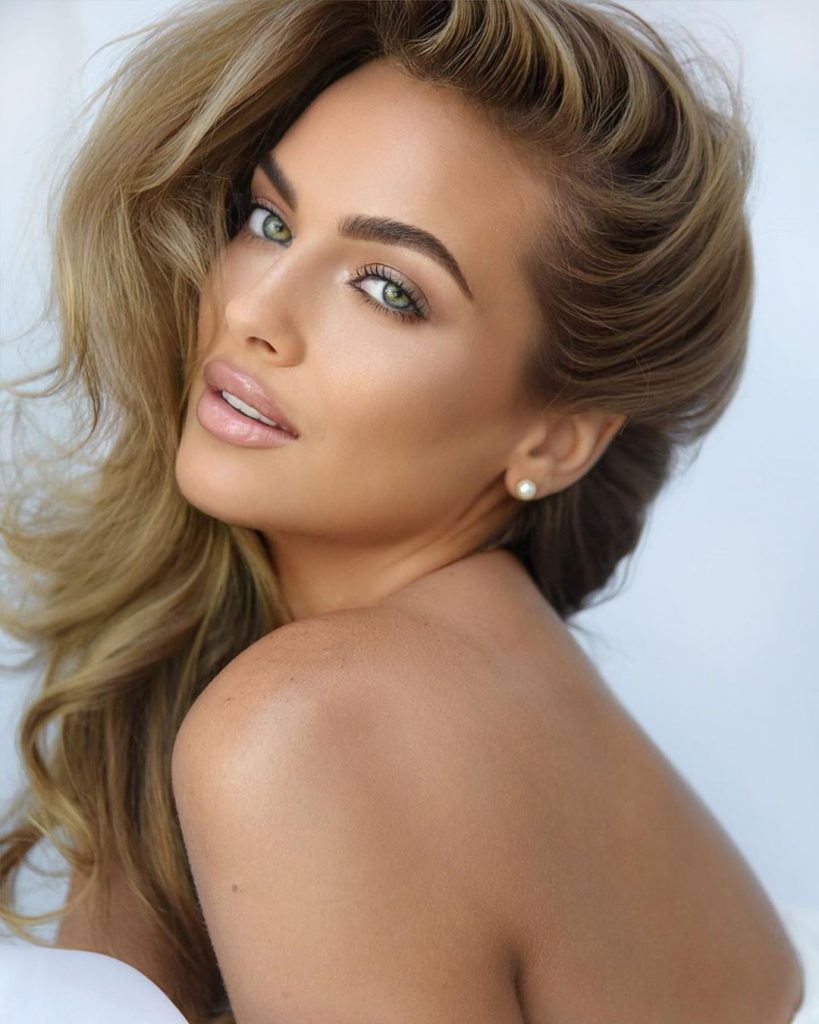 Rounding up our Top 5 are Asya Branch of Mississippi and Sabrina Victor of Massachusetts who are also both well rounded contestants.
Check out our complete list below:
1 Idaho, Kim Layne
2 New York, Andreia Gibau
3 Oklahoma, Mariah Jane Davis
4 Mississippi, Asya Branch
5 Massachusetts, Sabrina Victor
6 California, Allyshia Gupta
7 New Hampshire, Alyssa Fernandes
8 New Jersey​, Gina Mellish
9 Tennessee, Justice Enlow
10 Indiana, Alexis Lete
11 Montana, Merissa Underwood
12 Georgia, Alyssa Beasley
13 Ohio, Sthephanie Miranda
14 Hawaii, Samantha Neyland
15 Nevada, Victoria Olona
16 Maryland, Taelyr Robinson
17 Texas, Taylor Kessle
18 Alaska, Hannah Carlile
19 Florida, Monique Evans
20 Connecticut, Chelsea Demby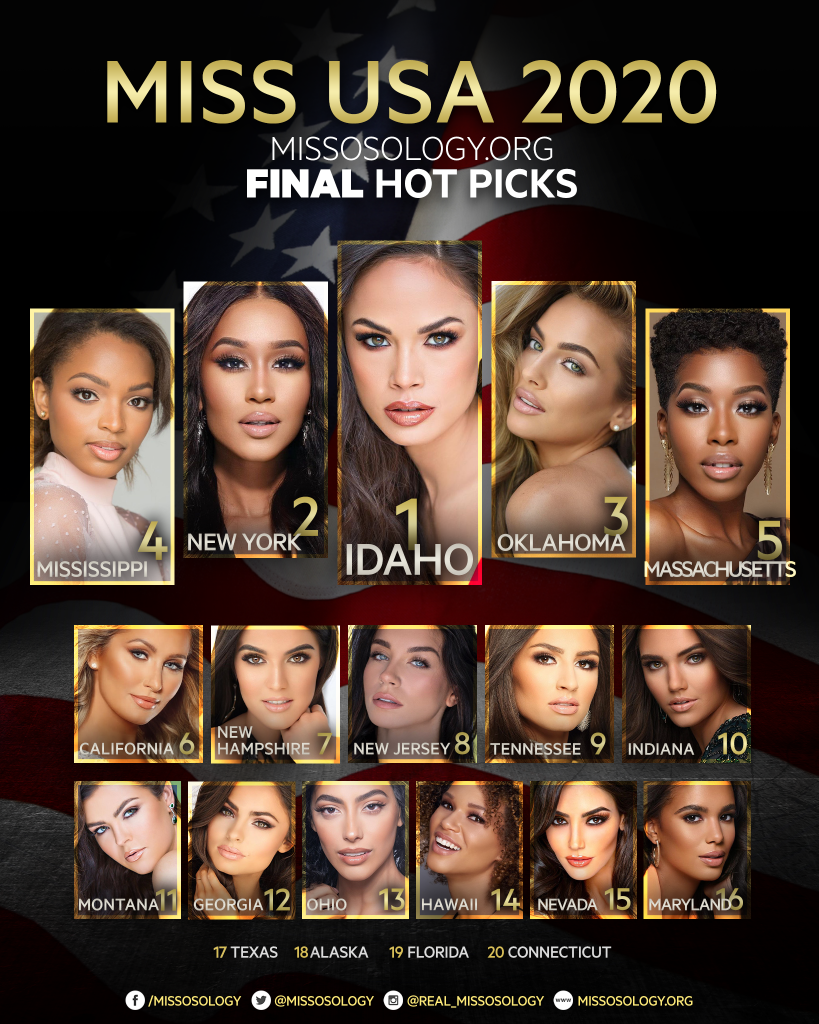 Follow Missosology's social media pages for updates. Missosology.Org