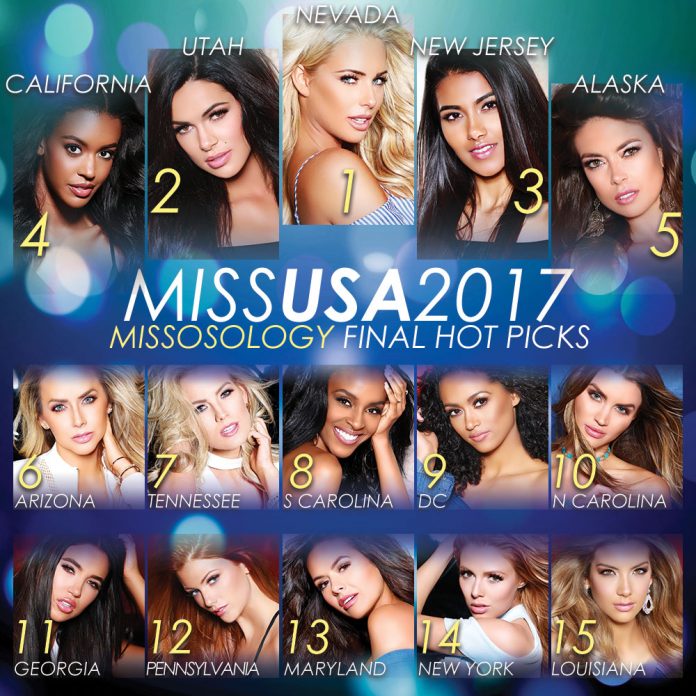 After the Miss USA 2017 prelims, it seems increasingly likely that the host delegate will be crowned this year as Miss USA. Miss Nevada USA Lauren York has been the favorite of so many pageant watchers and vast majority of them are putting her high on their list. Lauren's mile-long legs are her assets and it is clear that she did well in the swimsuit round. She sometimes need to collect an extra bit of confidence but in overall, she is an excellent product of state director Shanna Moakler. Nevada is definitely ready for its second Miss USA crown and it wouldn't come any sweeter after missing missing the semis last year.
East of Nevada comes a very strong threat and her name is Baylee Jensen. She is a polished and very ready candidate and it is possible that she will be the next Miss USA. After all, she is the daughter of Miss USA 1989 Gretchen Polhemus! Surely she has been asking mom for some tips and advice. A towering beauty who stands more than 6 feet tall, Baylee is a pretty versatile beauty who looks playful in ponytail but would exude a sophisticated aura in a bunned hair.
Miss New Jersey USA Chhavi Verg is on the third place in this Miss USA 2017 Final Hot Picks as she brings some exotic vibe in the pageant. With Indian roots, Chhavi appears fresh, confident and fierce onstage during the prelims.
Another towering figure is a top favorite of missosologists and she is Miss USA California India Williams. Multicultural, sassy and confident, India also represents a state with a strong sash. Her modelling background helped her a lot in the competition and it is possible that California will win its 7th Miss USA crown this 2017!
Miss Alaska USA Alyssa London has a compelling background that suits the narrative that the current owners of Miss USA really want. As a Tlingit (indigenous people in Alaska), Alyssa is  a symbol of diversity in America. Sadly, no Alaskan beauty made it to the semis of Miss USA since 1990! It looks like that the drought will end this year as Alyssa gave a solid performance in both the swimsuit and gown prelims.
Tommy Lynn Calhoun, Miss Arizona USA 2017, came from an unconventional family and she never had that kind of stability that most people enjoy. Her struggles in life and making the best out of it is truly an inspiring story that could captivate the judges. She is ranked 6th in this Miss USA 2017 Final Hot Picks not only for her life story but also because of her undeniable beauty, shapely body and strong prelim performance.
On the 7th spot of Miss USA 2017 Final Hot Picks is law student Allee-Sutton Hethcoat representing the state of Tennessee. She is a great example of beauty with brains and her wit and intelligence will surely give her chances a boost!
Occupying the top 8 is Miss South Carolina Megan Gordon who can bank on her experience to clear her path towards the crown. Her unparalleled beauty pageant experience – at least among the 51 contestants – gave her the confidence and skills needed to prevail.
Back to back anyone? On the 9th place of Miss USA 2017 Final Hot Picks is Miss District of Columbia USA Kára McCullough. She was the first runner-up of Deshauna at last year's D.C. pageant and guess what this girl is a scientist focusing on nuclear science!
Rounding up the Top Ten is Katie Coble from the perennial powerhouse of North Carolina. She's a femme fatale that could be easily ranked way higher but there are some concerns that she did not perform well in the semis.
Top 11-15
11.) Miss Georgia USA DeAnna Johnson – The Voice finalist who could win Georgia's first ever Miss USA crown
12.) Miss Pennsylvania USA Cassandra Angst – could she be the second winner from the Keystone State?
13.) Miss Maryland USA Adrianna David – reminds us all of Miss Universe Italy 1999 Arianna David and she's got the goods to make it to the semis.
14.) Miss New York USA Hannah Lopa – she surprisingly gave above par prelims performance!
15.) Miss Louisiana USA Bethany Trahan – captivating beauty but she is drowned by taller candidates.