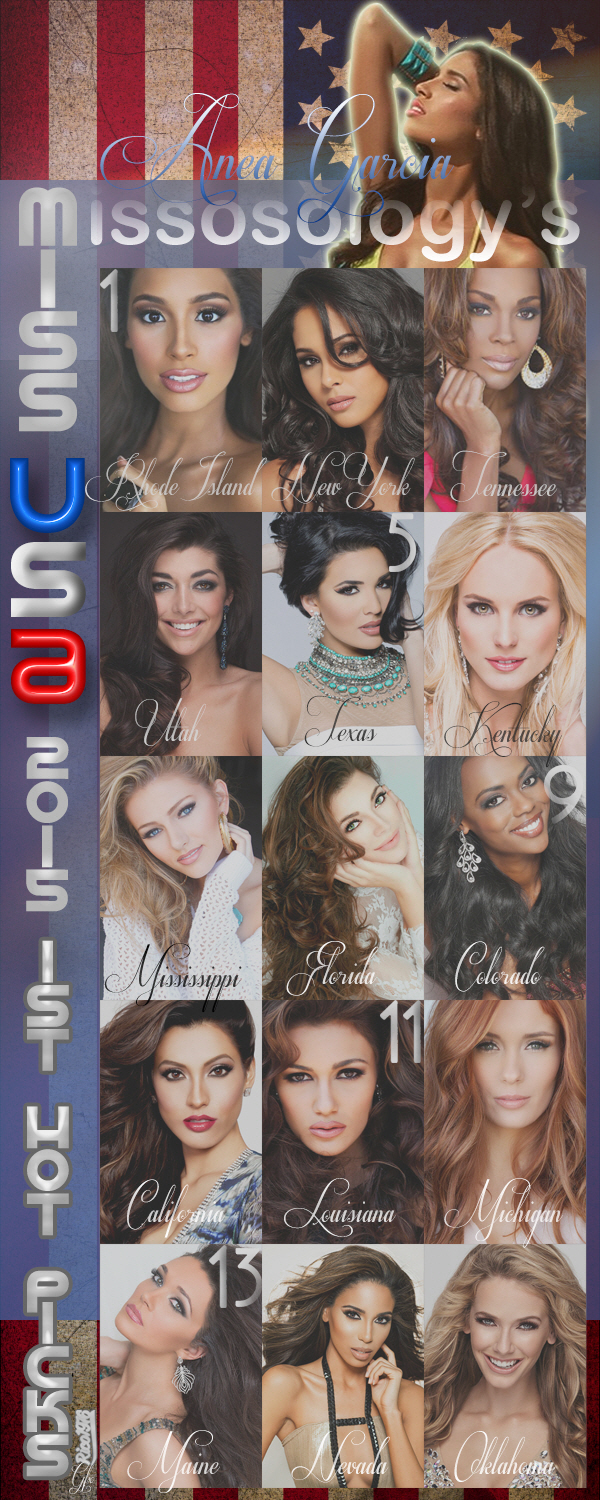 MISS USA 2015 1st Official Hot Picks
LATINA INVASION!  The most awaited national pageant in the world is just around the corner.  All of the state delegates, including the representative from the District of Columbia, have already been known and the battle to become the next Miss USA will soon kick off with the "Latina-Americans" dominating the pack!     So, as the warmth of spring brings out the colors of April, who do we think are the hot choices for the crown for this month?
Here are those who initially caught our attention:
1. Rhode Island.  Anea Garcia is from the same state where Olivia Culpo is from.  Is a small state such as RI capable of grabbing the Miss USA crown in a span of three years?  The answer is yes, and we have confidence with Anea.  She is by far the one to beat, with her towering height of 6-feet and that universal look that she possesses!  And not only that, she can speak Spanish and English, which means that she can relate to two of the most important lingua franca of the Miss Universe system.  Interestingly, this bombshell wants to become a criminal lawyer someday! Hail to Anea!
2. New York.  Another Latina beauty is very hot in our radar, and she is none other than Thatiana Diaz, the delegate from New York!  Graduating as magna cum laude, this communications studies major was a former Miss Teen New York and has proven her worth by working in some of the world's most influential companies, with bases in the Big Apple.  Her Dominican root will surely work on her favor, considering that the Latin influence at Miss USA is getting stronger.   Thatiana represented the Dominican community of Estados Unidos at the 2014 Miss Universe Dominican Republic, where she managed to enter the Top 10.
3. Tennessee.  Kiara Young is a true epitome of beauty and brains.  She had already proven her academic superiority by graduating cum laude in a very challenging course, which is Biological Science.  This towering beauty had also finished her Masters in Public Health, which has put her so far as one of the most accomplished delegate this year at Miss USA.  Her overall look reminds us of Kenya Moore (Miss USA 1993) and Crystle Steward (Miss USA 2008) combined.
4. Utah.  Nicol Powell is the younger sister of the very beautiful Marissa Powell, who was Miss Utah 2013.  Beauty really runs in her family's blood.  During the state finals, Nicol grabbed the Miss Photogenic award!  If she wants to avenge Marissa's sad fate at Miss USA 2013, where despite being a heavy favorite she only managed to finish in fourth place, then Nicol should better learn how to listen carefully to the question and answer it directly to the point.
5. Texas.  The Lone Star State is back with a bang!  After a dismal non-placement at last year's pageant, Texas can now feel more assured with Ylianna Guerra.  This 22-year-old beauty certainly knows what to do with her crown aside from the glitz and glamour.  She is very serious with her charity works, which always come along with the Miss Texas crown.  Texas girls are always mentored by highly skilled people, no wonder it is the only state to have accomplished a five-peat in Miss USA.

6. Kentucky.  Believe it or not, this blonde stunner Katie George is actually  of Lebanese descent!   An active volleyball player, Katie is naturally athletic, so we expect her to perform really well in the swimsuit competition, considering that the Miss USA system always favors physically fit women.  We are looking forward to see more of Katie in the weeks to come!
7. Mississippi.  Courtney Byrd is your ideall southern belle – mesmerizing blue eyes, charming smile and warm personality.  She loves classic movies and are more in tune with old music than modern pop.  Based on still photos, one can easily fall in love with Courtney!  Maybe she will be the first one to give Mississippi their first Miss USA crown!
8. Florida.  Who can ignore this lovely lass?  Ashleigh Lollie is such a lollipop!!!  She is an eye candy!!!  Love her playful smile. Have you noticed the resemblance with Anne Hathaway? Florida is really strong this year, and we won't be surprised if Ashleigh will rank even higher in the days leading to the finals.
9. Colorado.  Talyah Polee is a former track and field athlete.  Those powerful legs will surely pop some eyes when she performs in the swimsuit round.  But that does not mean that this black barbie is just about her physical attributes.   In fact Talyah has helped raise $80,000 for cancer research.
10. California.  California is so far the most successful state during the past ten years of Miss USA.  It has accomplished one win and three first runners-up, with only one delegate missing the first cut, which was in 2012.  Having learned from recent history, California is also joining the Latin bandwagon at Miss USA, and Natasha Martinez is their bet this year.  This former Disneyland princess has the goods to become a perfect Miss USA.
11. Louisiana.  If the rumors are true, Candice Bennatt may just be the host delegate this year.  She especially looks great when glammed up.
12. Michigan.  Rashontae Wawrzuniak!  Such an interesting name!  Rashontae is your perfect example of "never say die" attitude.  She won on her fourth attempt at Miss Michigan, after placing as a runner-up three times.
13. Maine.  Heather Elwell is a talented musician, and at 26 she is one of the oldest delegates this year.   She registers really well in photos and looks really classy.
14. Nevada. Britanny McGowan is the crown defender and her mixed racial background is evident in her interesting exotic look.    Another strong contender from Nevada!
15. Oklahoma. Olivia Jordan is a former Miss World USA titleholder, who may not have succeeded on her attempt to win the Miss California USA crown, so she hopped state and got this one!