Text by R. Galvez [@the4ofustraveling] / Graphics: Krizza Enriquez [@kxxenriquez]
New Orleans – for the first time ever – will host the 71st Miss Universe pageant and it will be held on January 14, 2023. Sadly, that would mean that there will be no Miss Universe this year. However, it is highly probable that this edition of Miss Universe will still be called as Miss Universe 2022 and that another pageant will be held by the end of 2023. This is similar to what happened at the 63rd edition which was held in 2015 but was still called as Miss Universe 2014.
As of the moment the list of contestants is almost full and although the 71st Miss Universe is still three months away, pageant analysts and missosologists can now discern who is leading the pack. There's a lot of winner material in the list but most pageant analysts think that United States will win its 9th title next year.
After all that Miss USA 2022 brouhaha, R'Bonney Gabriel simply brushed off the supposed scandal and is setting her sights towards the big prize: the Miss Universe crown. All the allegations about the supposed favoritism prompted the Miss USA organization to conduct an investigation but many pageant analysts saw nothing but circumstantial evidence. Even the contestants who raised the allegations had to contend with the fact that R'Bonney could have easily won with her own merits.
As an unbothered queen despite the controversy, R'Bonney showed that world that she can handle the challenges of being a beauty queen. She's Miss Universe ready and it is of little wonder that she topped this first-ever Hot Picks for the 71st Miss Universe. If anything, all the issues hurled against her made her even more famous and popular.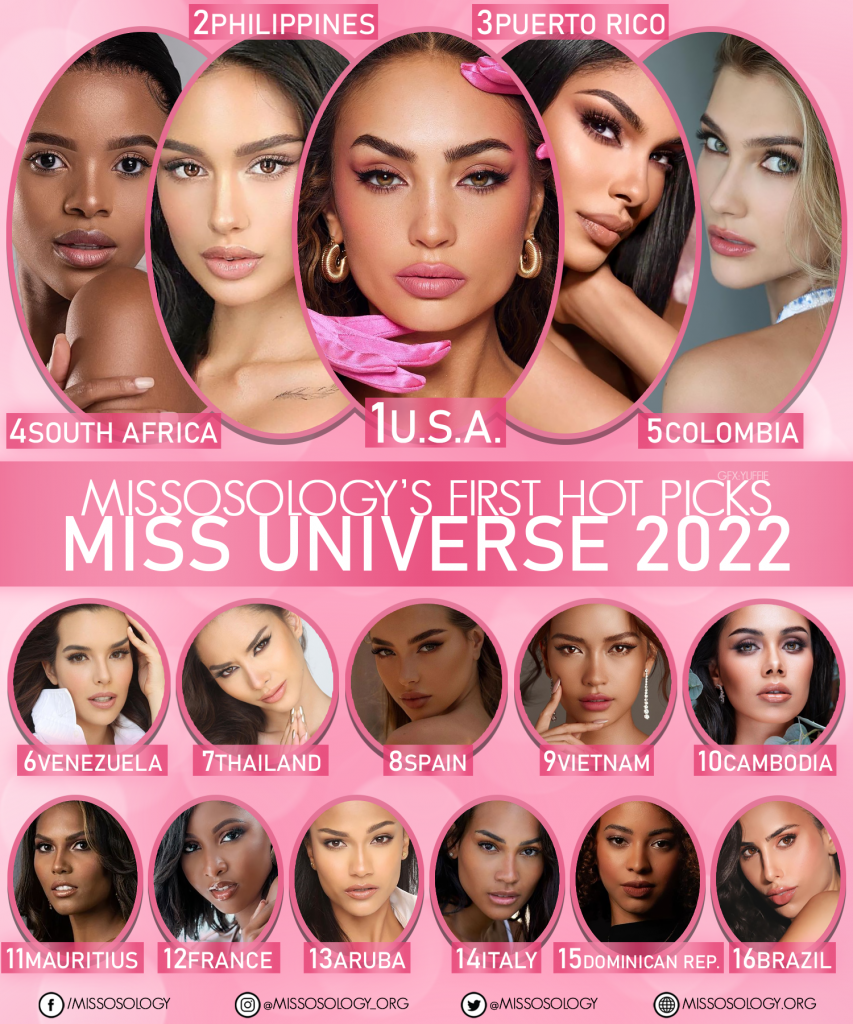 Among the contestants of the 71st Miss Universe, the one to watch is Celeste Cortesi. Ever since she was crowned Miss Universe Philippines earlier this year, she earned legions of fans from all over the world. She's elegant and has a striking beauty that is a fusion of the East and West. She also represents a nation of pageant fanatics and a nation that never missed the Miss Universe semifinals since 2010. Indeed, the 5th crown for the Philippines is a serious possibility next year!
If anyone can mess someone's Hot Picks list, that would be Ashley Cariño. The Puerto Rican beauty has a wealth of experience that can terrify any opponent. She was a former Miss Florida USA and became the second runner-up at Miss USA 2021 pageant. She's got a lively personality and a sharp mind that can easily ace even the toughest Q&A. Her country is also hungry for the crown. The last time Puerto Rico won Miss Universe was way back in 2006!
Ndavi Nokeri is the fourth placer in this Hot Picks but make no mistake, she could easily be the next Miss Universe. She's got finesse, class and subtle confidence. She's busy now raising funds for her pet project addressing educational inequality in her native South Africa and at the same time she is focused on her upcoming Miss Universe journey. Just remember how we were surprised by the placement of South Africa last year. Pageant analysts think we are in for a much bigger surprise next year!
Rounding up the Top 5 is María Fernanda Aristizábal. Hers is a classic case of what's meant to be yours will always find its way. María Fernanda's dream of representing Colombia at Miss Universe 2020 was shattered because the franchise was transferred from Miss Colombia to the newly created Miss Universe Colombia pageant. This year, she was appointed as Miss Universe Colombia 2022 fulfilling her dream of competing in the international arena. Her two-year preparation makes her as one of the well-prepared candidates.
Here's the complete list of who made it to the 1st Hot Picks for the 71st Miss Universe
1.) USA 🇺🇸 – R'Bonney Gabriel
2.) The Philippines 🇵🇭 – Celeste Cortesi
3.) Puerto Rico 🇵🇷 – Ashley Cariño
4.) South Africa 🇿🇦 – Ndavi Nokeri
5.) Colombia 🇨🇴 – María Fernanda Aristizába
6.) Venezuela 🇻🇪 – Amanda Dudamel
7.) Thailand 🇹🇭 – Anna Sueangam-iam
8.) Spain 🇪🇸 – Alicia Faubel
9.) Vietnam 🇻🇳 – Nguyễn Thị Ngọc Châu
10.) Cambodia 🇰🇭 – Manita Hang
11.) Mauritius 🇲🇺 – Alexandrine Belle-Étoile
12.) France 🇫🇷 – Floraine Bascou
13.) Aruba 🇦🇼 – Kiara Arends
14.) Italy 🇮🇹 – Virginia Stablum
15.) Dominican Republic 🇩🇴 – Andreína Martínez
16.) Brazil 🇧🇷 – Mia Mamede