The list below compiles ten gowns that left  indelible impressions in the minds of the public worn by a woman who was crowned as Miss Universe. Over the years, the gown designs have evolved and with it, the public opinion. In most cases, missosologists would demand that the gowns should conform to people's opinions but time and again, there are gowns that defied the norm, revolutionizing things and creating a brand new trend.
Here, Missosology explored those gowns that will be talked upon by the world of pageantry for all eternity.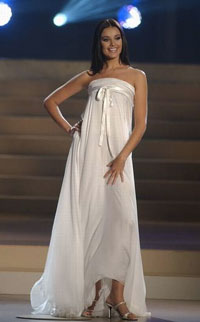 10. Miss Universe 2002 (dethroned) Oxana Fedorova – this plain toga gown was iconic because it was so out of this world, so simple and yet Oxana got away with it.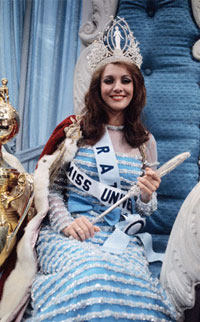 9.) Miss Universe 1968 Martha Vasconcellos – the TVs were black and white back then and probably grainy but for those who are in the venue, Martha's soft blue trimmed by white laces was a gown to remember that decade.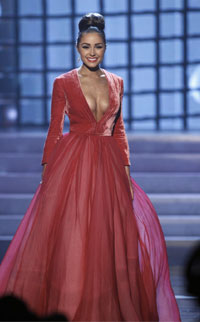 8.) Miss Universe 2012 Olivia Culpo – the plunged neckline that revealed generously the center section of her breast is part of the attraction of  the red-velvet creation of Georges Hobeika. The gown was dubbed as Mrs. Santa Claus gown. Probably because the finals night was held in December?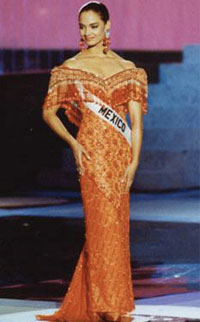 7.) Miss Universe 1991 Lupita Jones – the red tangerine gown of Lupita has an overdone neckline that is iconic in its own. The design of the gown made Lupita a stand-out that night.
6.) Miss Universe 1984 Yvonne Ryding – the all white bridal-like/kafta-like dress basically put Yvonne in a dare to be different mode. While it could pass as a Halloween costume, Yvonne eventually looked elitist and sophisticated.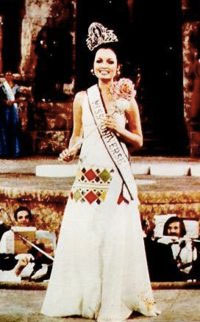 5.) Miss Universe 1973 Margarita Moran – Whoever watched the 1973 edition of the pageant intently could still remember vividly the large flower on the left shoulder of Margarita. Also, the prints on her skirt were simply unique which evokes the cultural heritage of Margarita's home country.
4.) Miss Universe 1999 Mpule Kwelagobe – the off shoulder shimmering golden gown was perfect for Mpule. Whoever designed this gown must be commended for choosing the right color for Mpule's skin tone. And Mpule just posed on the stage exuding the aura of stateliness blended with a huge scoop of confidence.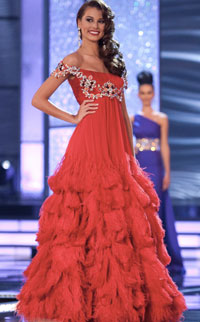 3.) Miss Universe 2009 Stefania Fernandez – how could Stefania get away with a gay 20s look in the 21st century is simply inexplicable. When she was crowned, Missosology was swamped with emails asking who designed her gown. Of course, we all know by now its Gionni Straccia, right?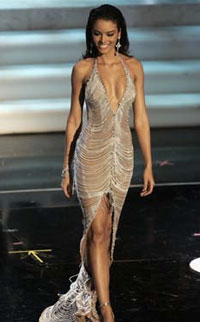 2.) Miss Universe 2006 Zuleyka Rivera – how could the heavy and cold metallic ensemble be so sexy and elegant? Zuleyka Rivera's gown designed by Carlos Alberto is still in the conversations of pageant enthusiasts. Basically, the dress is a series of metal chains that actually left some red marks on Zuleyka's nape and its sheer weight simply burdened the poor girl, she fainted after being crowned.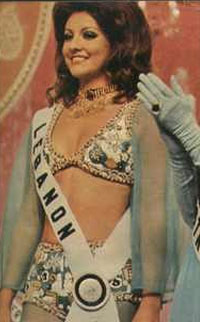 1.) Miss Universe 1971 Georgina Rizk – topping in our list is Georgina's daring hot pants, see-through harem dress that could not be allowed even in the 21st century Miss Universe. Georgina simply shocked the pageantry world back then and her image in that sexy dress/good night dress lingered into the minds of the public. This dress was and still is unequalled. That makes it indeed truly iconic.