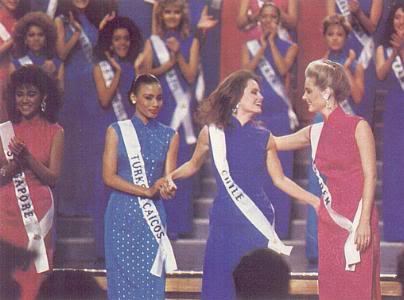 Tiny, politically and economically insignificant in the world stage, Turks and Caicos Islands is basically not even an independent nation. Rather it is a British Overseas Territory. Yet this "insignificant" island, despite being the constant bottom ranked nation at Miss Universe, had its golden moment at Miss Universe. In 1987, when Mis Universe was held in Singapore, Turks and Caicos shined through.
Despite the 1987 edition of the pageant being held in Singapore, Asians were generally ignored. Only the local girl and Miss Philippines – who observers believed as the strongest Asian delegate due to her tall height and Caucasian-like features – made it to the semis. Miss Turks and Caicos Carmelita Ariza came out from nowhere to become the lone black delegate in the semis. What made Carmelita stand out is her shapely body and amazing height. But as the finals night continued, Carmelita lost her appeal and was subdued by women that suits the concept of beauty at that time – blonde and fair skinned.
The lessons that we can all draw from Miss Universe Turks and Caicos 1987 Carmelita Ariza is simple – every participating nation matters. Nowadays, the young generation would use a missosology jargon "clapper nation" – a rather derogatory term for nations whose delegates had never ever landed at the semis. While it is technically correct, it is rather rude for no nation can truly be a clapper nation. There is always that chance for each and every nation to shine through no matter how small or "insignificant" it is.
Perhaps that is the reason why the triumph of Botswana at Miss Universe, of Gibraltar at Miss World, of Mauritius landing at the semis of Miss Earth or Trinidad and Tobago's breaking that "color barrier" at Miss International should serve as an inspiration to other nations. Big4 Pageants will never be fun without those "clapper nations" and of course we should always be on the look out for something out of the blue. Surprises always abound and it is not just the superpower nations that should drain all our attention away.