Time flies indeed and it seems that not so long ago every winner of Miss Universe twirled her gown to victory. The trend seems to have started in 2007 when Riyo Mori sashayed her dark aubergine free-flowing gown. While technically she didn't "twirl", she stood out from the crowd by playfully spreading the gown's skirt. In 2008, Dayana Mendoza twirled her yellow dress and eventually snatched the crown. In 2009, Stefanía Fernández did the same thing with her red retro-styled feathered ensemble and in 2010, Ximena Navarrete stood out with her red outfit by fanning out the cape-like add-on of her skirt.
The trend seems to have tapered off by 2011 and it could have made a comeback with Olivia Culpo's red ballroom-style gown. Since then, the winners of Miss Universe used gowns that are either mermaid or sheath styles. There are some contestants who attempted to revive the free flowing and ballroom cut like Miss Ukraine Olga Storozhenko in 2013 and Miss Dominican Republic Clarissa Molina in 2015 (who, by the way did a wonderful twirl) but they all failed to advance further in the competition.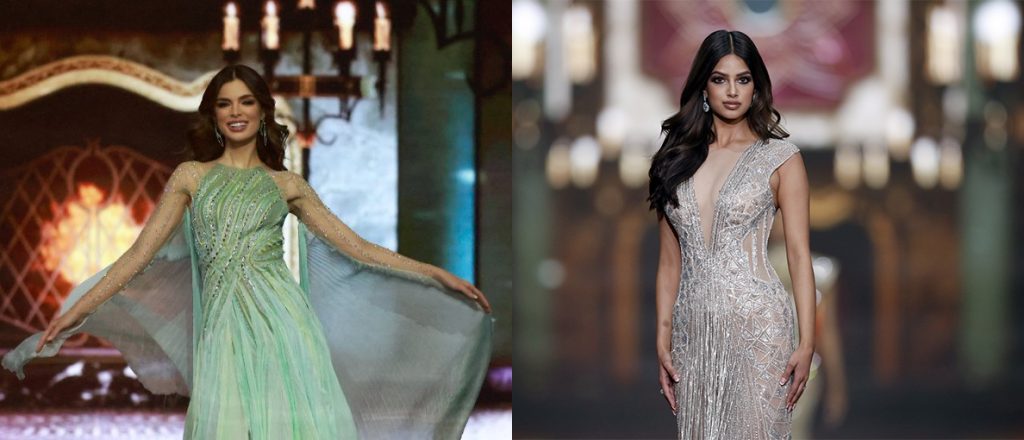 Evening gown is a crucial part of the Miss Universe pageant but it is hardly the only factor in play. The shift away from free-flowing gowns that was playfully twirled, fanned or spread has a broader context. It represents the transition within the pageant. Over the last 8 years of so, the trend shows that "elegant" contestants are preferred over the "fierce" contestants. This has a huge impact on how to train future Miss Universe winners and how to style and dress them.
Such change couldn't be more pronounced in 2021. Two front-runners – Miss Paraguay Nadia Ferreira and Miss India Harnaaz Sandhu – were styled differently. Nadia wore a light mint free-flowing gown who fanned and twirled the long cape-like extension emanating from the sleeve. Harnaaz meanwhile donned a silver figure-hugging piece embellished with crystals with a plunging neckline. Nadia came out fierce. Harnaaz screams elegance. While their gowns were just parts of the overall competition, the results simply validated what Miss Universe is truly looking for in a winner.