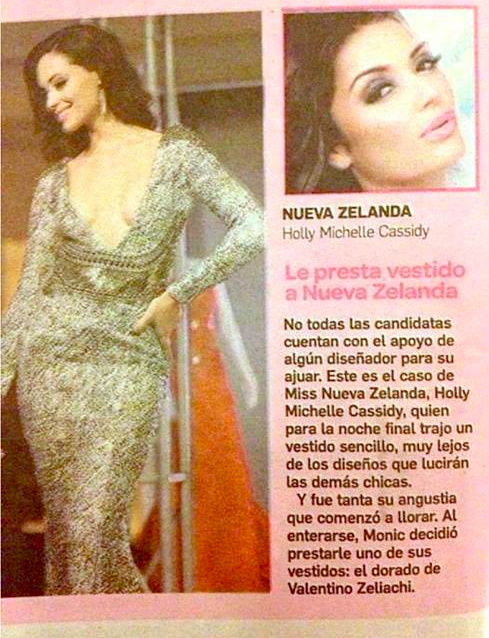 After asking so many candidates what they fear most about pageants, most of them came up with a surprising answer – bitchiness of a fellow candidate. In a beauty pageant paradise, all contestants get along well, they are all sisters and they sing kumbaya over the campfire. Reality check, it could be a pandemonium out there! Ask Miss Australia Jesinta Campbell who in Miss Universe 2010 was pricked by needles inserted to her national costume. And she was the Miss Congeniality of the pageant for pete's sake! You can also ask Miss Philippines Caroline Subijano. In 1994, her finals night gown was stolen.
The list can simply go on and on. If bitchiness is a virtue, a beauty pageant contestant could win Bitchiness Award in every pageant every year. But there is a direct opposite of bitchiness. Perhaps it is kindness. Miss Puerto Rico Monic Perez displayed that kindness this year when she decided to loan one of her wardrobes to Miss New Zealand Holly Michelle Casidy. The story has it that Holly cried when she saw the beautiful dresses of her fellow contestants. When Monic heard about it, she loaned her gold dress designed by Valentino Zeliachi.
Monic Perez is actually in a make or break situation. Last year's Miss Puerto Rico failed to be in the semis and the pressure is on for Monic. She has been criticized for looking like a beauty queen with an attitude and her showy tendency. But boy, these are all wrong. Indeed, one can't judge based on the looks alone. Monic proved to be kind hearted woman ready to help someone in need.
If bitchiness is a virtue, Monic has none of it. Monic has kindness and while her looks does not match her personality, we should judge her for the content of her heart and not to the impression from her looks alone. She is doing well at Miss Universe 2013 and Puerto Rico will not be left behind this year. In fact, the Enchanted Island can have another Miss Universe winner!