Top 10 National Costumes at Miss Universe 2013 based on the opinion and taste of Missosology.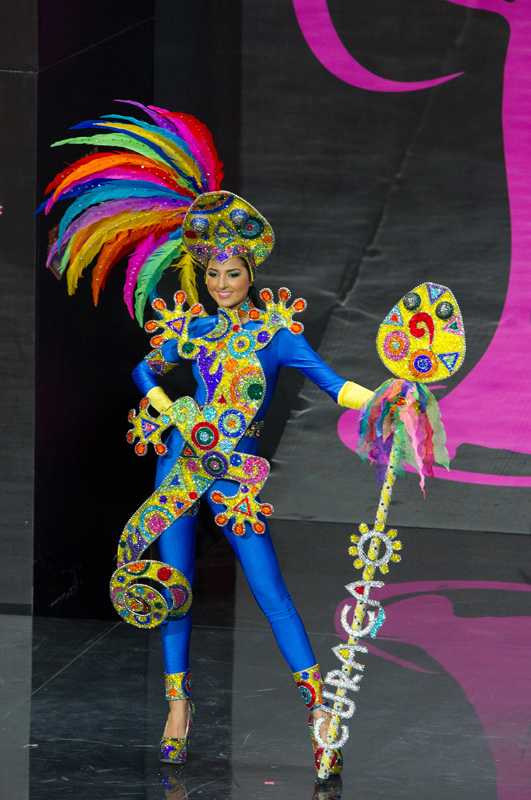 10.) Miss Curacao Eline de Pool – Unique!  Lizard! And yes, it is true, Curacao is awash with all sorts of these lizards from lagadishi to totèki. The uniqueness and its relevance to the Curaçaoan way of life.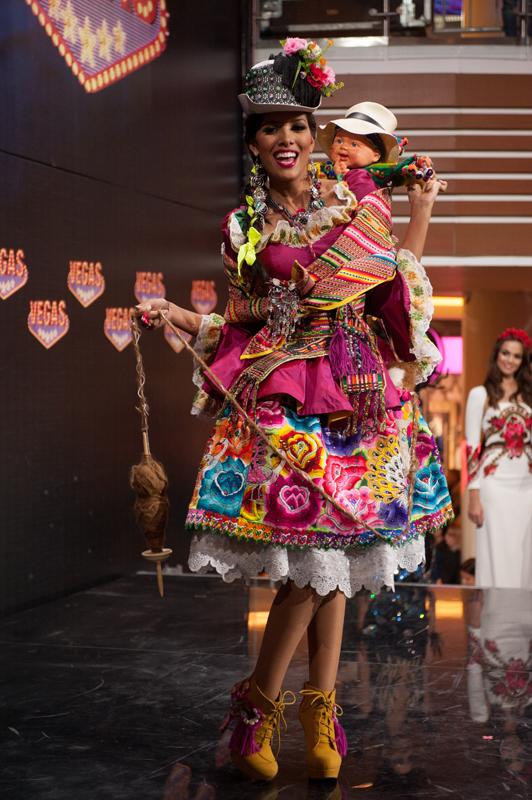 9.) Miss Peru Cindy Mejía – an allegorical costume complete with a baby on the back, this colorful masterpiece was created by Ricardo Davila Cherres. The costume is called Mamay Wanka which pays tribute to the culture of the central Peruvian region.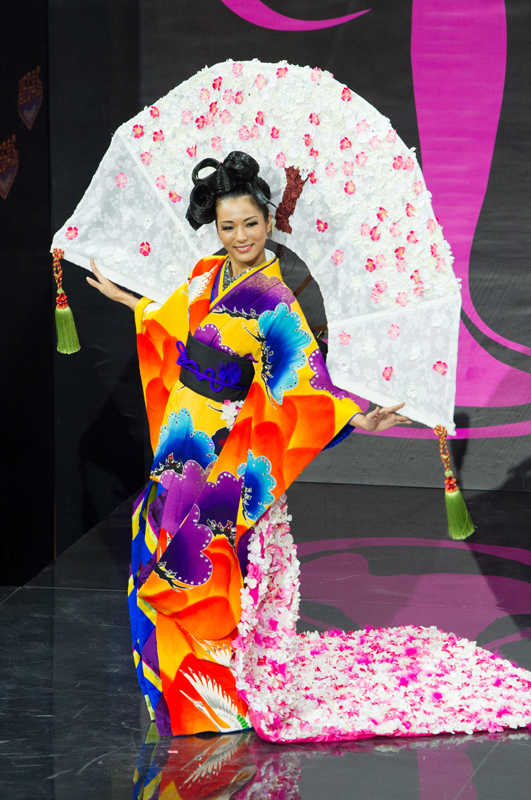 8.) Miss Japan Yukimi Matsuo – A kimono, a fan and sakuras.  That's Japan!
7.) Miss Ecuador Constanza Báez – Indeed, there's a plethora of carnival-like costume but this costume stood out. This costume is called Cultura Jama Coaque and it pays tribute to the indigenous and ancient culture of the densely populated region of Jama-Coaque.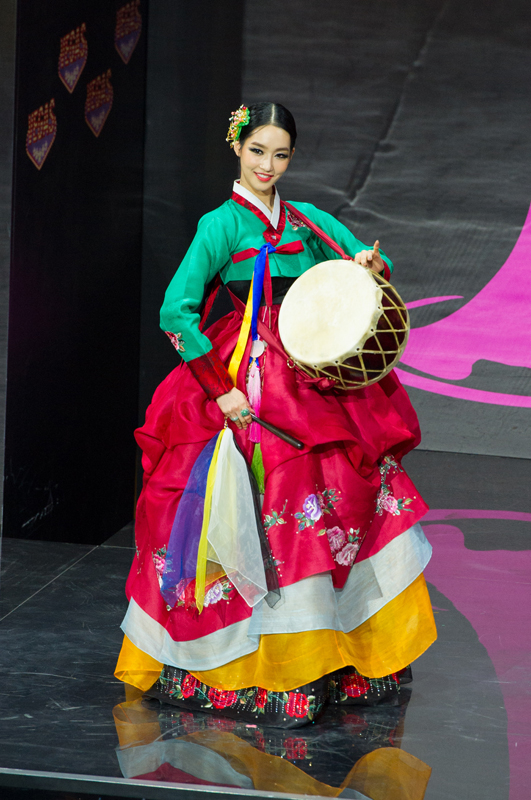 6.) Miss Korea Kim Yu-mi – a costume straight from the Pungmul – a festive event where dance, theater and pageantry intertwine. The multi-layered hanbok is really colorful and cute to look at and the buk drum is a nice addition.
5.) Miss Great Britain Amy Willerton – a sexy Queen Victoria in a velvet stilettos and faux ermine trimmed cape. One can never go wrong with it, right?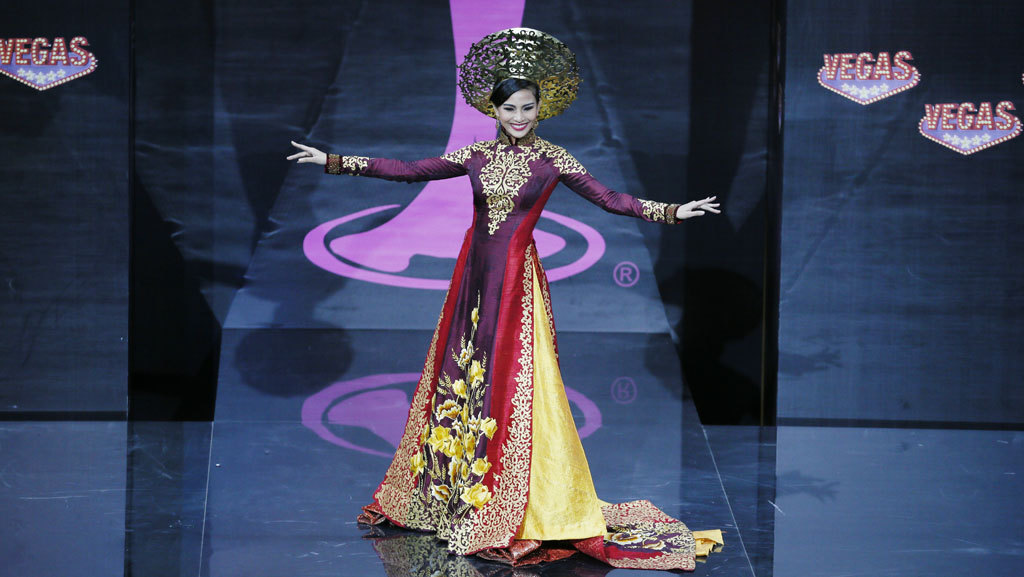 4.) Miss Vietnam Trương Thị May – culturally relevant, and fit for perfection! This heavenly ao dai is a blessed with the right combination of gold and carmine plus the flowers on the center part really took the center stage!
3.) Miss Argentina Brenda González – believe it or not, this Marcelo Pendola costume is a tribute to the Argentine political heroine Evita Perón. This is simply eye-catching and the fact that it is extravagant looking and really fashionable, means Evita is very much well-represented in this dress.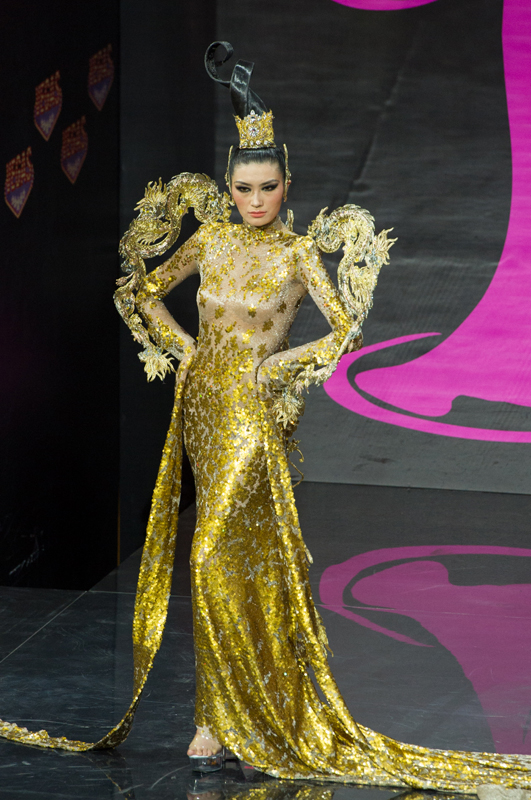 2.) Miss China Jin Ye –  This Guo Pei designed costume is a fitting tribute to both gold and dragon. It requires so many hours of hand embroidery and this costume debuted at the New York Fashion Week. The gold and the dragon in the Chinese culture are strong symbols of luck, power and strength.
1.) Miss Russia Elmira Abdrazakova – the details of this costume are hard to ignore!  Very royal and classy! Inspired by the Byzantine era and its influence on the Russian culture, designer Gleb Vinokurov added precious stones and the fabric was imported all the way from Istanbul. This is a national costume of a grand scale and Elmira really looked by a Czarina in here.