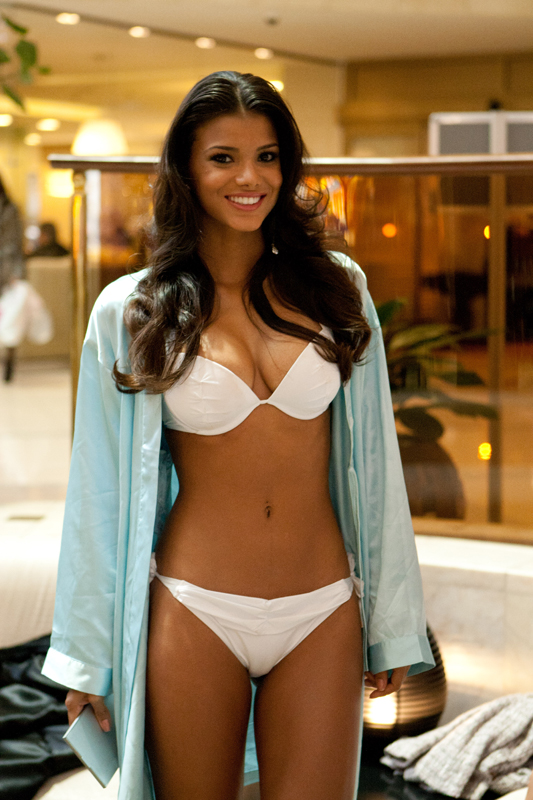 In every pageants there are girls who are standouts where they are obviously beautiful and eye catching. But there are also some disappointments – girls that you expect more but failed to deliver. At Miss Universe 2013, we have lots of standouts and disappointments. The following are personal opinions and could change over time. The contest is just heating up so please chill and relax. The real competition starts at preliminaries so many of the girls who could be disappointing may surprise us later.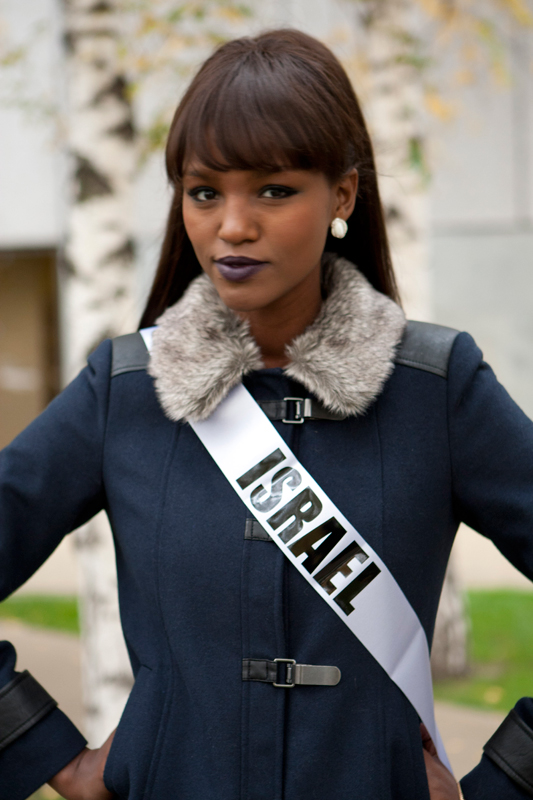 Miss Israel
Let's start with Miss Israel Yityish Aynaw. This girl is indeed on fire! Love the way she projects her beauty. She is shapely and glowing and it is true that she does look like Miss World 2001 Agbani Darego of Nigeria. She is the clear frontrunner as of the moment and it wouldn't be surprise if she wins. She is consistent all throughout and hope she will carry it on the prelims. It is a real problem because Israeli girls are usually intrinsically beautiful but they tend to falter where it matters most and that is the prelim contest.
Miss Poland Paulina Krupińska has been called as a frontrunner many times. But she is losing spark. Let's hope she can do something spectacular at the prelims. She is beautiful no doubt and she has a sweet beauty. Her problem is when she is with other candidates, her beauty would suddenly lose some steam.
Miss Ukraine Olga Storozhenko's beauty is getting visible in our radar. She is winning a lot of hearts and a lot of fans. Will Ukraine finally bag the crown?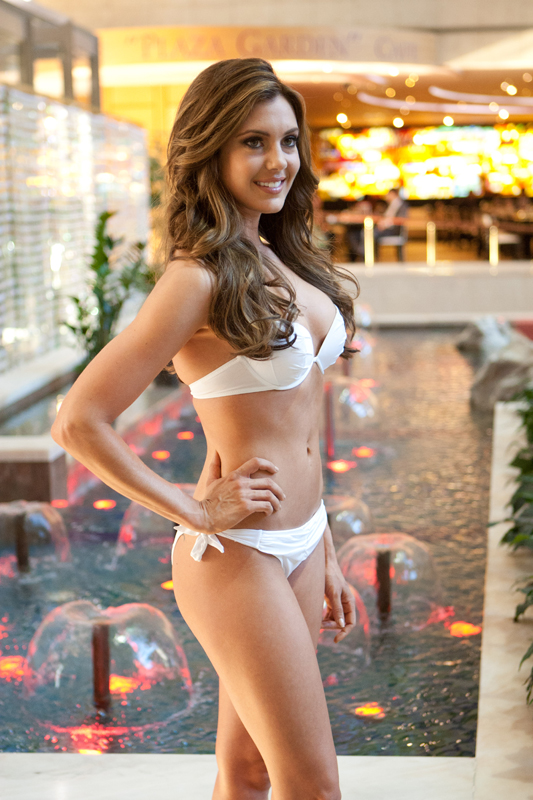 Miss USA
Miss USA Erin Brady is also a very consistent contestant. She has a sweet aura and a beautiful projection in all of her photos no matter what is the angle. Okay she has some height issues but seriously, after Olivia, it doesn't matter anymore. She is a sure Top 16 but a win is unlikely. Also, she has some trouble with her navel piercing. Two holes at the center of her stomach is very unsightly and very not so beauty queen. But once you get passed that, Erin is simply lovable.
Miss Venezuela María Gabriela Isler is of course a beauty to watch. She is not yet impressive at this stage but we all knew that Venezuelans are good at surprising people. The strategy is to show the trump card at the prelims.
Miss Philippines Ariella Arida is clearly not photogenic. She looks haggard, matured and old in some of her photos. She is inconsistent. But she has a great body and clearly her work-out paid off. She needs to work out on her stylings so she can project her beauty well. She is a sure Top 16 but it it is still 50-50 if she can sustain the 3 year Top 5 streak of the Philippines. At this stage a crown for the Philippines is out of reach.
Miss Australia Olivia Wells is surprisingly doing well. Much has been talked about her "flabby" arms but she Moscow she looks slim, radiant and sexy!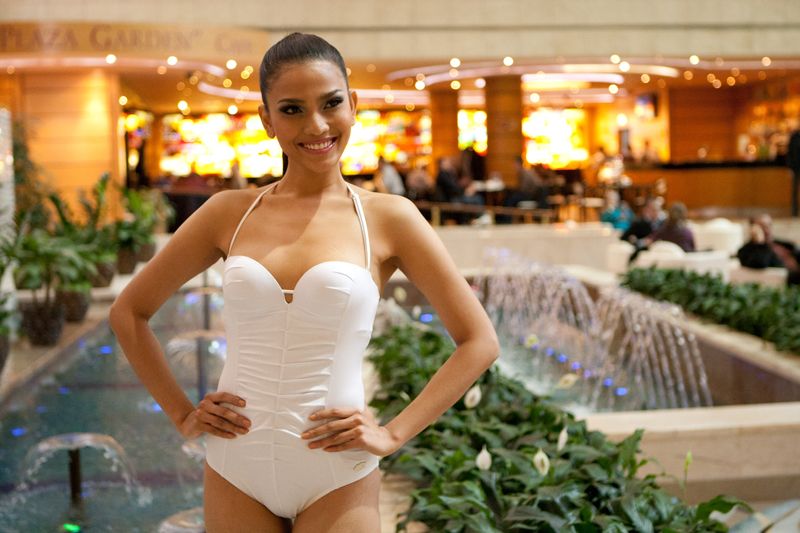 Miss Vietnam
Miss Vietnam Trương Thị May made a mistake by choosing a one piece swimsuit. It would appear that she is hiding something. She is gorgeous looking but her one piece choice is ruining her chances.
Miss Thailand 
Of course, Asia this year is quite strong. Miss Thailand Chalita Yaemwannang looks sweet and is consistently vibrant all the time. But one has to put a bet on Miss Myanmar Moe Set wine who looks fabulous during the arrivals, the registration and fittings and at the swimsuit photoshoot. She is consistently full of class and she appears as an exotic Oriental beauty. Miss Japan Yukimi Matsuo is also strong in the competition but she lacks that attitude that propelled her much successful predecessors into stardom. In short, while beautiful, Yukimi lacks that so-called wow factor.
Miss Malaysia Carey Ng is also another Asian to watch for. She has a phenomenal body and she really transformed a lot. However, the current leader in Asia right now is Miss Indonesia Whulandary Herman. This girl looks fabulous all the time. She can really project her beauty, love her body figure and she has that beautiful, smooth black hair. Please Whulan, keep you hair straight because you looks glamorous with it. One can see that Indonesia will once again land at the Top 16 and anything less than that is a gross injustice.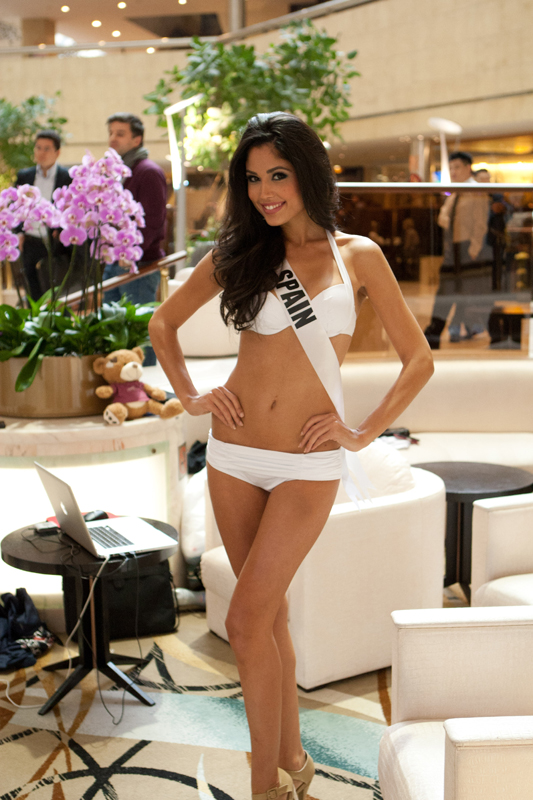 Miss Spain
Miss Spain Patricia Rodriguez is slowly coming into our radar. She is not yet on the spectacular level but she is gaining our attention quite dramatically. This girl has a sweet beauty too and with her Miss World experience, she can easily defeat the naive competitors.
Miss France Hinarani de Longeaux is yet to make her arrival mark. She looks fabulous but we will soon see how she matches up with the rest of Europe. She is still on suspicions list but we all knew she can deliver the right goods into this competition.
Miss Brazil Jakelyne Oliveira
Miss Brazil Jakelyne Oliveira wowed us with her phenomenal body. You simply can't take off your eyes from it! She is simply stunning body-wise.  But she has some bad angles when it comes to facial beauty that we are not really sold out with her chances. Let's hope that she is just not photogenic. A fifty-fifty chance that she can make it to the Top 16 but we still have to wait until the prelims. The Brazilian ladies had been in the Top 5 since 2011 so they could have mastered the art of Miss Universe.
Miss Mexico Cynthia Duque is a bit of disappointment. She has some photos that are not flattering at all. Her beauty belongs to the sweet category but her facial skin shows some flaws. Her body structure also looks untoned.
Miss Puerto Rico Monic Perez is also looking good. Not spectacular but good. We need to observe her more to see if she can put her nation back into the radar. Last year's exclusion is just a disaster and it keeps on putting a question mark on Puerto Rico's performance in general.
Miss Guatemala Paulette Samayoa is okay-ish but Miss Panama Carolina Brid is looking spectacular. Yes, you can "bookmark" Miss Panama!
Of course, there are a lot of other girls in the competition and on the next part of this series we will cover them all. So far the standouts are Israel, Ukraine, USA and Indonesia. Disappointments are Mexico and to some extent the Philippines and Poland. Things could dramatically change of course and again we would like to remind everyone that the real competition is yet to start. The prelims really is the real "deal" in the competition.
So, can you share your standouts and disappointments?